The Macan Concept
We have proven that we do not follow trends, instead we write our own adventure stories. A compact SUV that inextricably combines sportiness, design and everyday practicality: the new Macan.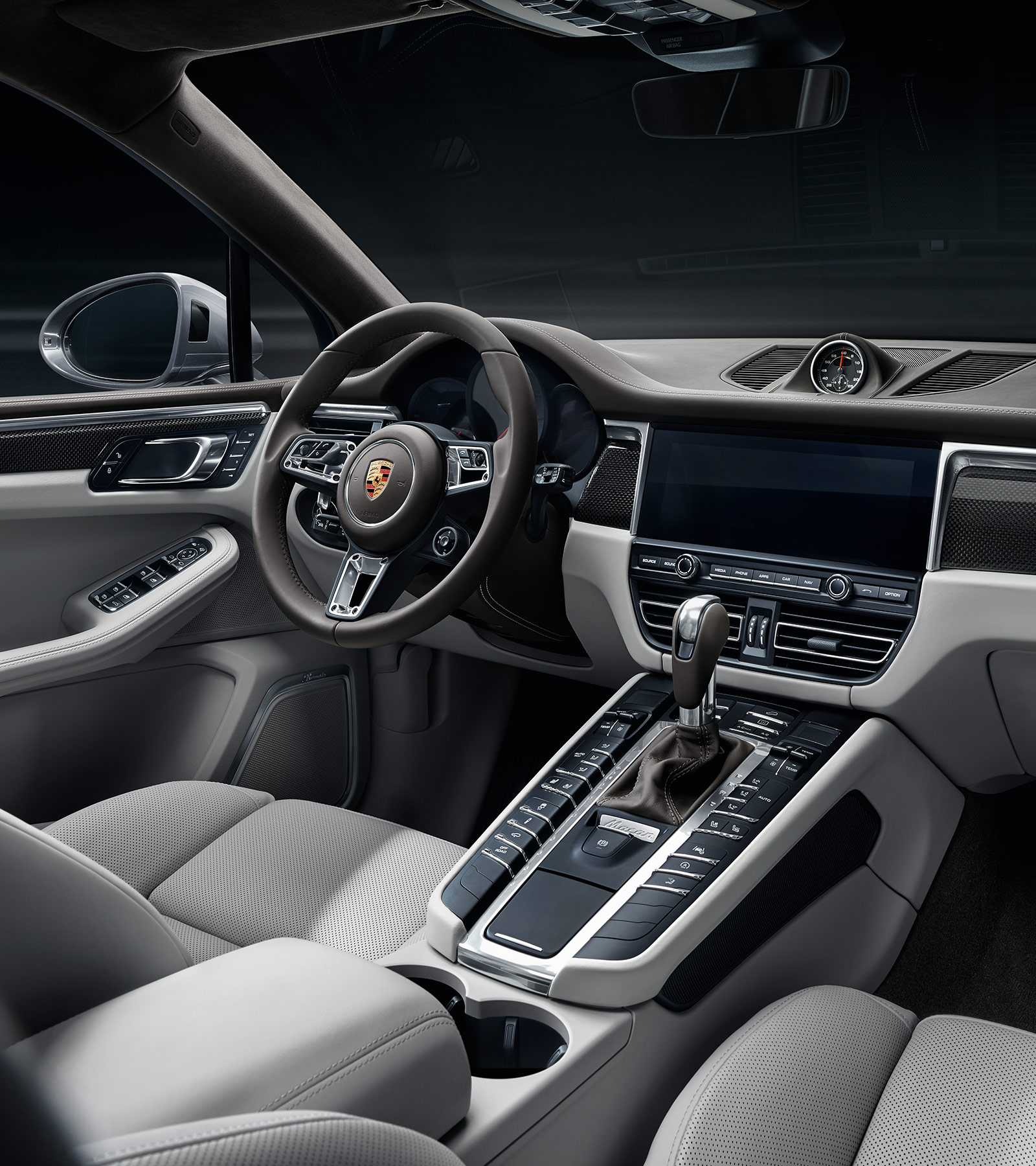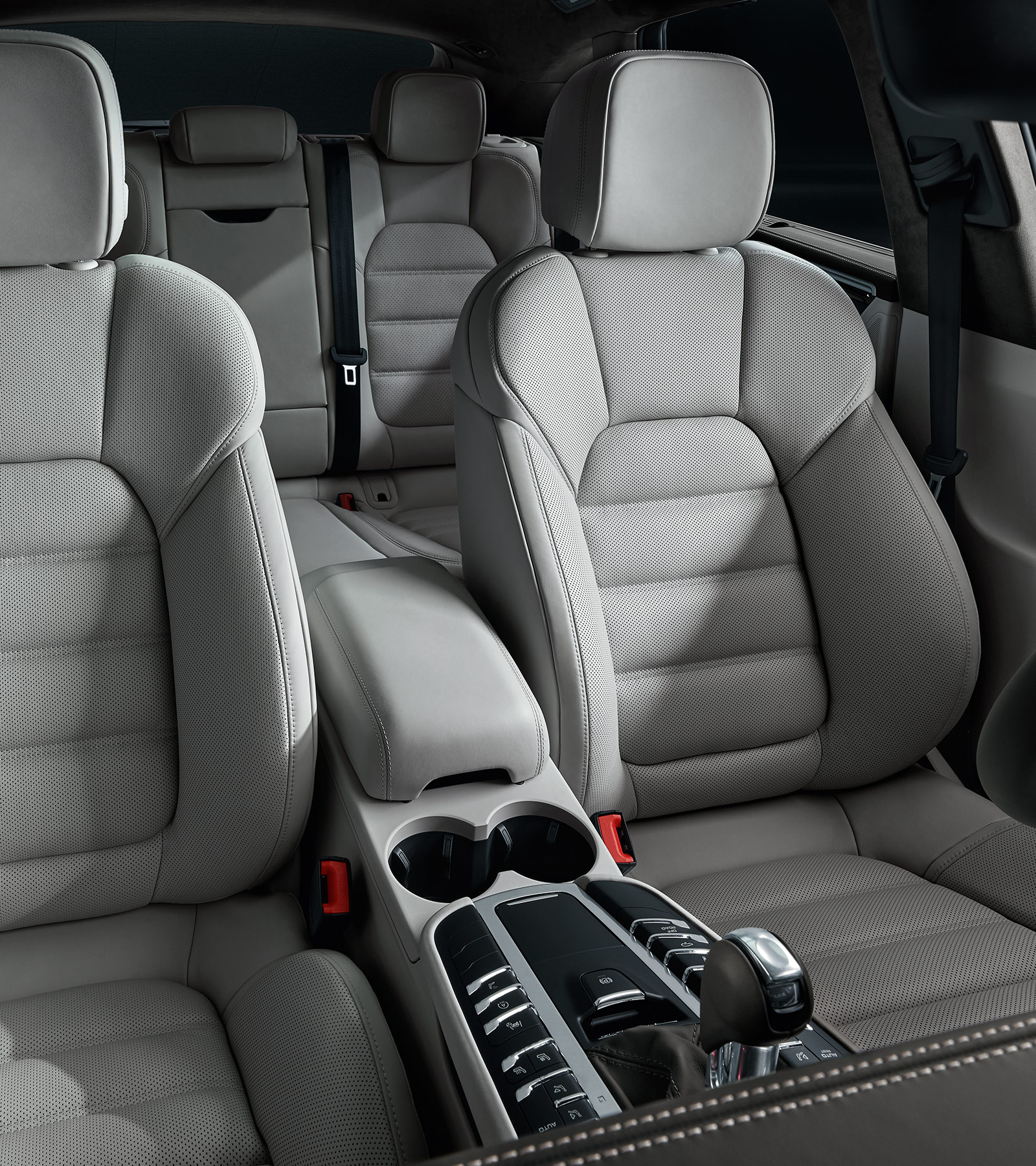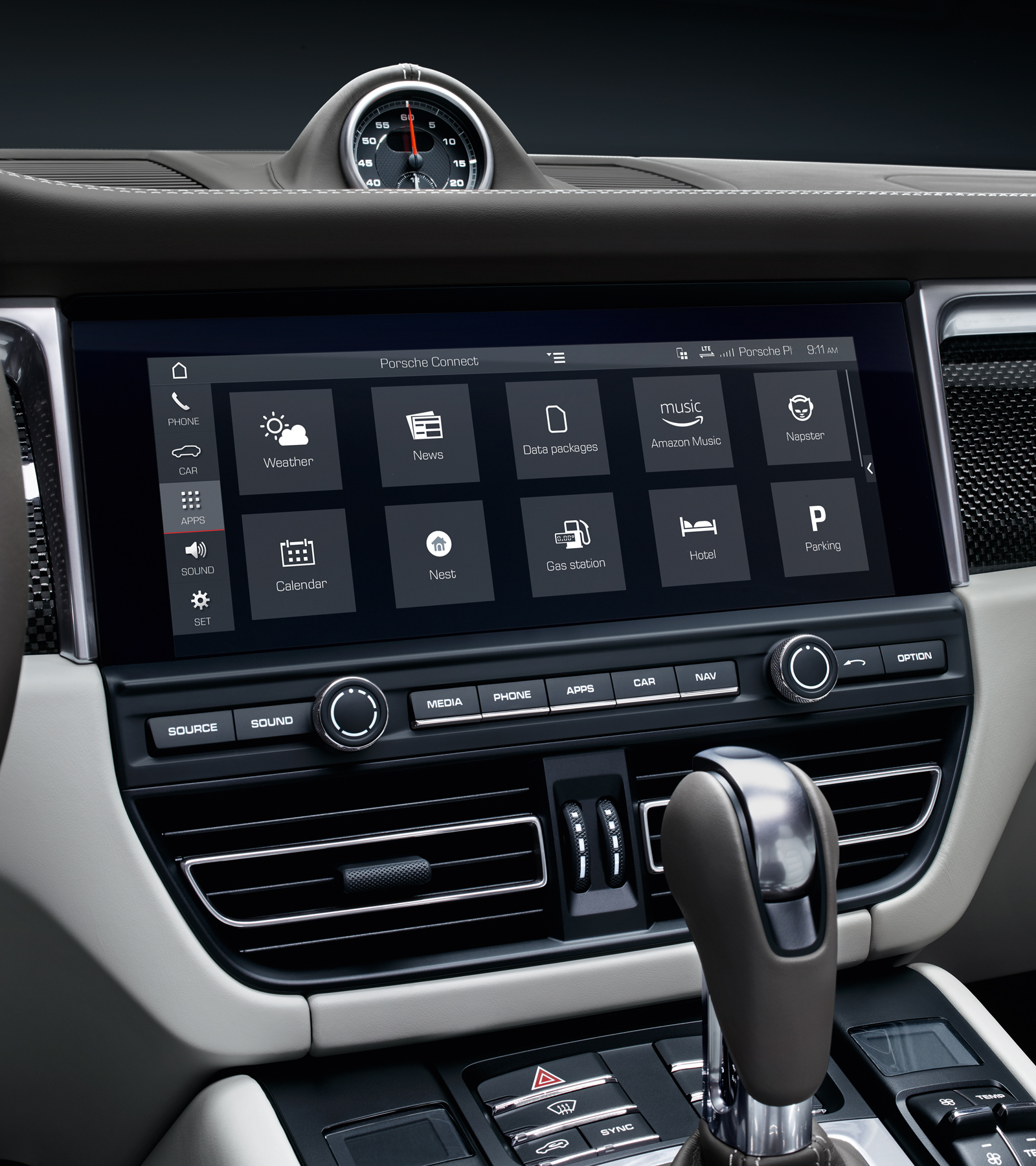 Design
For us, aesthetics are not simply superficial, but an expression of our personality.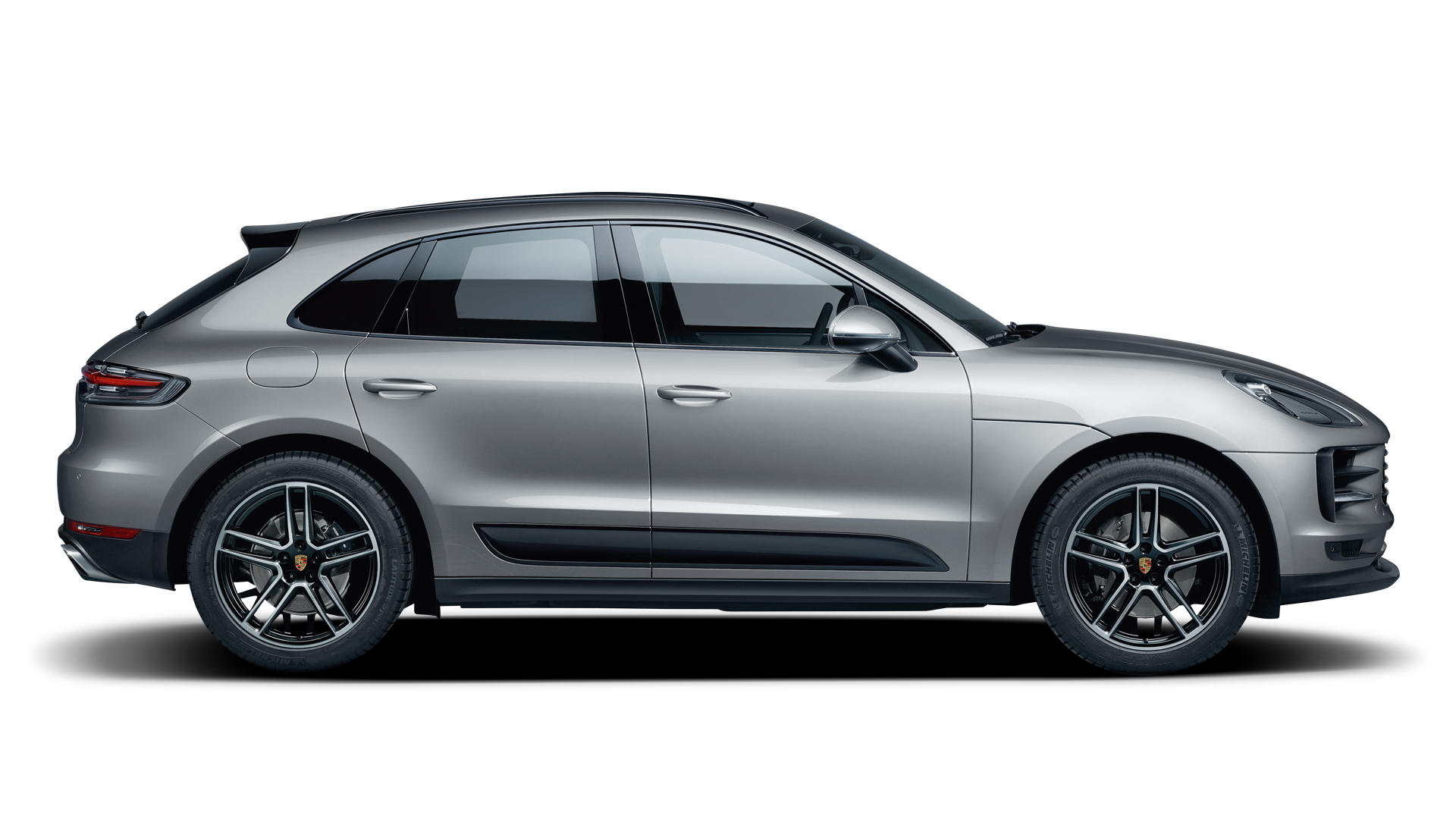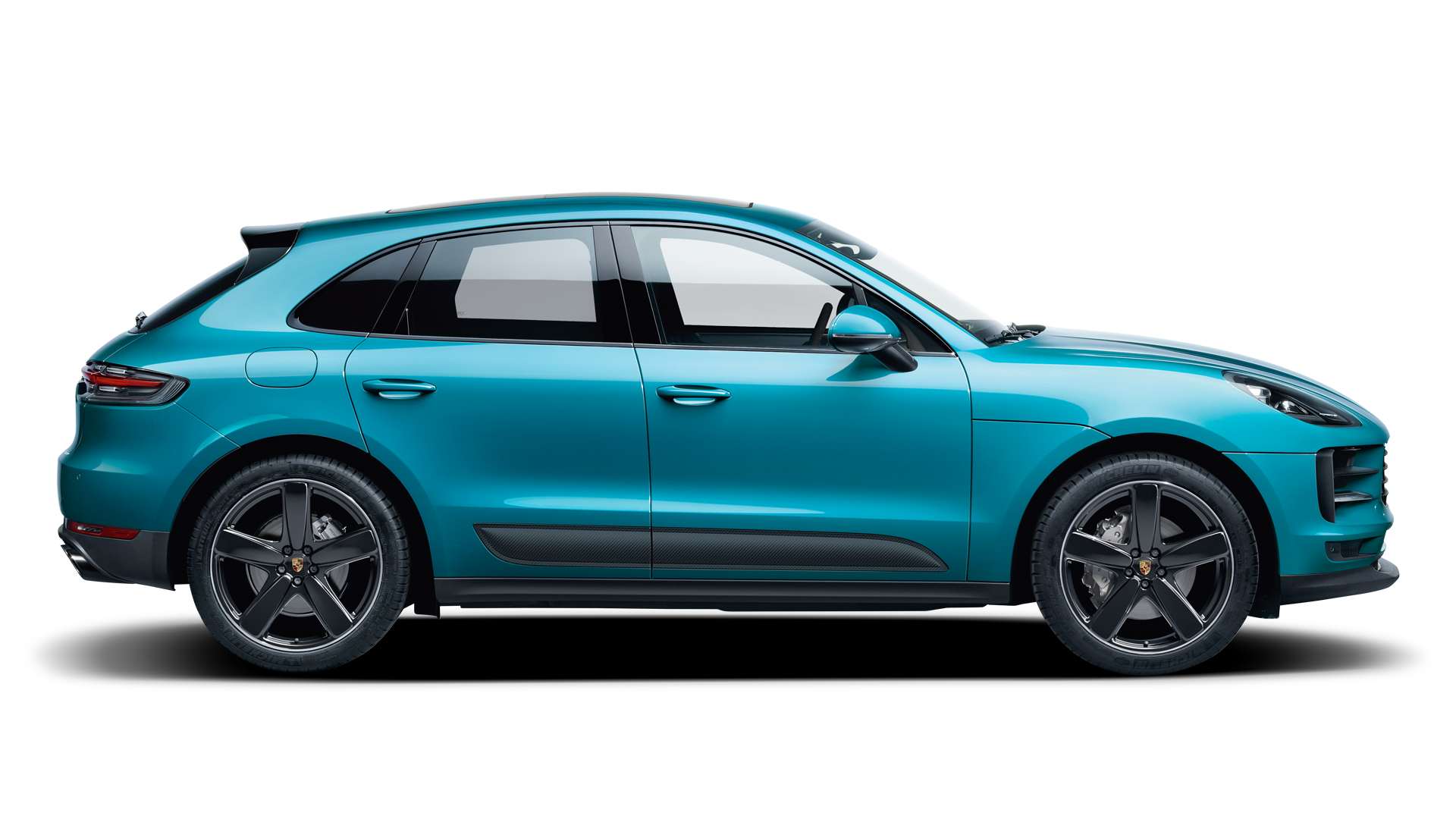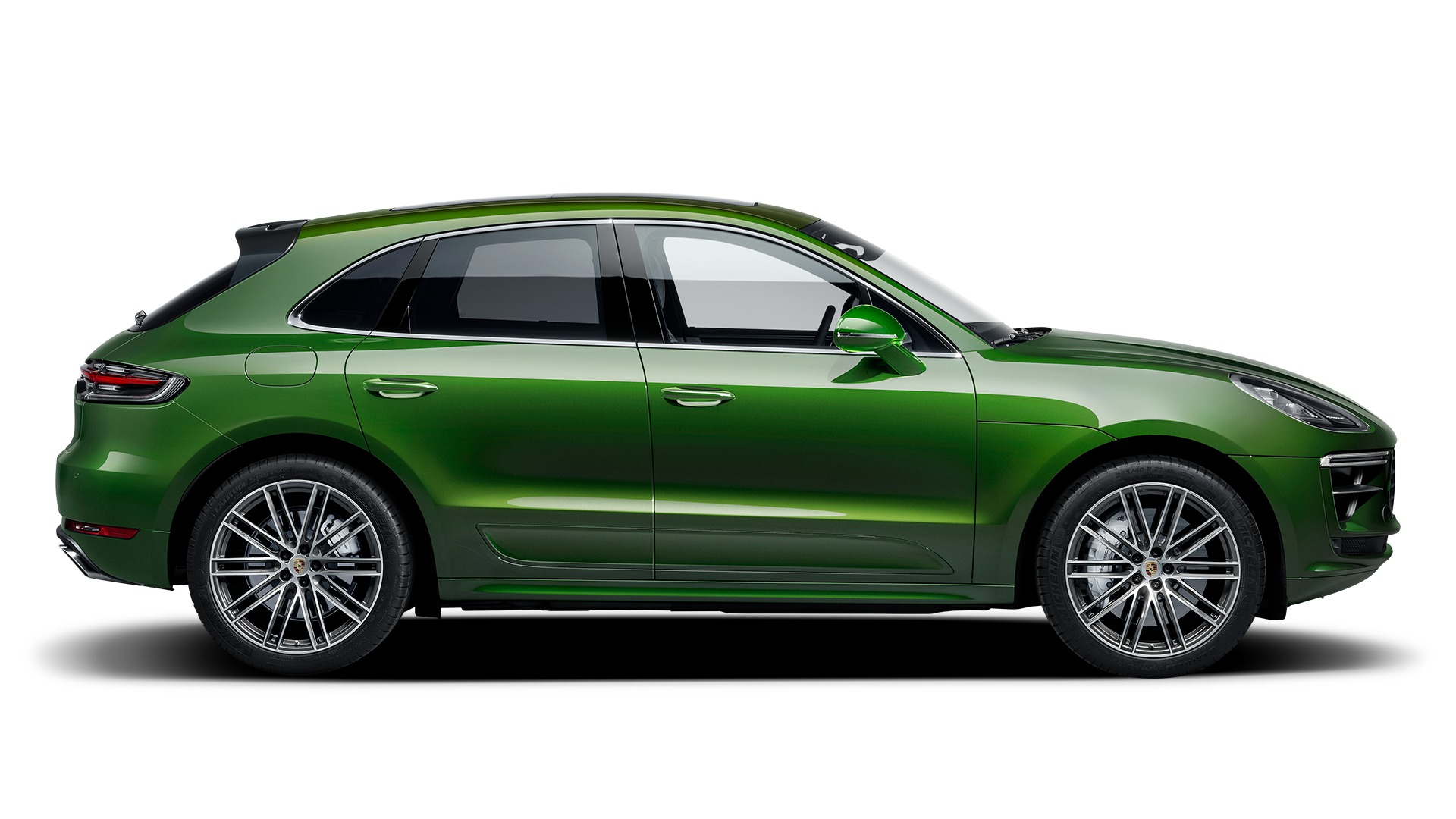 Macan Turbo
fra kr. 1.566.900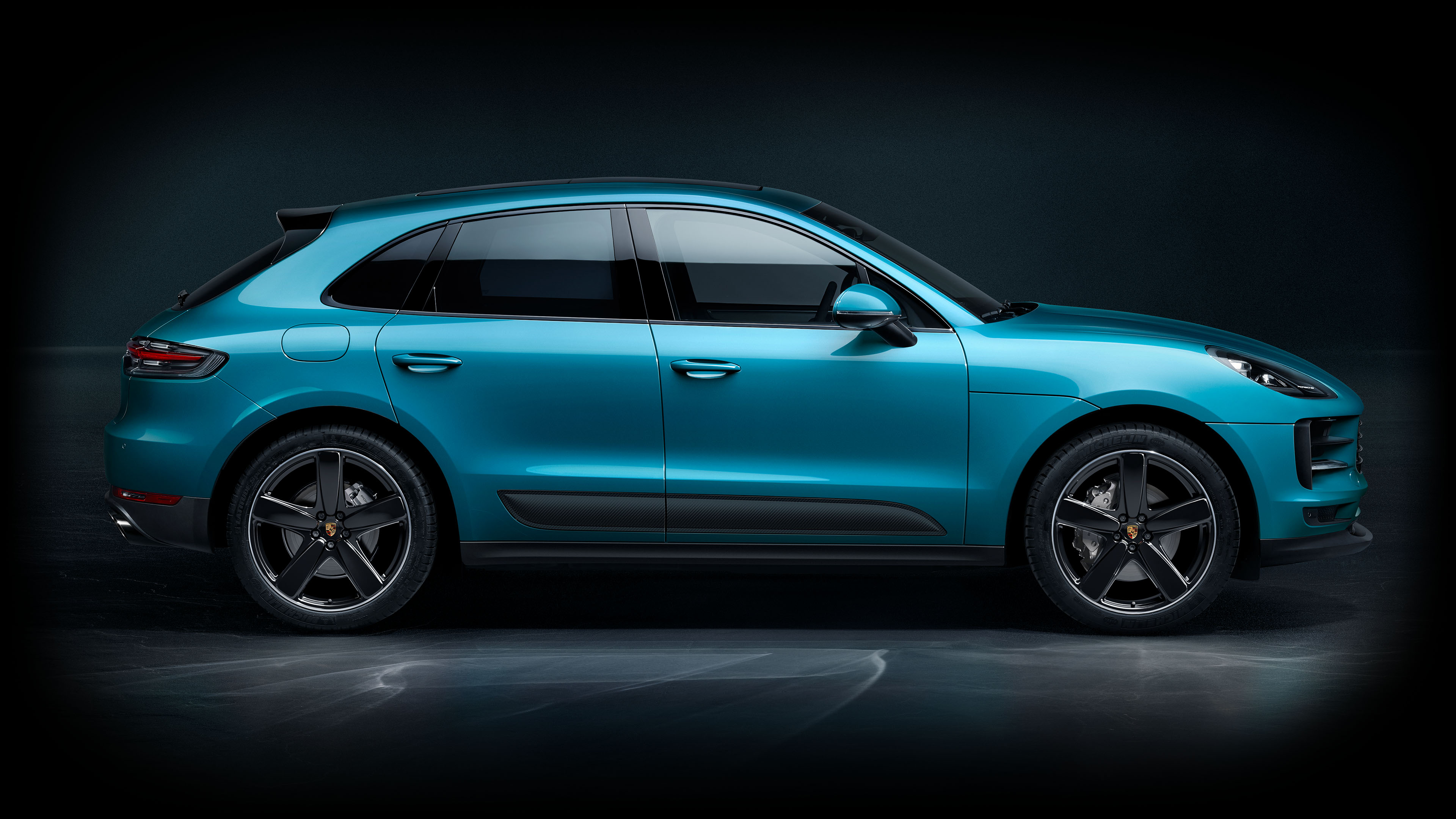 | | |
| --- | --- |
| 260 kW/354 HK | Effekt (kW)/Effekt (hk) |
| 5,3 s | 0 - 100 km/h |
| 5,1 s | 0 - 100 km/h med Sport Chrono-pakke |
| 254 km/h | Toppfart |
| 1.923 mm | Bredde |
| 4.696 mm | Lengde |
Motor
Motorplassering
Front engine
Ved turtall
5 400 - 6 400 r/min
Ved turtall
1 360 - 4 800
Drivlinje
Drivlinje
Porsche Traction Management (PTM): active all-wheel drive with electronic and map-controlled multi-plate clutch with automatic brake differential (ABD) and anti-slip regulation (ASR)
Automatgir
7-speed Porsche Doppelkupplung (PDK) with manual controls (gearshift paddles) on steering wheel and automatic mode, recommended gear for optimum fuel economy displayed in manual gearshift mode
Understell
Hjuloppheng foran
Fully independent double wishbone suspension
Hjuloppheng bak
Self-tracking trapezoidal-link suspension
Styring
Power-assisted, electromechanical
Bremser
Six-piston aluminium monobloc fixed brake calipers at front, combination floating calipers at rear, internally vented brake discs with diameter of 360mm at front and 330mm at rear
Stabilitetsprogram
Porsche Stability Management (PSM) with ABS, ASR, ABD, MSR and trailer stability management
Dekk foran
235/60 R18 103W
Ytelser
0 - 100 km/h med Sport Chrono-pakke
5,1 s
Terrengfunksjoner
Maks klaring i vann (standard understell)
300 mm
Angrepsvinkel foran/bak (standard understell)
16,9 - 23,6 °
Angrepsvinkel under midten (standard understell)
16,9 °
Maks bakkeklaring (standard understell)
205 mm
Maks bakkeklaring (luftfjæring i normal)
190 mm
Karosseri
Bredde inkludert speil
2 098 mm
Luftmotstandskoeffisient (Cd )
0,36 cW
Tillatt totalvekt
2 580 kg
Kapasitet
Bagasjeromsvolum med nedlagte seter
1 503 l
Forbruk/Utslipp
Utslippsstandard
Euro 6d-TEMP-EVAP-ISC
Pris
Porsche Doppelkupplung (PDK)
fra kr. 1.189.900
Exterior design
With its dynamic overall look, the Macan is unmistakably a sports car. Its redesigned rear appears extremely powerful. Like a bold line under its own signature, the new characteristic taillight strip emphasises the Porsche logo, enhanced by the new four-point brake lights, both functionally and visually.
The broad shoulders above its rear wheels are reminiscent of the 911. And a further visual demonstration of the roadhugging nature of the new Macan.
Its flank is also typically Porsche. From this angle, every muscle appears to be energised – like a predator ready to pounce. Its roof line slopes to the rear just like a coupé, thereby creating a characteristic sports car contour with high aerodynamic quality. Our designers call this the Porsche flyline.
Interior design
You are seeking one adventure after another, of course you want a full view. The sporty front seats convey a typical Macan feeling: you may sit high above the road, yet you are still closely connected to it.
As a sports car manufacturer, we understand that a car and its driver must form a single entity. So you do not simply sit in the Macan – but, thanks to its architecture, you are integrated into the vehicle.
The three-dimensional arrangement of the controls lends the interior a cockpit like character. The distance between the standard multifunction steering wheel and the PDK (Porsche Doppelkupplung) gear selector, as well as the main vehicle functions, is extremely short – via the ascending centre console, characteristic of sports cars. The ignition is on the left – as is typical of Porsche.
One highlight of which we are particularly proud: the new 10.9˝ touchscreen display in Porsche Communication Management (PCM). The new design boasts full-HD resolution with a start screen that can be fully customised. The new, intuitive menu provides even faster access to the main functions.
Performance and handling
It is no longer just about mobility. We do not simply drive in order to travel from A to B. Along the way there is much to discover and experience. Every second we want to feel that our life is dynamic, on the road and in our sports car.
Always focusing on absolute performance. As we would expect of a genuine sports car.
A Porsche delivers more than power alone. Such as the active all-wheel drive system Porsche Traction Management (PTM), traction, safety, outstanding steering and exceptional handling – clear evidence of traditional Porsche engineering.
And what about comfort? Also in plentiful supply, of course, with all the sporty and control features. The optional air suspension guarantees a constant ride height – on any terrain. Porsche Active Suspension Management (PASM) also actively and continuously adjusts damping force. For each individual wheel. The result? Increased comfort and sportiness – in all seats.
Comfort
For us, driving a sports car is an intense experience, involving all our senses. But endorphins are not just released by performance and adrenaline. Thanks to the optionally available high-quality leather interior, the new Macan makes you feel happy as soon as you get in. With the ascending centre console beside the optional multifunctional GT sports steering wheel contributing to the genuine sports car feeling.
Your ears are also in for a treat: the optional sports exhaust system makes the typical Porsche sound appear even more powerful. Apropos the audio experience: the BOSE® Surround Sound System and Burmester® High-End Surround Sound System are available as options for the Macan models.
To be able to breathe freely while enjoying the experience, three-zone automatic climate control is fitted as standard. The optional ioniser is a new addition – for improved air quality that enhances your wellbeing.
Porsche Connect
Our lives are eclectic and thrilling. We are constantly on the move and want to know what is happening around us. The new 10.9˝ touchscreen display with full-HD resolution provides even more interfaces with your next adventure. The customisable start screen is intuitive to use.
The standard online navigation system ensures that you arrive at your next adventure even more quickly. Connect Plus assists you with Real-time Traffic Information and online map updates. The Porsche Connect app allows you to determine your preferred destination and send it to your Macan – while looking for an empty parking space.
What else do you need for your journey? Your own sound track, of course: with the music streaming function of the Porsche Connect app.
We never compromise.
We always make our own decisions.
1.503 l
Bagasjeromsvolum med nedlagte seter
Macan Models
Macan Models
Macan Models
Macan Models
Macan Models
Macan Models
Macan Models
Macan Models
Macan Models
Macan Models
Macan Models
Macan Models
Macan Models
Macan Models
Macan Models
Macan Models
Macan Models
Macan Models
Macan Models
Macan Models
Macan Models
Macan Models
Macan Models
Macan Models
Macan Models
Macan Models
Macan Models
Macan Models
Macan Models
Macan Models
Macan Models
Macan Models
Macan Models
Macan Models
Macan Models
Macan Models
Macan Models
Macan Models
Macan Models
Macan Models
Macan Models
Macan Models
Macan Models
Macan Models
Macan Models
Macan Models
Macan Models
Macan Models
Macan Models
Macan Models
Macan Models
Macan Models
Macan Models
Macan Models