Even high performance can always be improved on.
You have great plans for the future and we don't want anything to stand in your way. In our experience, the better you plan your goals the easier they are to achieve. Our solution? Porsche Finance S.
The difference between this and Porsche Finance is that the balloon payment is adjusted exactly to fit your driving profile right when you sign the contract. A key advantage if you would like to climb into a new Porsche at the end of your contract. The balloon payment can be paid off at the end of the contract or refinanced with follow-up financing. Your Porsche Centre will also be happy to give you an offer to trade in your Porsche model. In addition, the same benefits apply as with Porsche Finance. However, with the "S" version we offer loans with flexible terms between 12 and 36 months for new Porsche models for both private and commercial customers.
Planning reliability: Thanks to the monthly installments agreed in the contract, you know exactly what your outgoings will be.
Tailor-made solutions: The balloon payment is individually adjusted to your driving profile. This results in a reduction in your monthly installments. At the end of the finance period, you then have the option of paying the balloon payment and ending the contract as planned. Alternatively, you can arrange follow-up financing or trade in your Porsche at your Porsche Centre.
Contract type:
Loan with balloon payment
Customers:
Private and commercial
Down payment:
Minimum 30% of the purchase price
Term:
12, 18, 24, 36 months
Balloon payment:
Up to 40% of the purchase price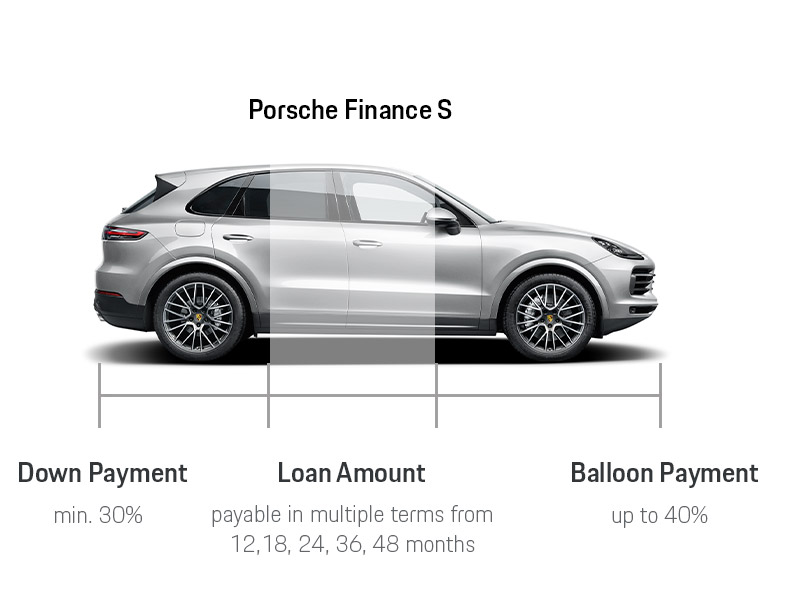 No matter how long and how far, we are together with you to help realize your dream.
If you already have a dream and willing to chase it with all efforts, we believe you will achieve it. We can help realize your dream with our attractive financial modules, and you will not be involved in any financial troubles according to this. Initiate your wonderful journey, release the power of compassion in your heart.
The bullet balloon at 12th month, 24th month and 36th month, which can lower down the monthly installment by a large margin. You will be able to better arrange your yearly cash flow, and better utilize the effect of year-end bonus.
Contract type:
Loan with balloon
Customers:
Private and commercial
Down payment:
Minimum 30% of the purchase price
Balloon payment:
3 times, each time 30 times as much as monthly installment
Interested? What are you waiting for? Our Porsche certified financial consultants await you at your local Porsche Centre to provide you with any additional information you may need.
Porsche Financial Services is provided by licensed Service Providers. Terms and conditions of the respective service provider of the illustrated products apply. Only available in participating Porsche Centers.