The Macan Concept
A compact SUV that inextricably combines sportiness, design and everyday practicality: Macan.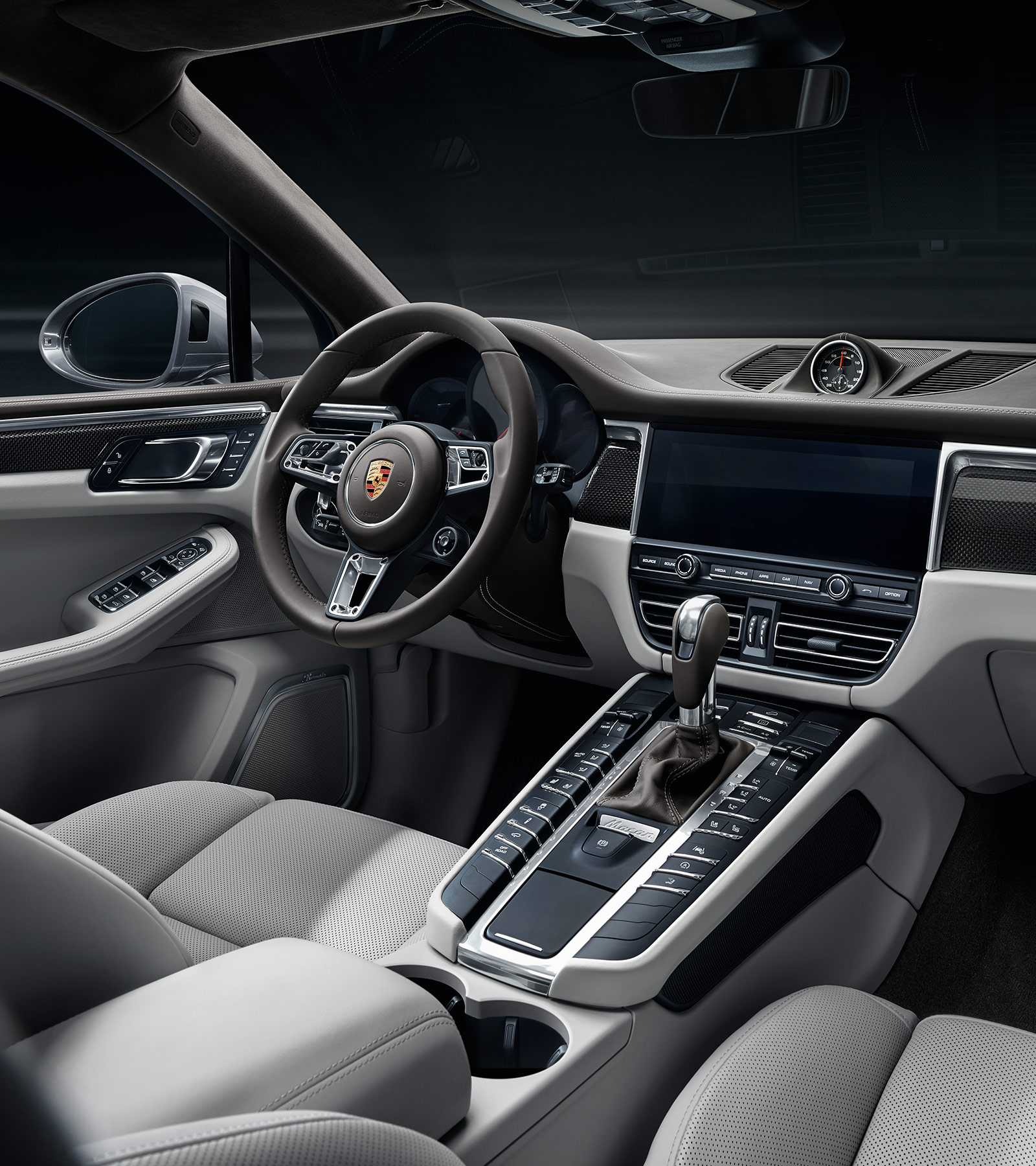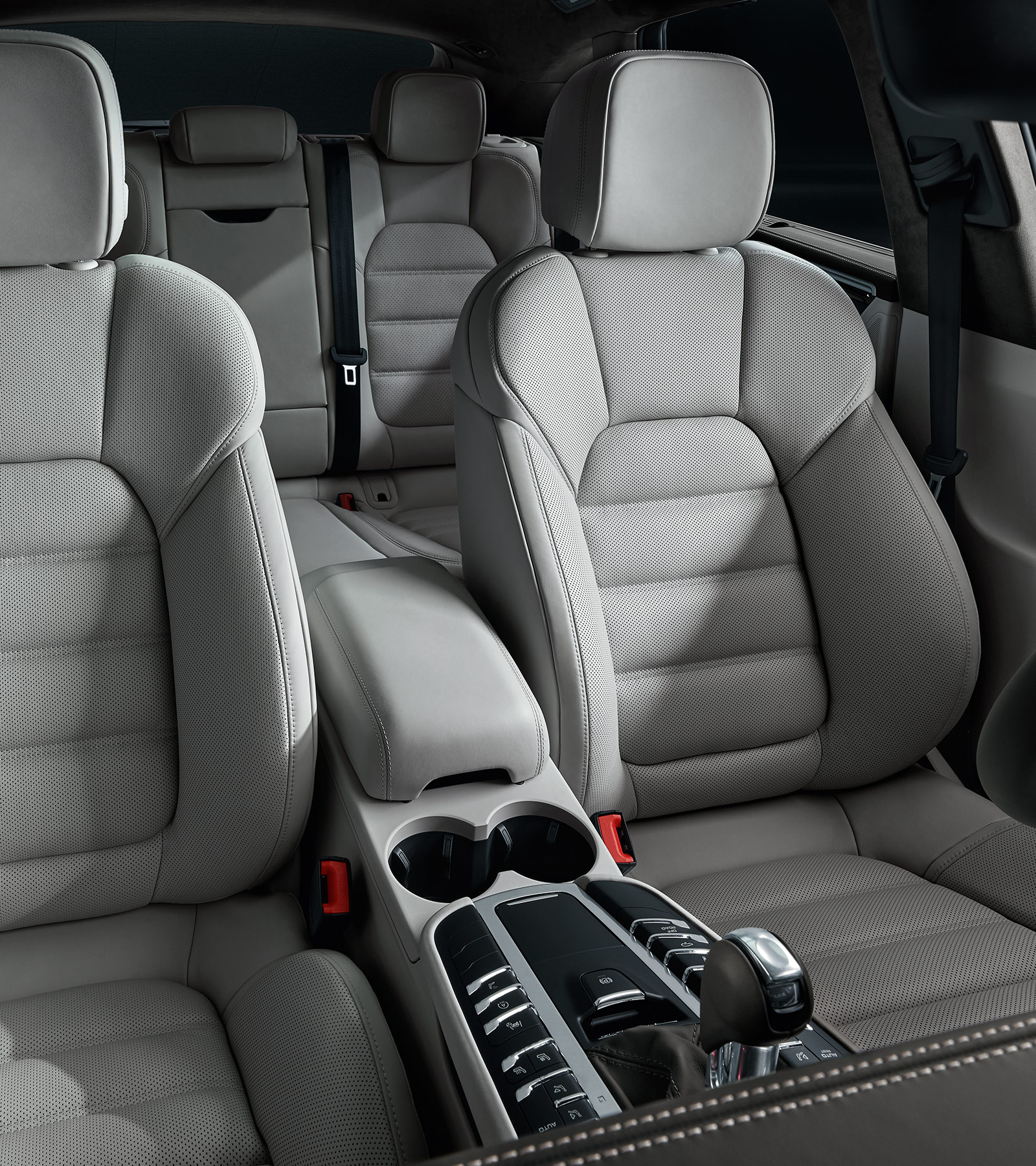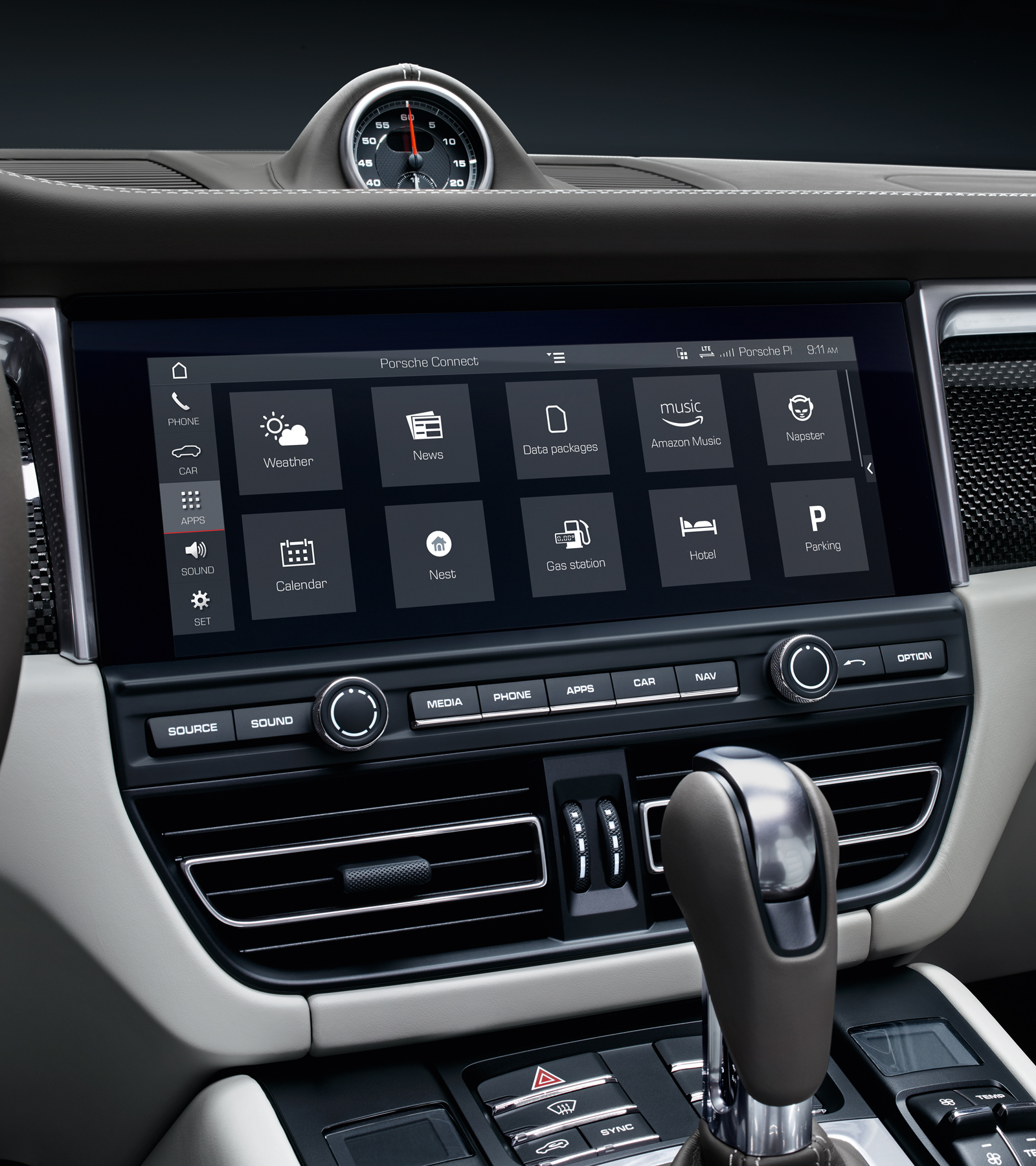 Design
For us, aesthetics are simply an expression of our personality.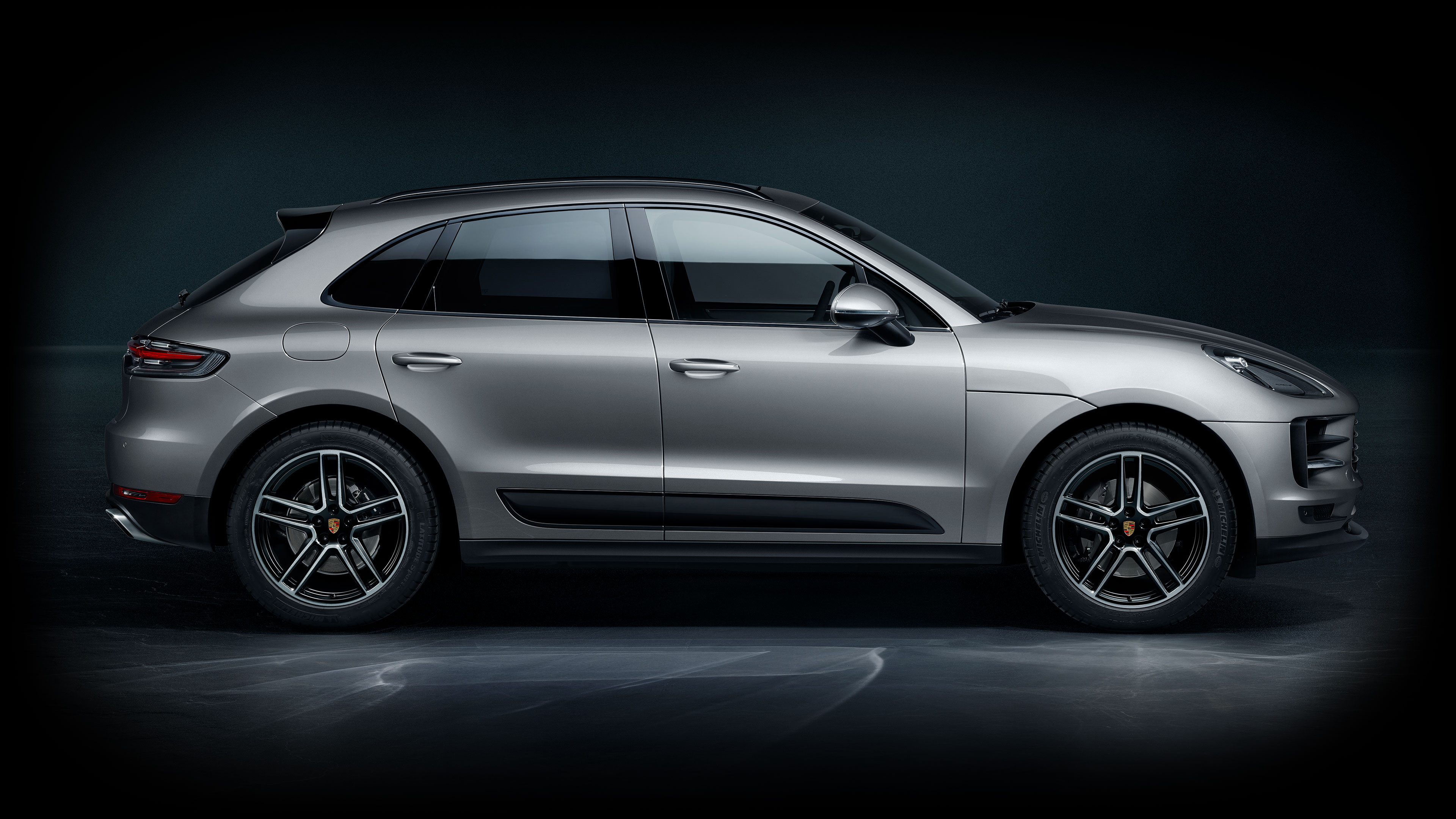 | | |
| --- | --- |
| 248 hp | Max power (hp) |
| 6.7 s | Acceleration from 0 - 100 km/h |
| 6.5 s | Acceleration 0 - 100 km/h with Sport Chrono Package |
| 227 km/h | Top speed |
| 1,923 mm | Width (not incl. mirrors) |
| 4,696 mm | Length |
Power unit
Layout / number of cylinders
Turbocharged Inline-4
Performance
Acceleration from 0 - 100 km/h
6.7 s
Acceleration 0 - 100 km/h with Sport Chrono Package
6.5 s
Acceleration from 0 - 160 km/h
17.1 s
In-gear acceleration (80-120 km/h)
4.8 s
Terrain features
Max. clearance between ground and water-sensitive parts (steel suspension)
300 mm
Max. clearance between ground and water-sensitive parts (air suspension, off-road ride height)
340 mm
Slope angle, front/rear (steel suspension)
16.9 - 23.6 °
Slope angle, front/rear (air suspension, off-road ride height)
18.5 - 25.3 °
Ramp break over angle (steel suspension)
16.9 °
Ramp break over angle air suspension (highest level)
18.8 °
Max. ground clearance (steel suspension)
205 mm
Max. ground clearance (air suspension, normal level)
190 mm
Max. ground clearance (air suspension, off-road ride height)
230 mm
Body
Width (not incl. mirrors)
1,923 mm
Width (without mirrors folded)
2,098 mm
Drag coefficient (Cd)
0.35 Cd
Unladen weight (DIN)
1,795 kg
Permissible gross weight
2,510 kg
Max. towing load (braked/un-braked)
2,000 kg
Capacities
Rear luggage compartment (with seats folded)
1,503 l
Service and Warranty
Warranty period
4-year/80,000-kilometer (whichever comes first) limited warranty and Roadside Assistance program.
Main service interval
15 000 km / 1 year (whichever comes first)
Paint warranty period
4 years / 80,000 km (whichever comes first)
Rust warranty
12 years (unlimited mileage)
Price
Exterior design
With its overall dynamic look, the Macan is unmistakably a sports car. Its redesigned rear appears extremely powerful. Like a bold line under its own signature, the new characteristic taillight strip emphasizes the Porsche logo, enhanced by the new four-point brake lights.
The broad shoulders above its rear wheels are reminiscent of the 911 and a further visual demonstration of the roadhugging nature of the new Macan.
Its flank is also typically Porsche. From this angle, every muscle appears to be energized. Its roof line slopes to the rear just like a coupe, thereby creating a characteristic sports car contour with high aerodynamic quality. Our designers call this the Porsche flyline.
Interior design
You are seeking one experience after another; of course, you want the whole overview. The sporty front seats conveys the unique Macan feeling: you may sit high above the road, yet still feel closely connected to it.
As a sports car manufacturer, we understand that a car and its driver must form a single entity. You do not simply sit in the Macan – thanks to its architecture, you are integrated into the vehicle.
The three-dimensional arrangement of the controls lends the interior a cockpit character. The distance between the standard multifunction steering wheel and the PDK (Porsche Doppelkupplung) gear selector, as well as the main vehicle functions, is extremely short – via the ascending centre console, characteristic of sports cars. The ignition is on the left – as is typical of Porsche.
Additionally, the new design of the full-HD resolution 10.9" touchscreen display in Porsche Communication Management (PCM) has a start screen that can be personalized to your liking. With an intuitive menu, it provides even faster access to the main functions.
Performance and handling
It is no longer just about mobility. We do not simply drive in order to travel from destination A to destination B. There is much to discover and to experience along the way. We want every second of our life on the road and in our sports car to feel dynamic.
A Porsche delivers more than power alone. The active all-wheel drive system, Porsche Traction Management (PTM) encompasses traction, safety, outstanding steering and exceptional handling – traditional Porsche engineering.
What about comfort? With all the sporty and control features, the optional air suspension guarantees a constant ride height – on any terrain. Porsche Active Suspension Management (PASM) also actively continuously adjusts damping force for each individual wheel. The result? Increased comfort and sportiness – in all seats.
Comfort
For us, driving a sports car is an intense experience, involving all our senses. Endorphins are not just released by performance and adrenaline. The interior of the new Macan makes you feel happy the second you step in. The high-quality leather interior and the ascending centre console beside the optional multifunctional GT sports steering wheel contribute to the genuine sports car feeling.
Your ears are also in for a treat: the optional sports exhaust system makes the typical Porsche sound even more powerful. Apropos the audio experience: the BOSE® Surround Sound System and Burmester® High-End Surround Sound System are available options for the Macan models.
To be able to breathe freely while enjoying the experience, a three-zone automatic climate control is fitted as standard. The optional ionizer is a new addition – for improved air quality that enhances your wellbeing.
Porsche Connect
Our lives are eclectic and thrilling. We are constantly on the move and want to know everything that is happening around us. The new 10.9˝ touchscreen display with full-HD resolution provides even more interfaces with your next adventure. The start screen is not only intuitive but can be personalized to your liking.
The standard online navigation system ensures that you arrive at your next adventure quicker than before. Connect Plus assists you with real-time traffic and online map updates, while the Porsche Connect app allows you to determine your preferred destination and send it to your Macan.
What more do you need to complete your journey? The music streaming function that plays all your soundtracks of course.
Macan GTS
Drive
In the new Macan GTS, the love of adrenaline is ignited by a 2.9-litre twin-turbo V6 engine producing 375HP. That's 15HP more than the previous model. Two exhaust turbochargers in what is known as the central turbo layout ensure a spontaneous response. Maximum torque is 383 lb.-ft.
Porsche Traction Management (PTM) active all-wheel drive provides traction, safety, outstanding steering behaviour and excellent handling.
Chassis
Close contact with the road? Standard air suspension including Porsche Active Suspension Management with self-levelling function and ride-height adjustment, unite opposites together from optimum comfort and outstanding athleticism: lowering your new Macan GTS by a further 10mm and offering even sportier tuning.
Still not enough? Optional Porsche Torque Vectoring Plus (PTV Plus) improves driving dynamics and stability. Which also increases cornering fun by selectively applying brake pressure to the left or right rear wheel.
Exterior design
First take a deep breath. This is also a design principle: the front apron instantly catches your eye with its large cooling air intakes. The SportDesign package gives the air intake grilles and distinctive airblades a matt black finish. Overall, the front has a wide, sporty appearance that hugs the tarmac. The standard tinted LED main headlights including Porsche Dynamic Light System (PDLS) optimally illuminate the road ahead and its bends.
The customary Macan sideblades are painted matt black and furnished with a high-gloss 'GTS' logo. 20-inch RS Spyder Design wheels in satin black are fitted as standard – ready for whatever you have planned.
If you're looking for braking performance with the same ferocity as your thirst for adventure: the surface of the optional Porsche Surface Coated Brake (PSCB) is made of tungsten carbide. For consistently high braking performance, even during continuous use.
Finally, the well-honed rear: with continuous taillight strip, tinted three-dimensional LED taillights with four-point brake lights, a sporty black rear section with diffuser – and sports tailpipes. Quiet? Not today.
Interior design
Some people are happy to drift. Others prefer to be actively involved. And where better than in the GTS sports seats, in which simply sitting still would exact maximum punishment?
Everything else in the interior – with its typical cockpit character – is also designed to tackle your next adventure in a manner that is both intense and controlled. The optional multifunctional GT sports steering wheel provides extremely sporty feedback. With its manageable size, its design is a reference to the Porsche motorsport genes. In conjunction with the optional Sport Chrono Package, the steering wheel also houses the mode switch: various driving modes allow you to adjust your driving pleasure to suit your requirements.
What about the materials? Sporty, elegant, non-slip: Alcantara® on the seat centres, armrests and centre console. The standard leather interior package is complemented by decorative elements in brushed aluminium in black. Evidence of the fact that this model bears its own signature: the 'GTS' logo on the rev counter, door sill guards and headrests of the front and outer rear seats.
We never compromise.
We always make our own decisions.
1,503 l
Rear luggage compartment (with seats folded)

Take your dream car for a drive.
Sign up for a flexible monthly subscription to a fleet of Porsche models or rent a Porsche for a day or week. Currently available in Toronto, Ontario.