Time is precious.
Others use their day effectively. We make the most of every single second. Because we know that time is precious. And every moment in the cockpit is valuable. So for the new 911 GT3, we have further refined everything that constitutes a genuine sports car: aerodynamics, performance, tuning, driving pleasure and adrenaline. Time flies. This is your time. Get in.
A new swan-neck mounted rear wing for additional downforce.
Large slats for increased downforce: the rear diffuser.
Front fascia with extended openings for optimized brake cooling.
Inspired by motorsport: carbon fibre hood with integrated air outlets.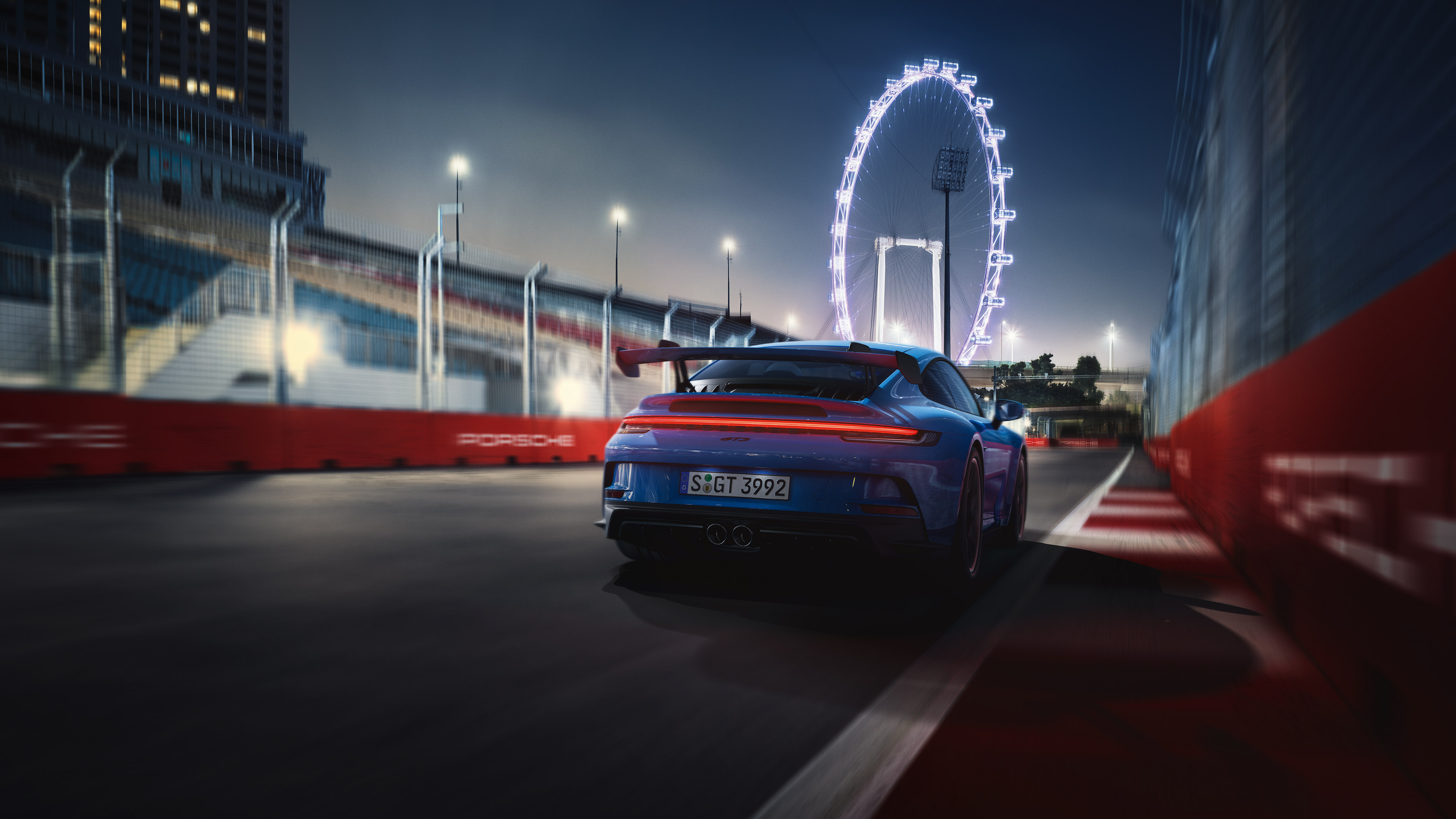 Developed in Flacht, at home on the racetrack: the 4.0-litre high-revving flat-6 naturally aspirated engine.
With a sound that makes your heart beat faster. Close to the racetrack; acoustically too: with the 911 GT3, not only the driving experience ensures an authentic motorsport feeling, but also its thoroughbred sound.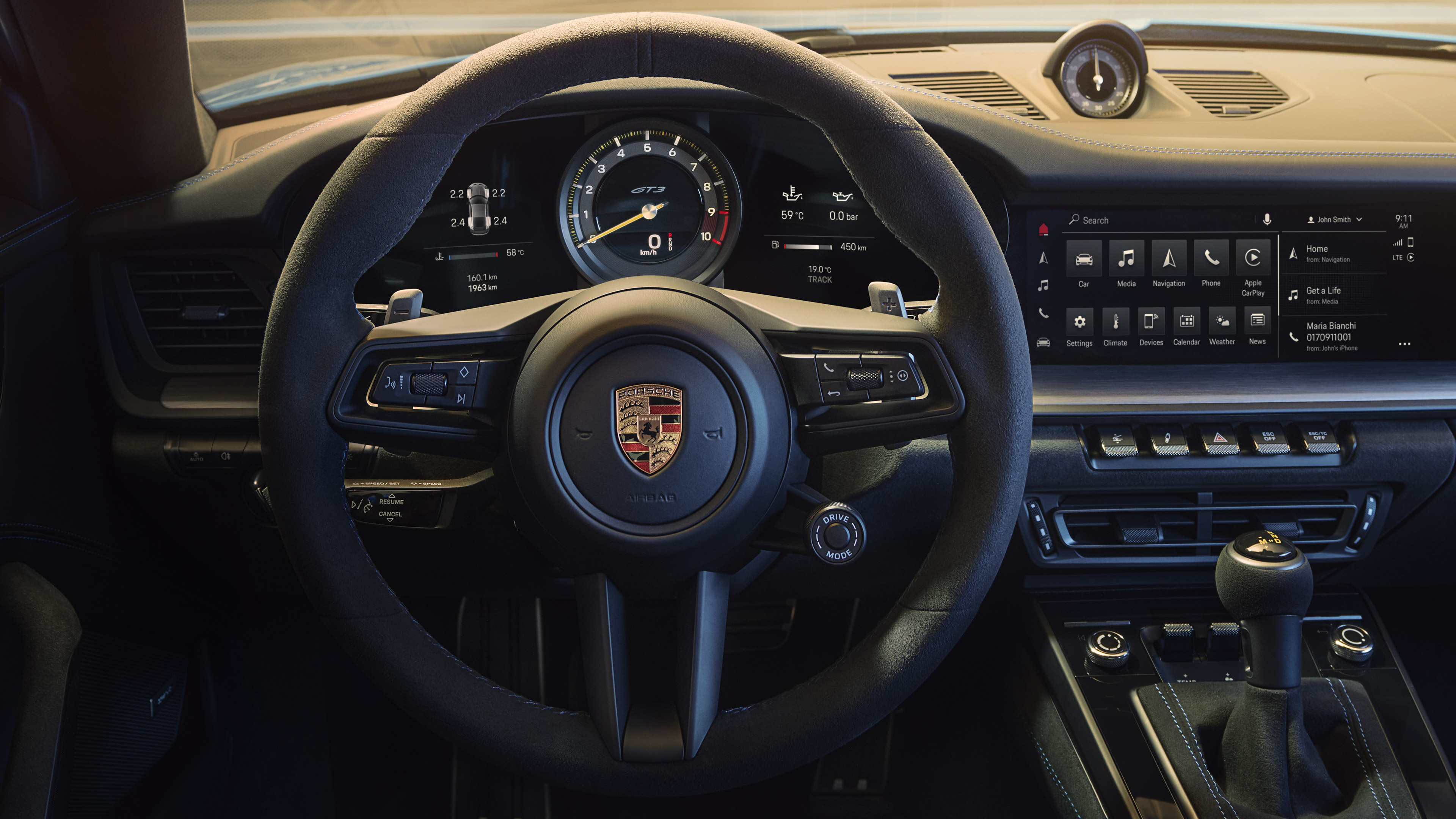 Everything at a glance: the new Track Display showing all your relevant driving stats for the racetrack.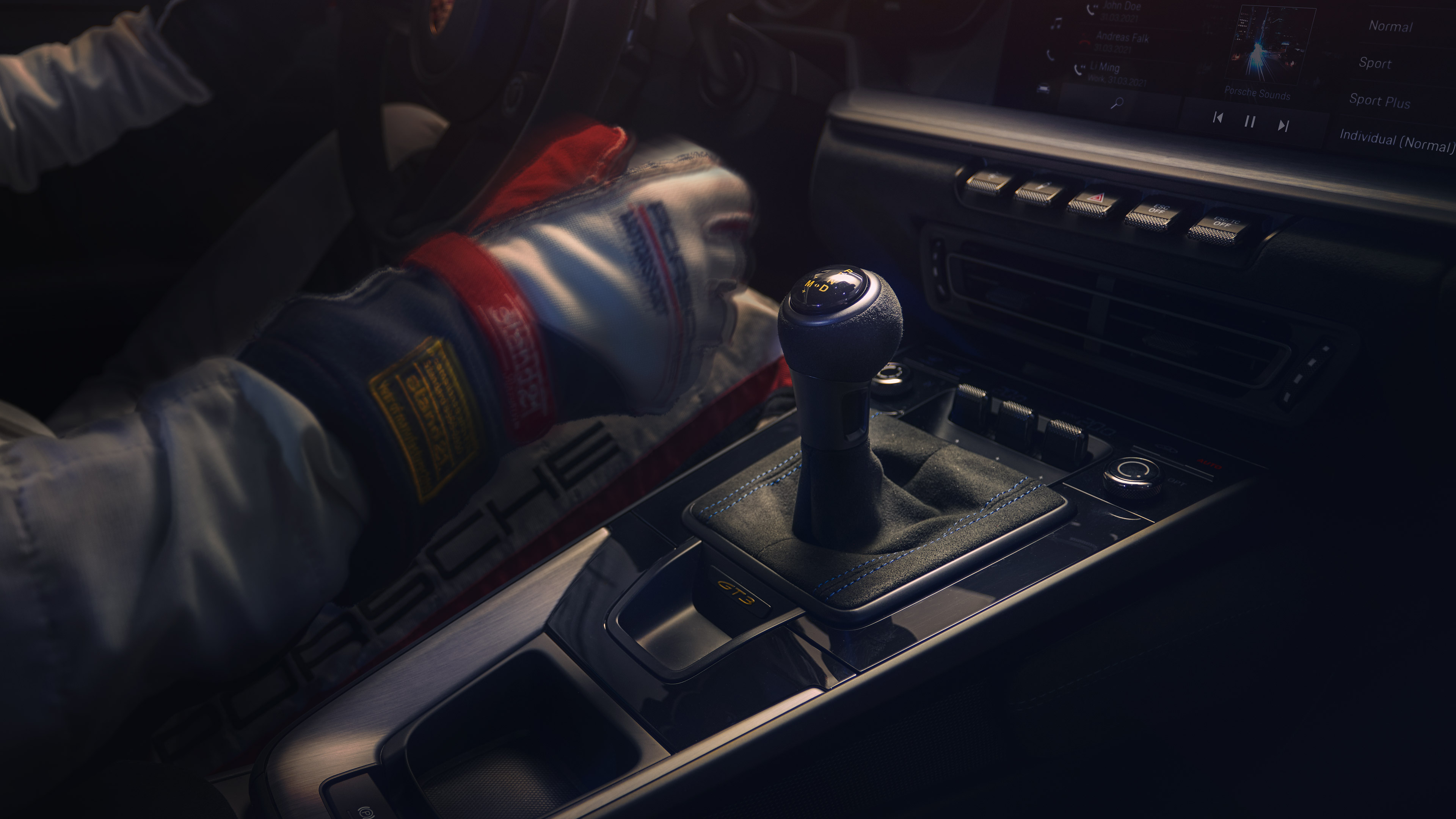 Seven performance-oriented gears for a true motorsport feeling: the PDK gear selector, inspired by the manual lever.
Available as an option: the 6-speed GT sport manual transmission for a pure, even more direct driving experience.
Discover the 911 GT3 in detail.
You already know the highlights. Here are more details about the individual chapters.

Aerodynamics and design
Discover more about the extremely aerodynamic exterior.
Open Chapter
Performance
Be inspired by the unbeatable performance.
Open Chapter
Interior and infotainment
Discover more about assistance systems and infotainment.
Open Chapter
Motorsport
Discover the roots of the 911 GT3 – motorsport.
Open Chapter
We spend 99% of our development time on the last 1%.
Time is precious? For our aerodynamicists, this also applies to every gram. Every gram of downforce. Because more downforce means greater contact pressure and therefore a higher maximum cornering speed, thanks to the increased wheel load and improved static friction. So the vehicle gets through the corner faster and better.
The new aerodynamics concept of the 911 GT3 follows this maxim. And it therefore reinforces once again the principle of 'form follows function'. Everything must be subordinated to it: wings, diffusers, air intakes. The aim: excellent grip in every driving scenario.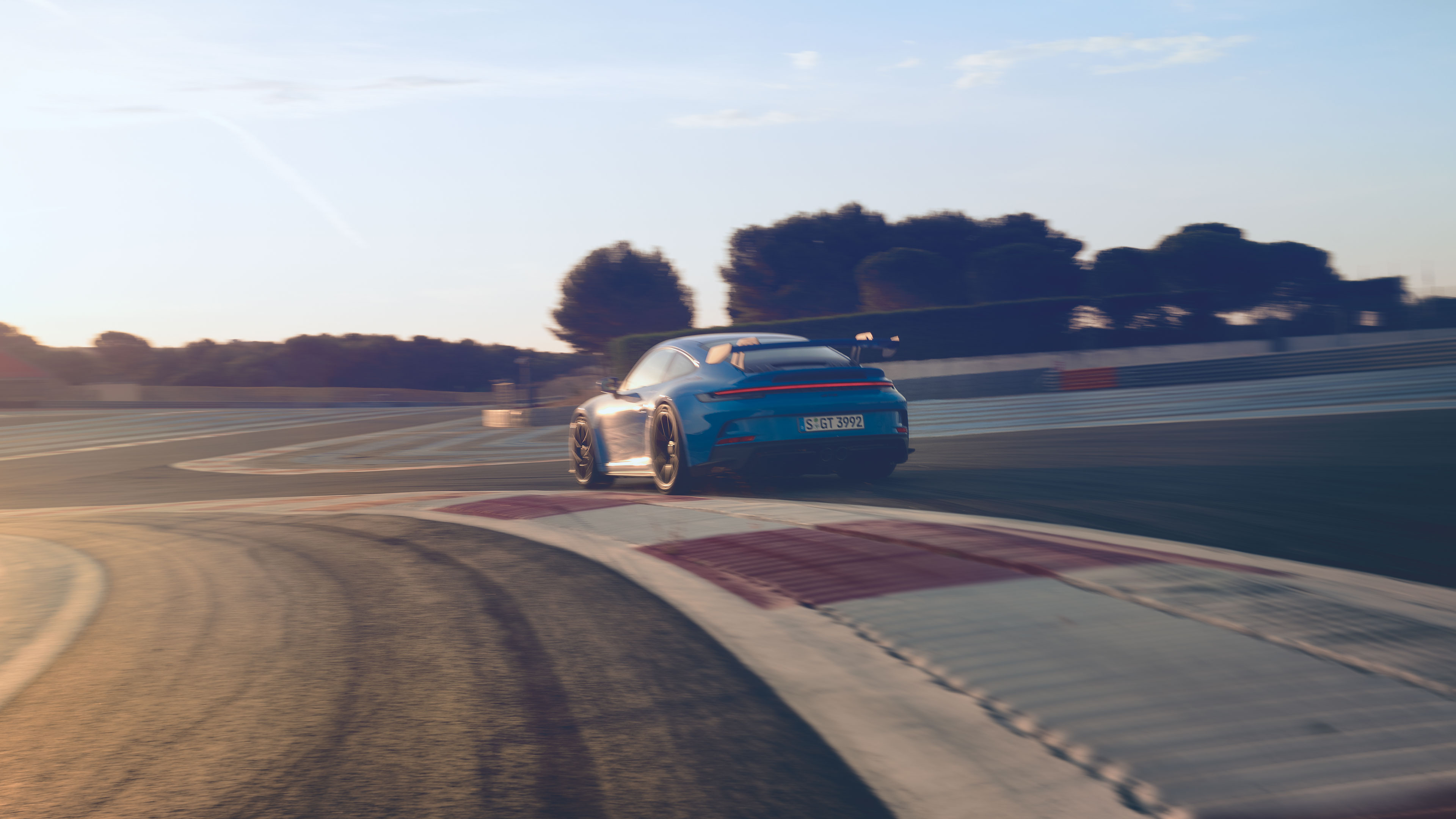 Rear.
The rear of the new 911 GT3 is powerful. A powerful downforce is generated by the new wing attached to the top, as previously used on the 911 RSR. It is carried by two aluminium supports that are integral to the vehicle bodyshell. The so-called swan-neck connection ensures that there is a clean flow around the base of the wing, leading to significantly less loss of downforce.
The completely new diffuser with large slats on the rear is aerodynamically efficient. It delivers up to four times more downforce than the rear diffuser of its predecessor.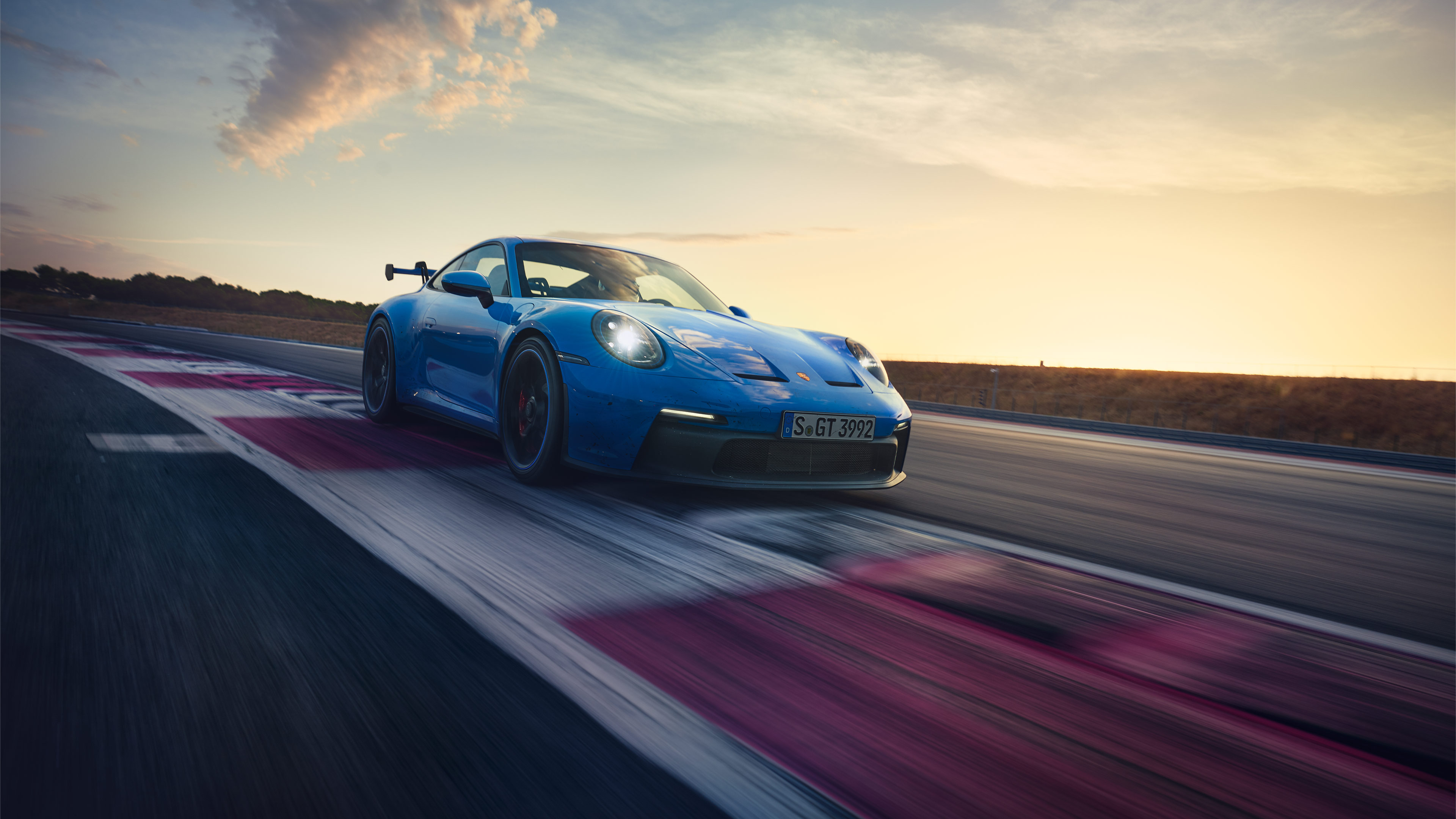 Front.
Fighting the headwind: the front apron of the new 911 GT3 with its large openings. The incoming air cools the brakes, the coated air intake grilles protect against foreign objects. The air outlets in the central radiator are now integrated into the carbon bonnet and emphasize the motorsport look.
Downforce. Balance. Cooling. Everything must be in harmony. The wide front spoiler lip ensures additional downforce on the front axle. Thanks to the new front diffuser, downforce on the front axle and vehicle balance can now be adjusted in stages. Together with the aerodynamically improved underbody panelling, downforce on the front axle and vehicle balance can be optimally coordinated. The air control elements behind the front wheels have been completely revised and now deliver twice the amount of downforce with the same air resistance.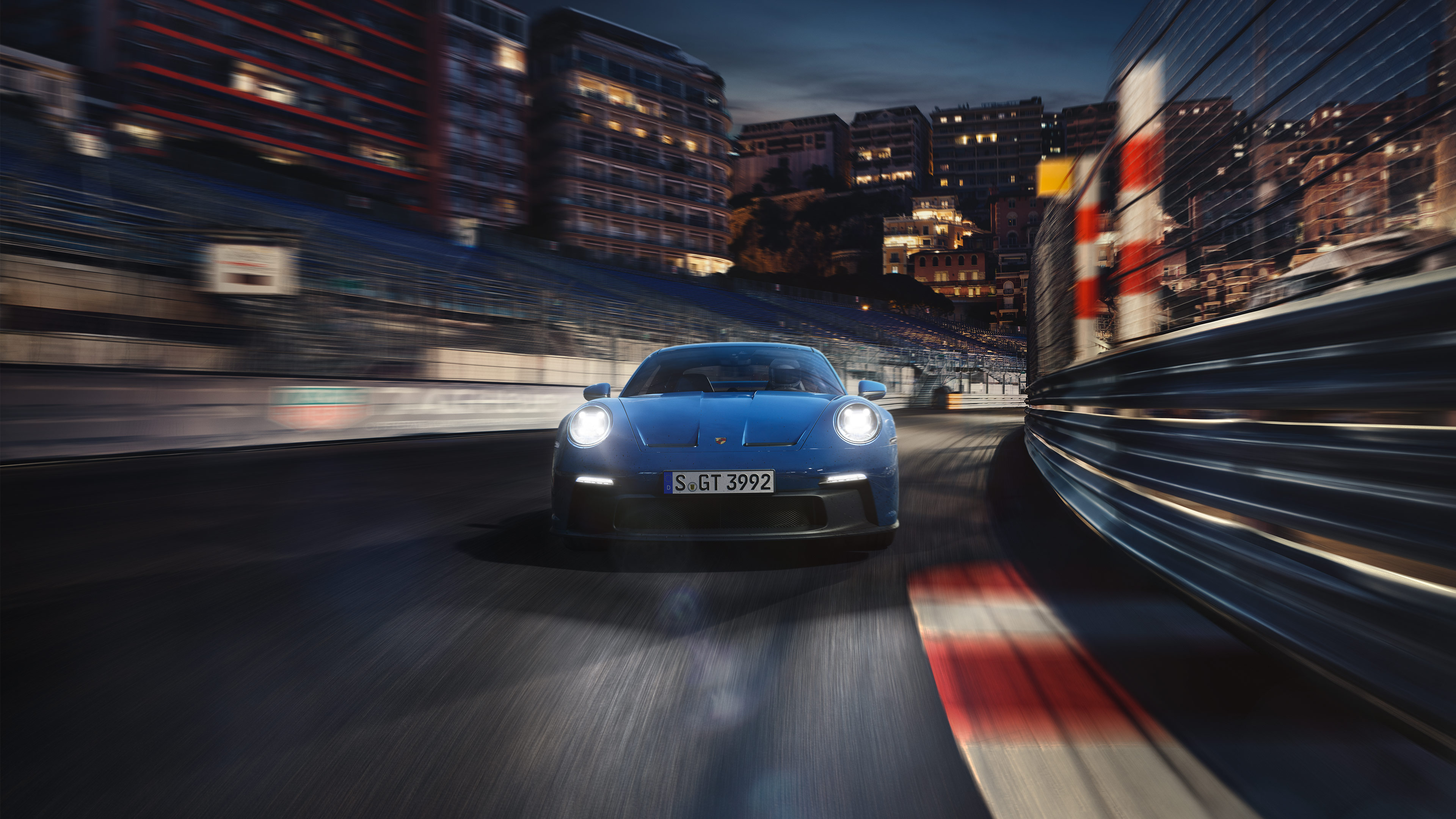 Downforce.
When examining all measures taken to improve aerodynamics, the new 911 GT3 achieves approximately 60% more downforce than its predecessor. In the Performance position, which is not road-approved, it delivers more than twice as much downforce for use on the race track.
But before you start calculating now: get on the race track where you can experience the performance directly.
For the first time, the 911 GT3 is on differently sized wheels: with 20-inch wheels on the front axle and 21-inch wheels on the rear axle. Wide wheels mean a large contact patch and, therefore, high dynamic performance.
The wheels are silver-coloured as standard and made of forged alloy. The black central locking device with 'GT3' logo is typical of motorsport – and highly functional.
Tire sizes: 255/35 ZR 20 on 9,5 J x 20 at the front, 315/30 ZR 21 on 12 J x 21 at the rear. Road-legal Ultra High Performance tires ensure the necessary grip.¹
Tire Pressure Monitoring (TPM), fitted as standard, features a race track mode which accounts for the lower pressure of cold tires before an outing on the circuit.
¹The lower tread depth leads to an increased risk of aquaplaning on wet roads.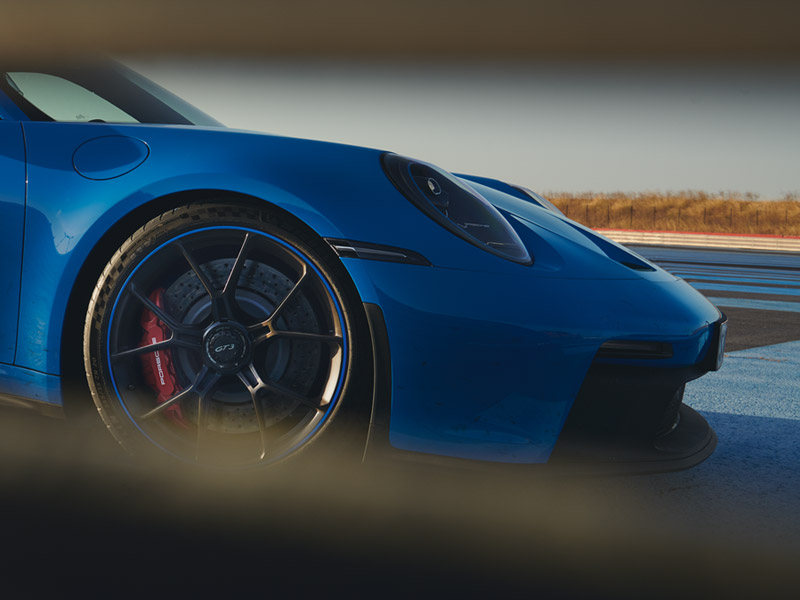 911 GT3 wheel painted in satin black with rim border painted in Shark Blue.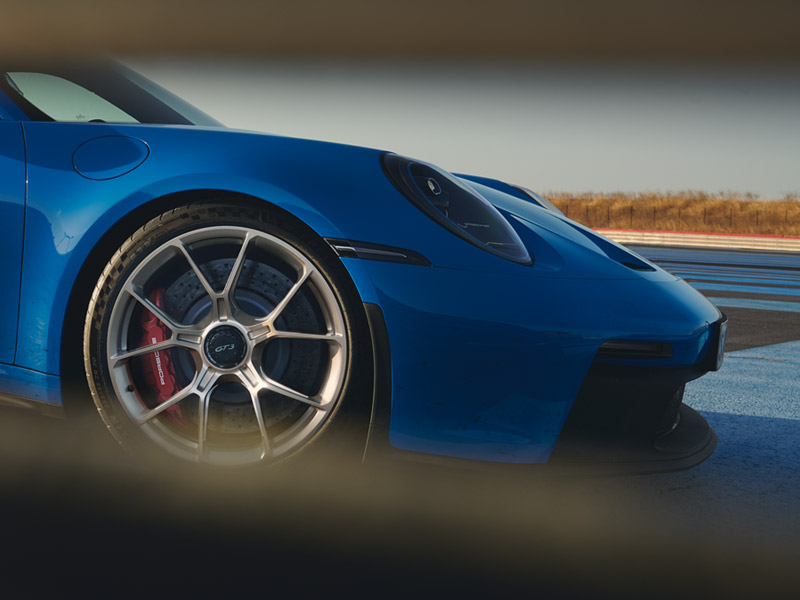 911 GT3 wheel painted in silver colour.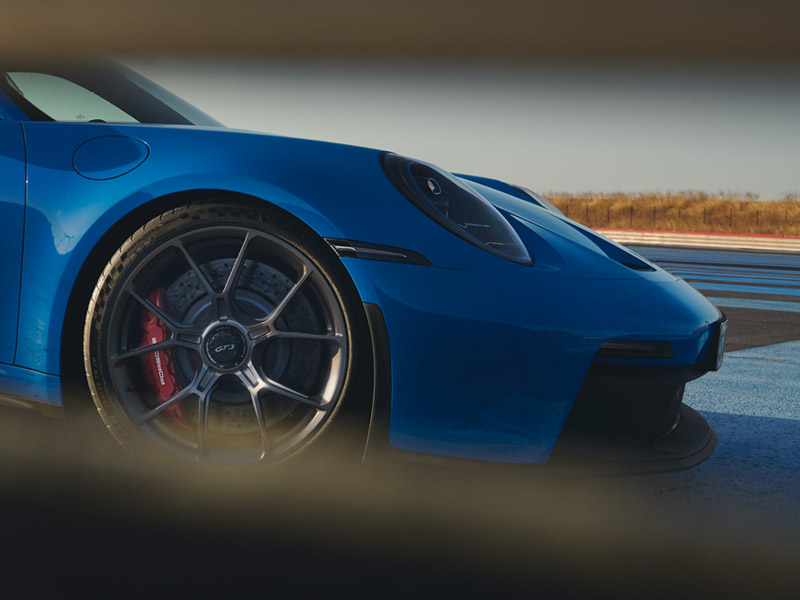 911 GT3 wheel painted in satin Dark Silver.
Information about wheels can be found here.
Gallery.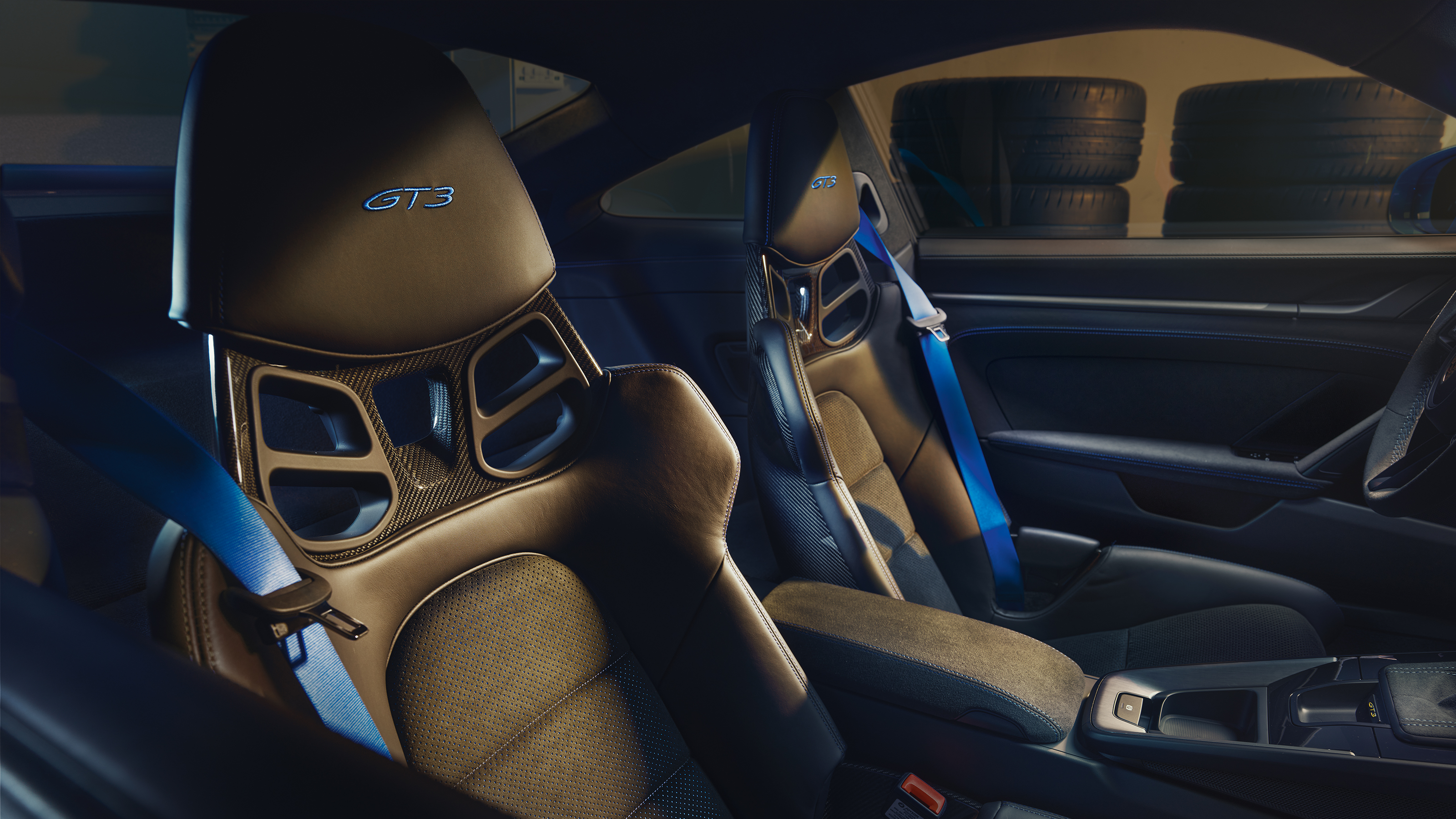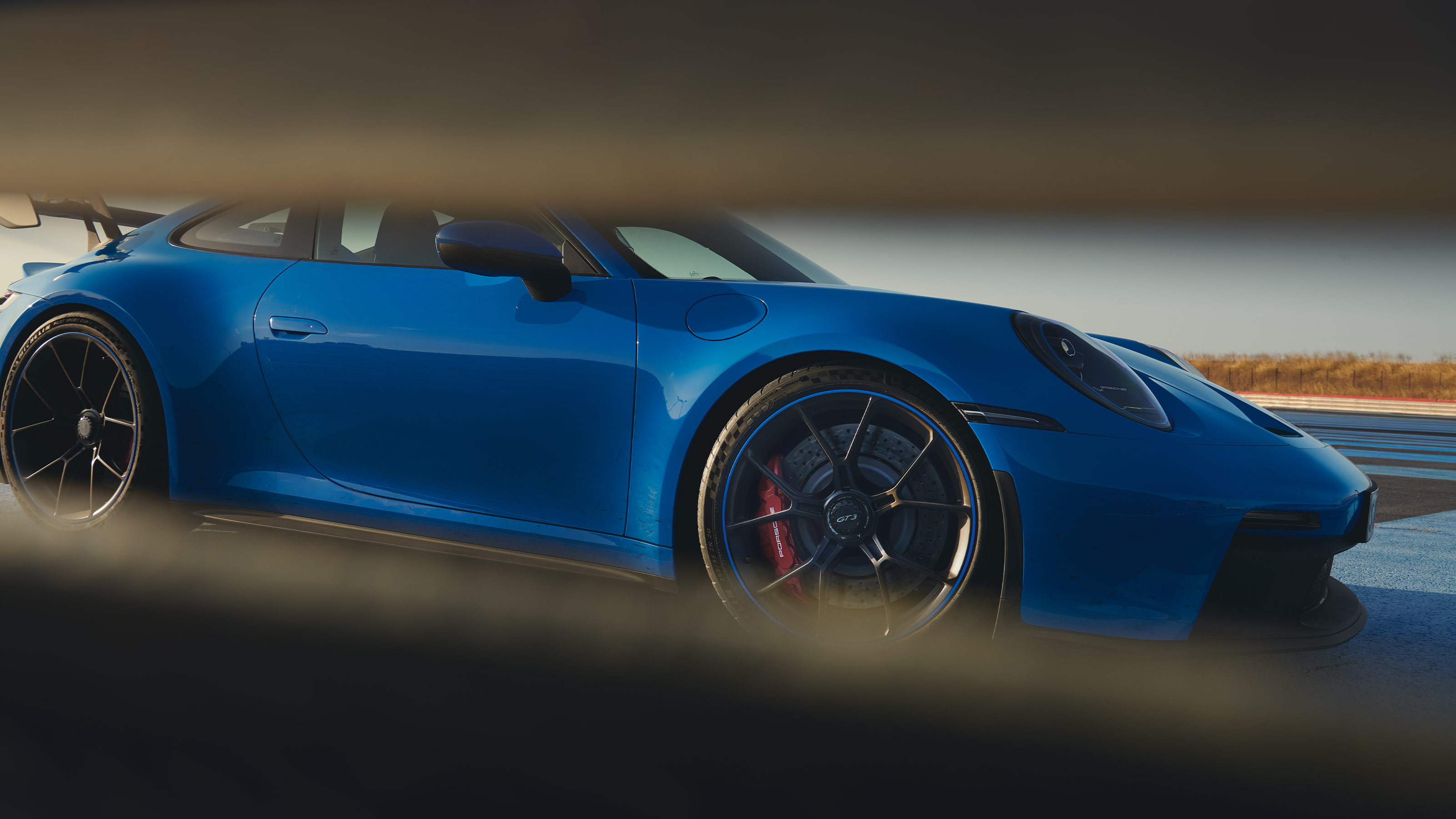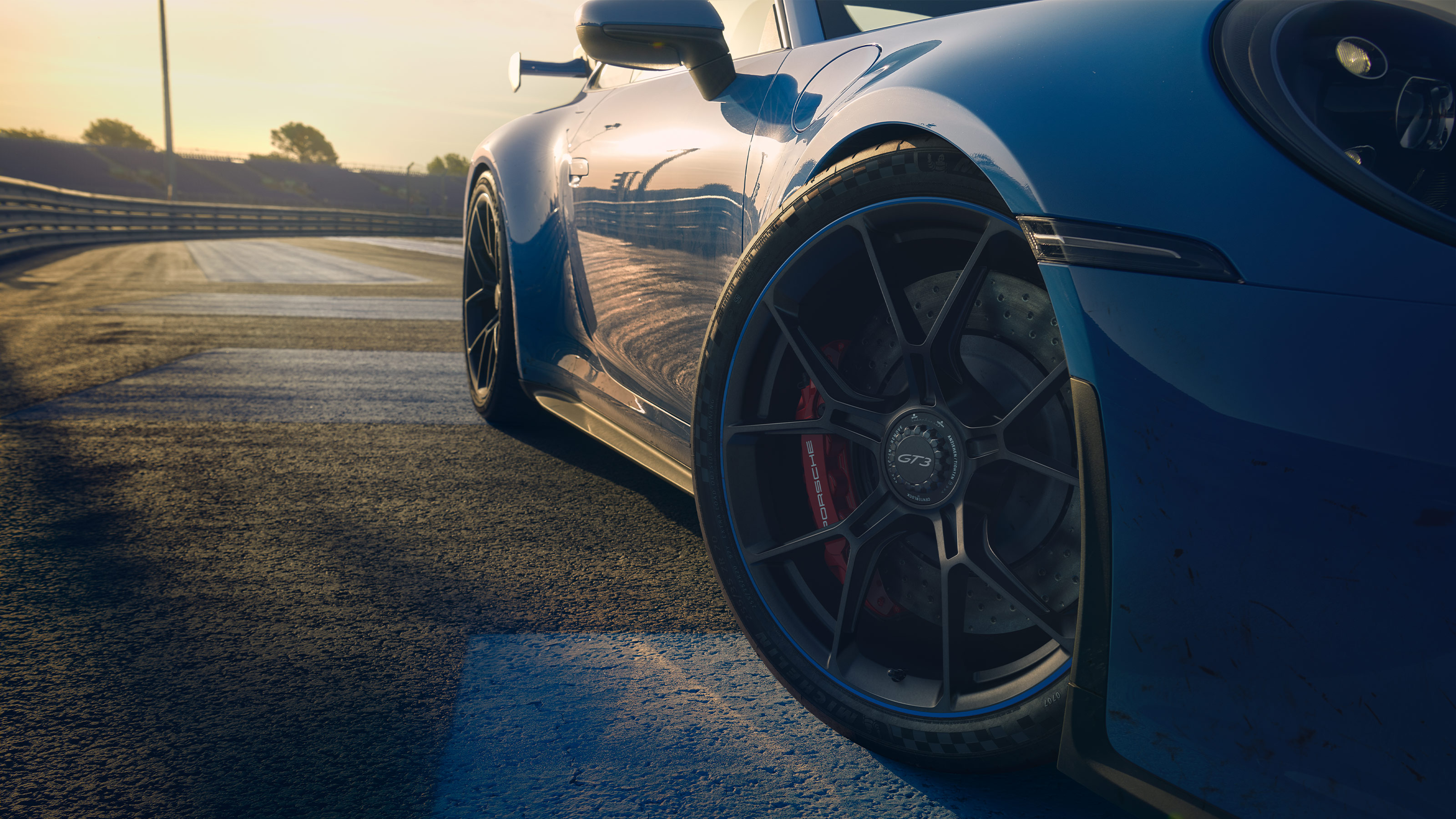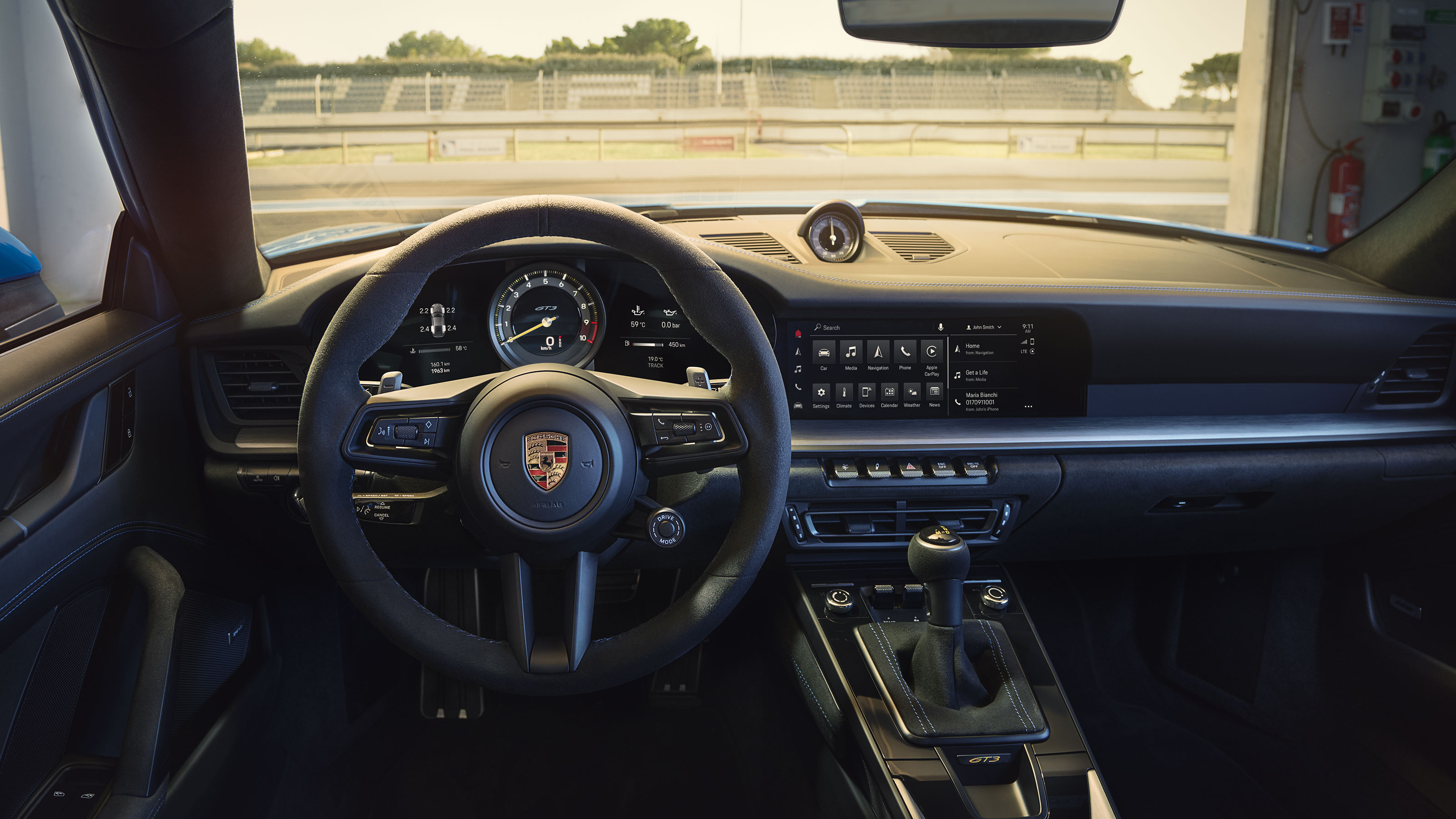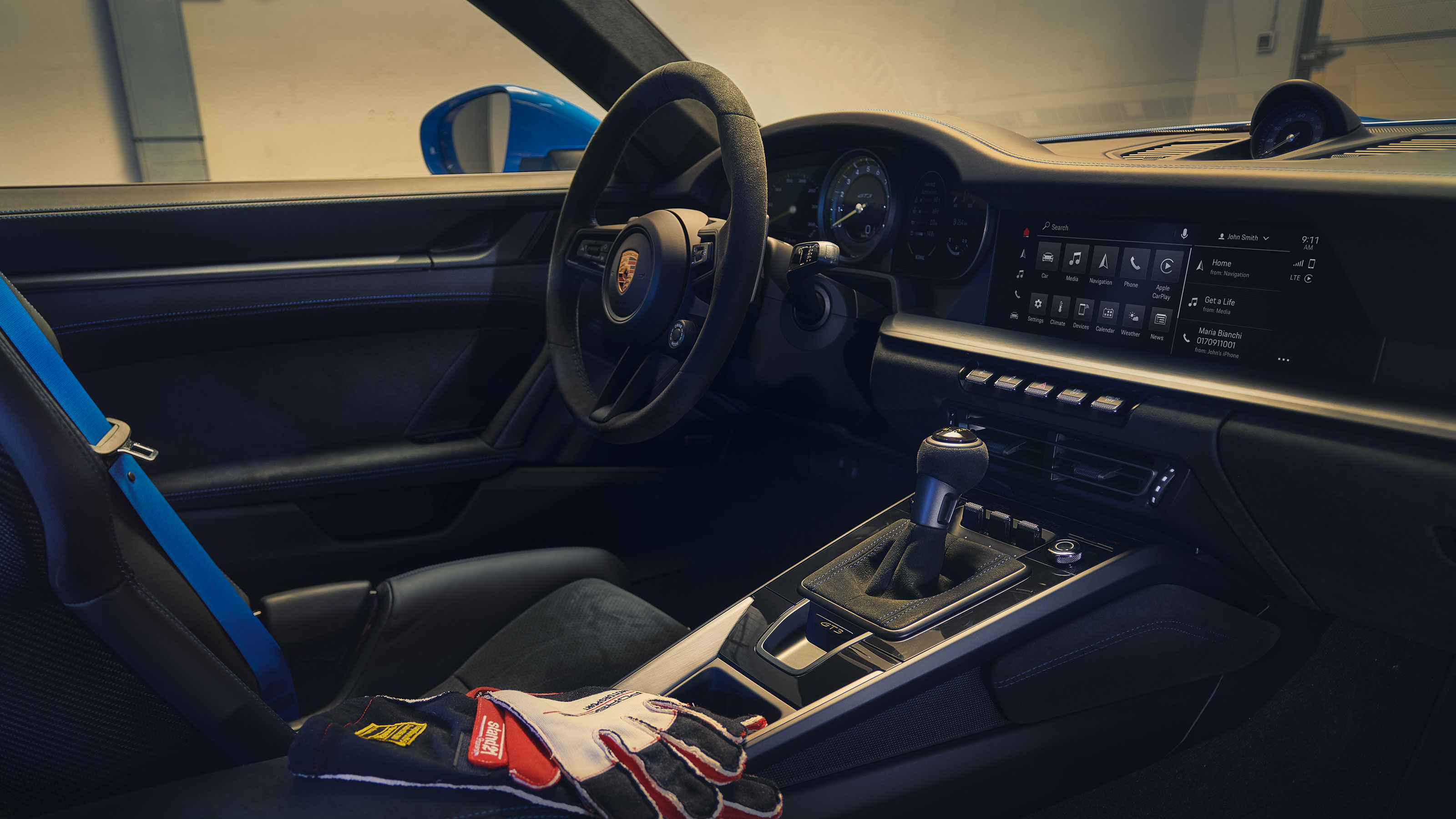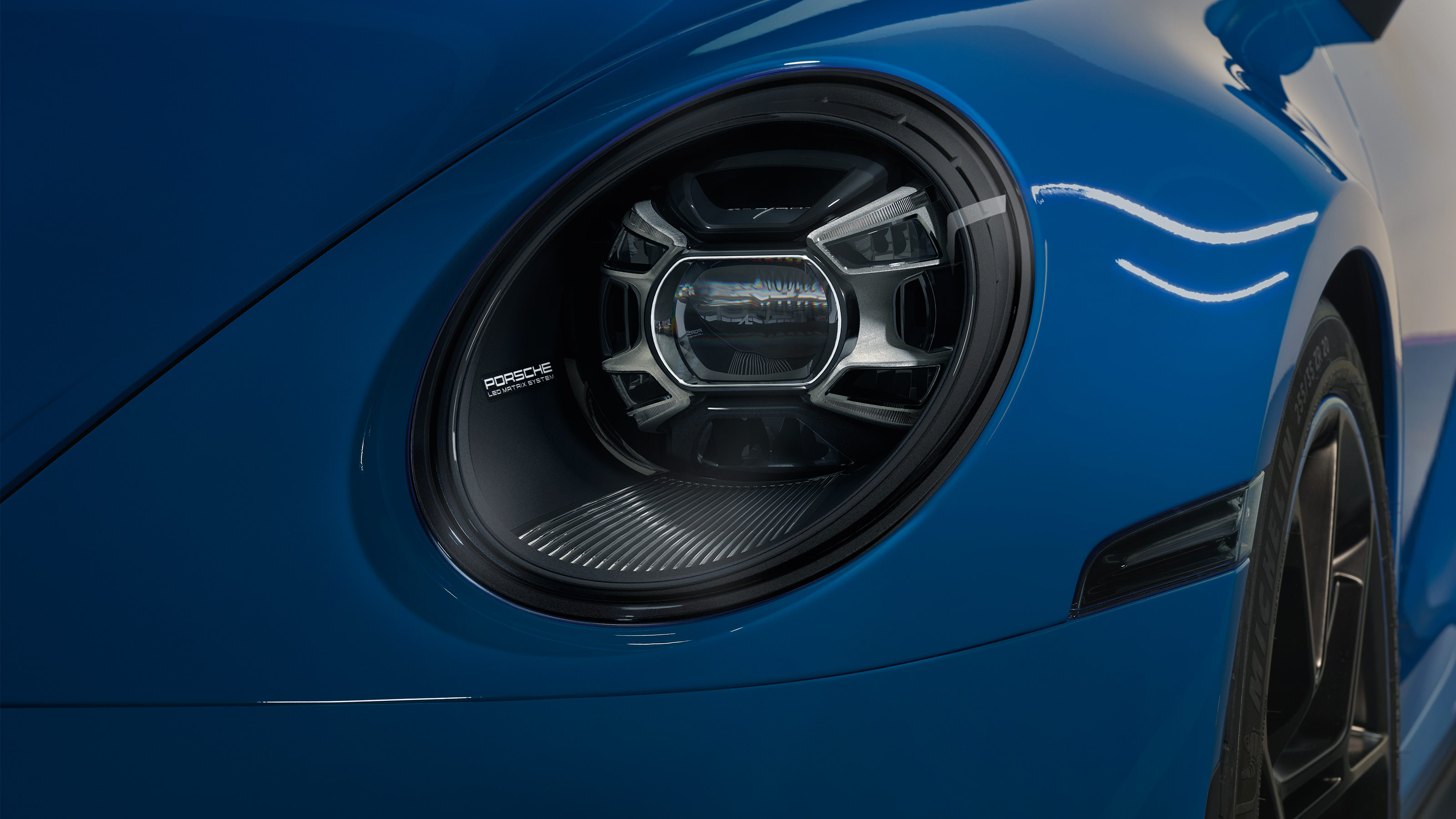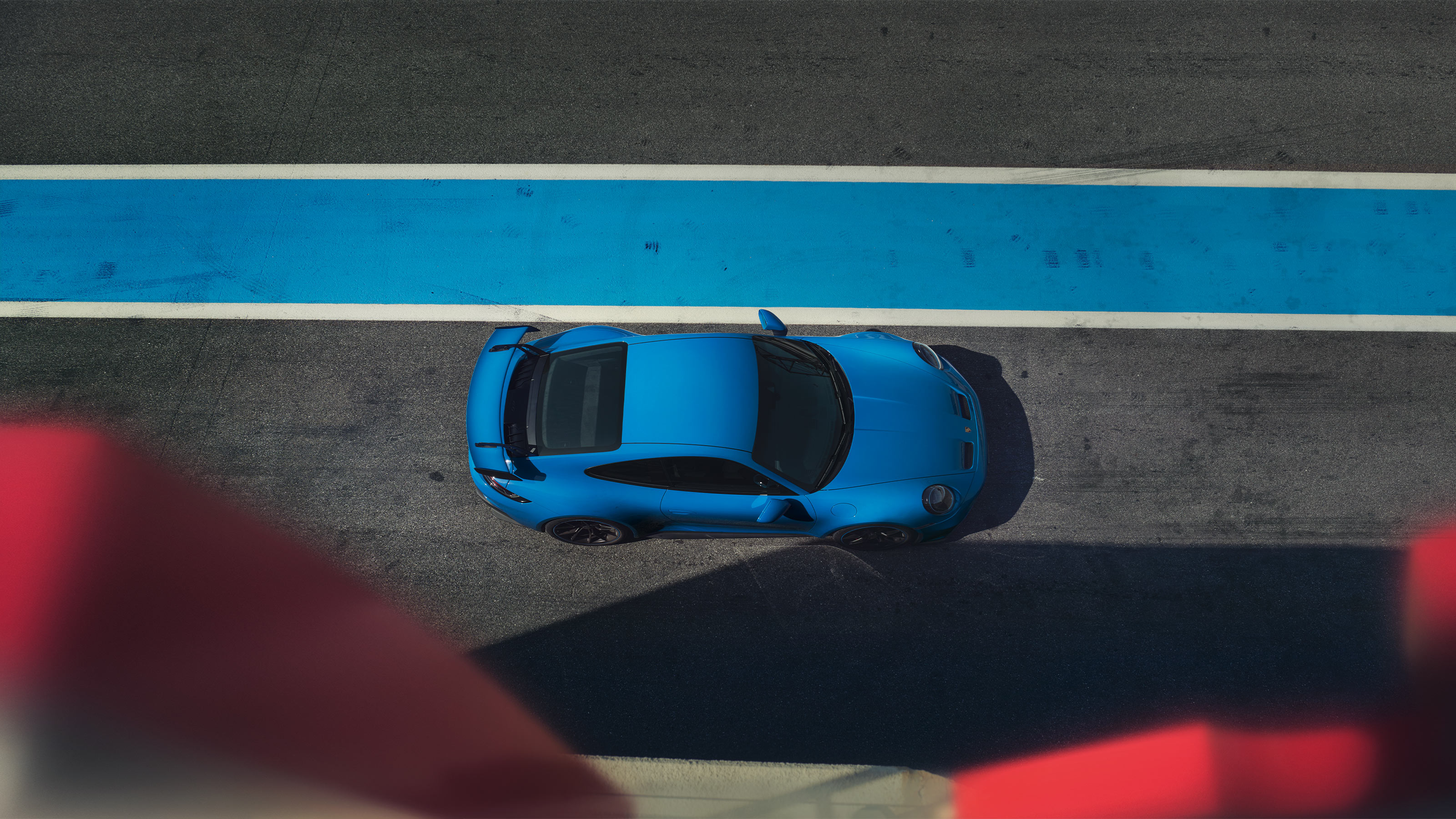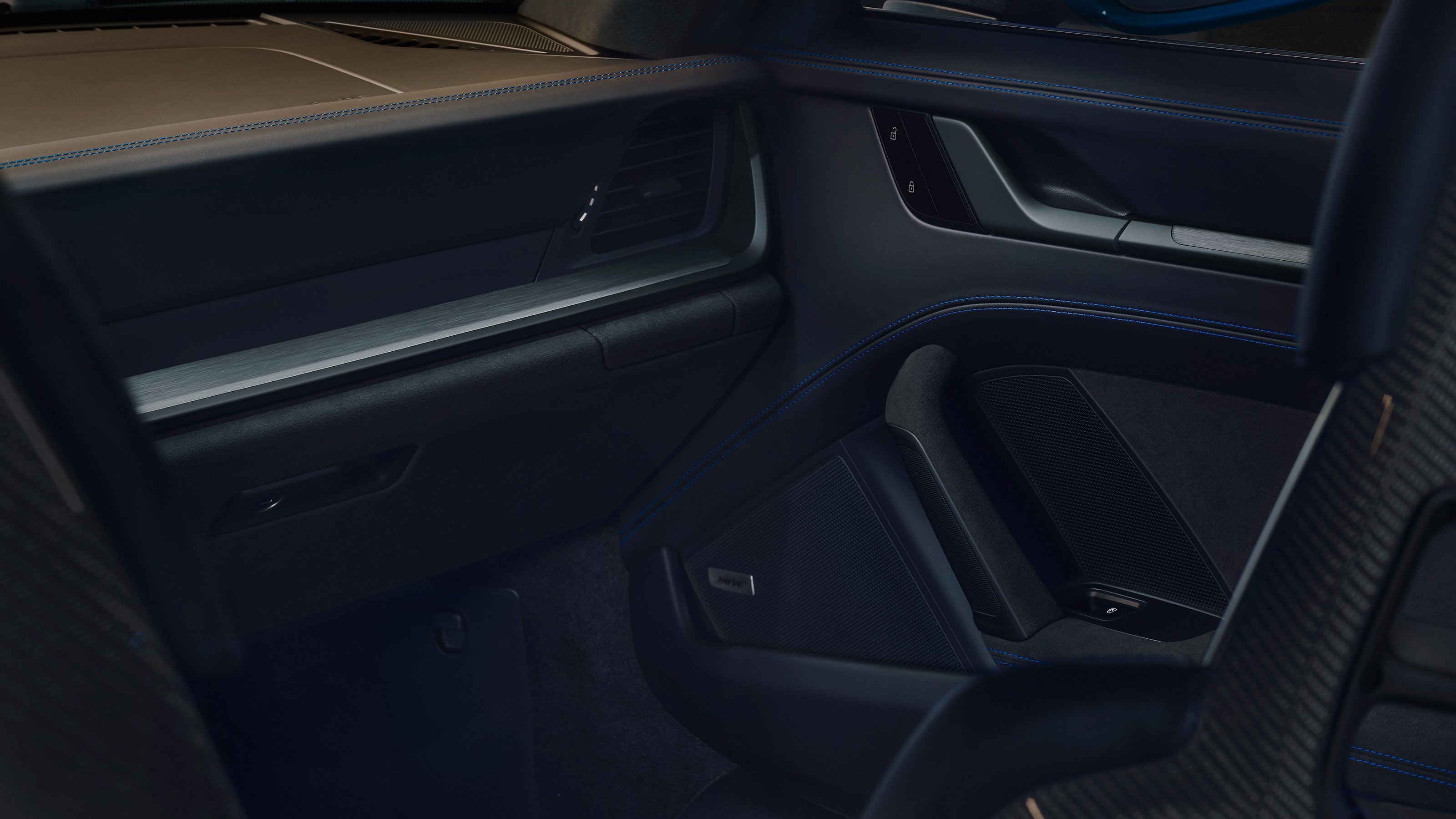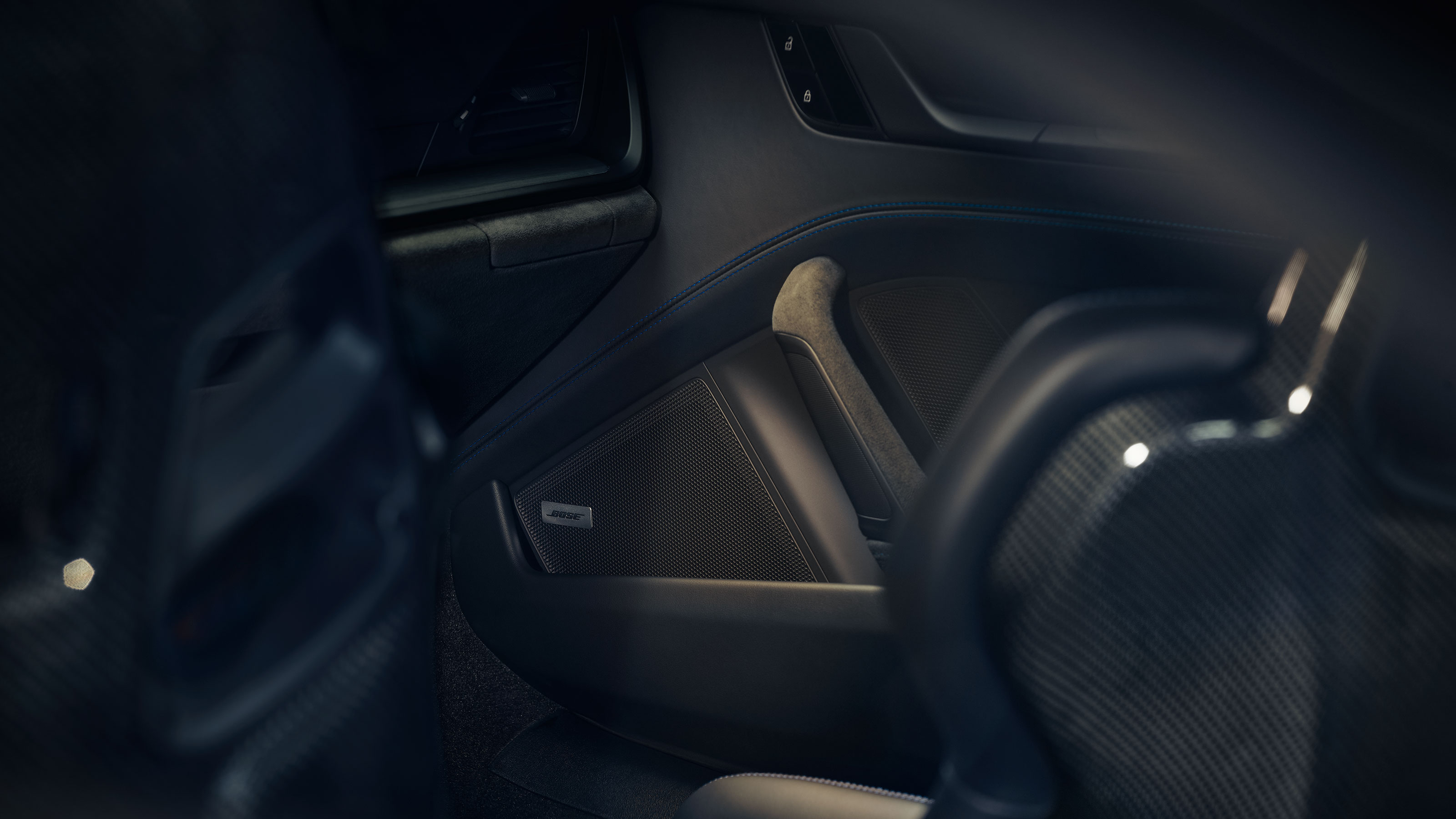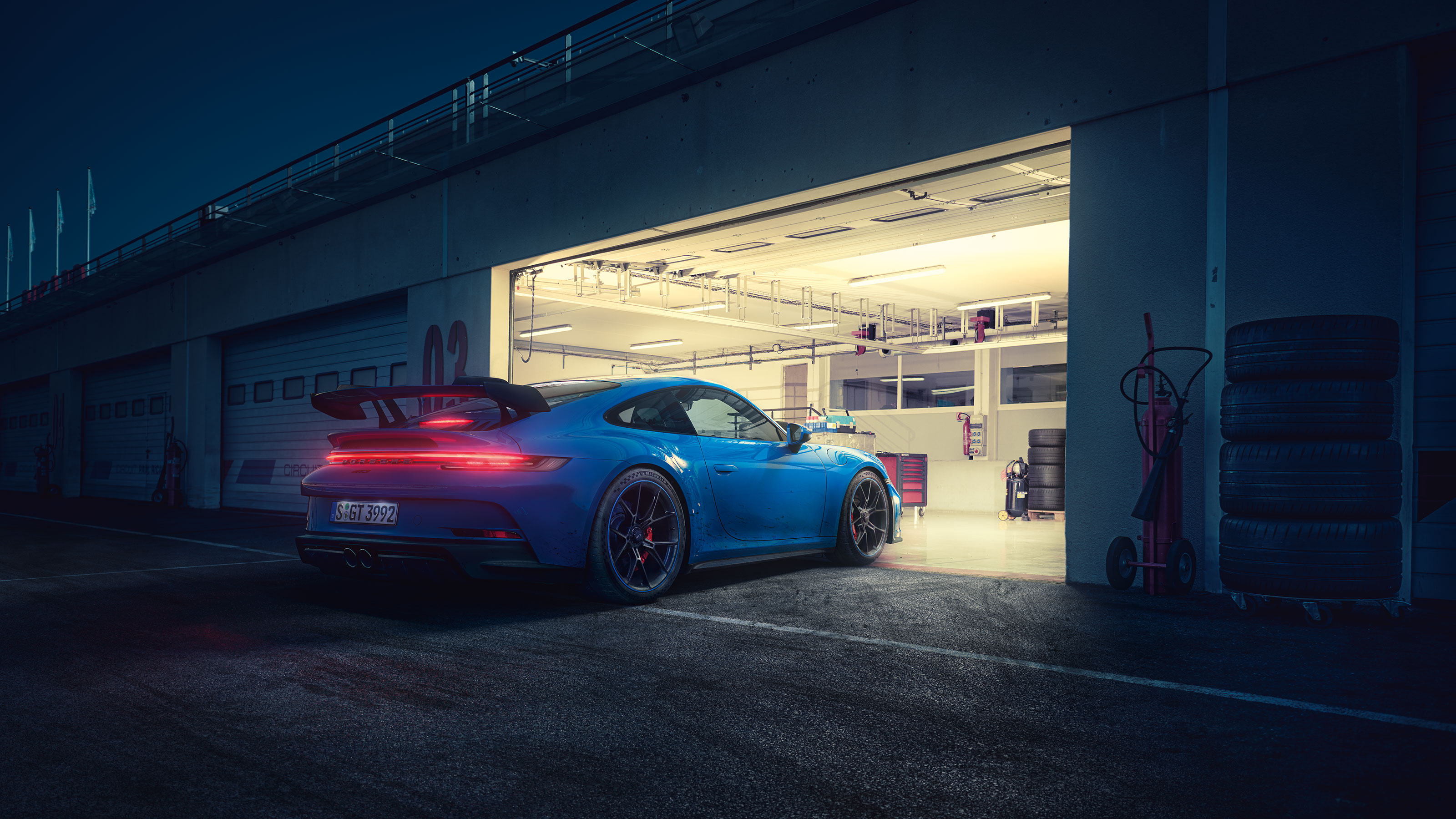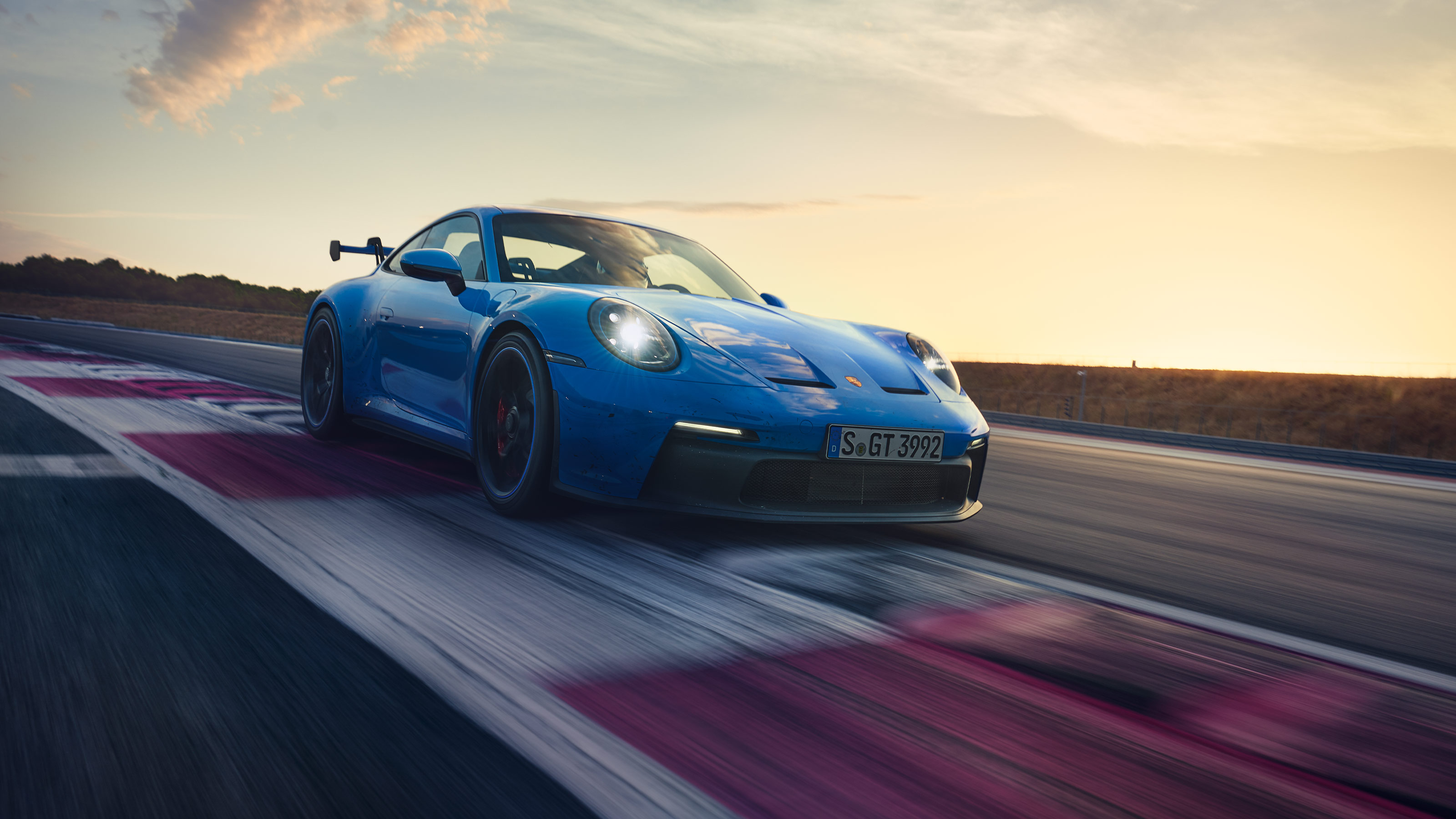 And where do you see yourself in 3.4 seconds?
Time is precious. And in the 911 GT3 every second counts twice as much.
It counts for you. Because every second you sit behind the wheel takes you further – towards the perfect racing experience. It counts for us. Because every second faster we make the car takes us further – towards the perfect sports car.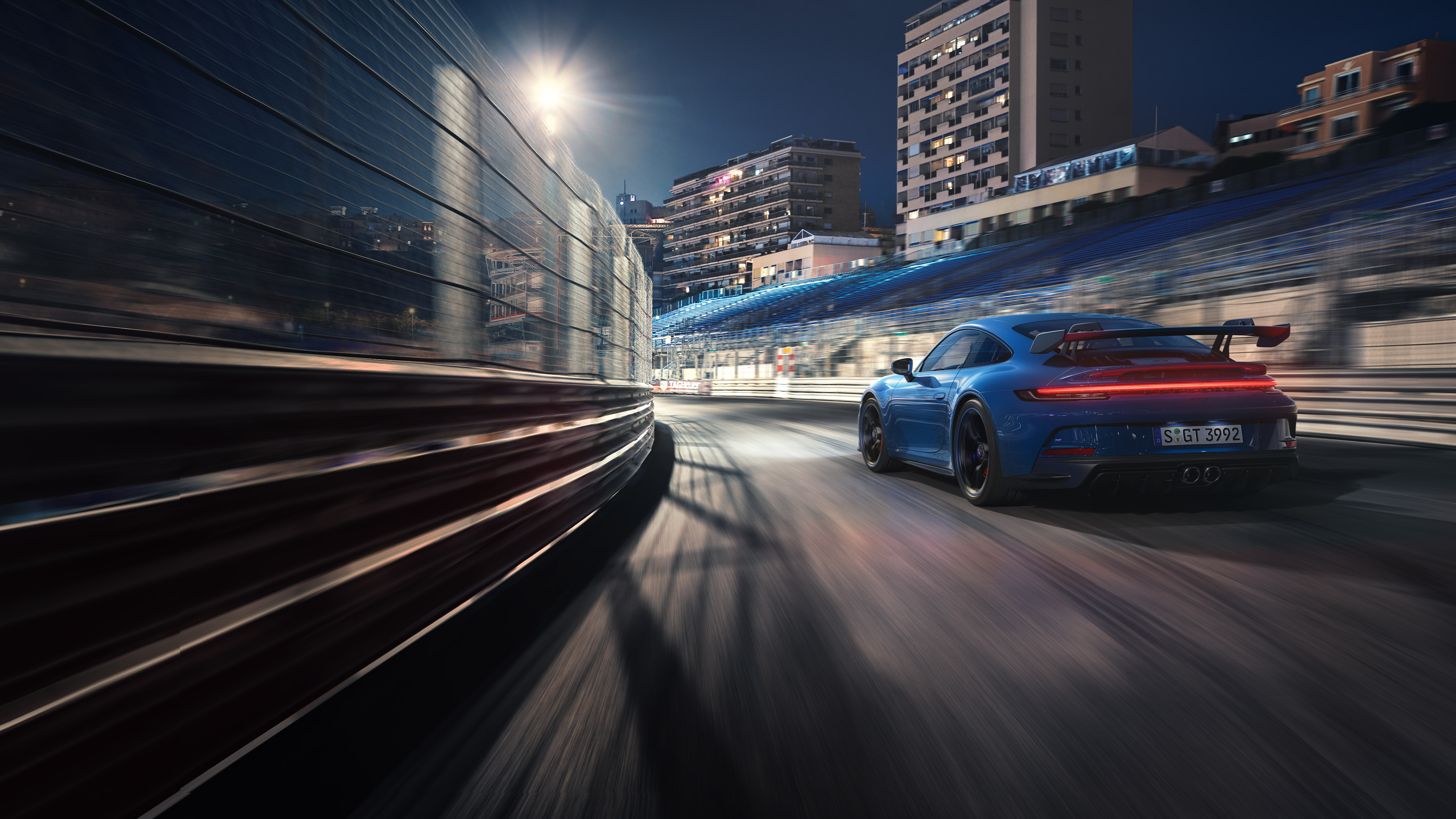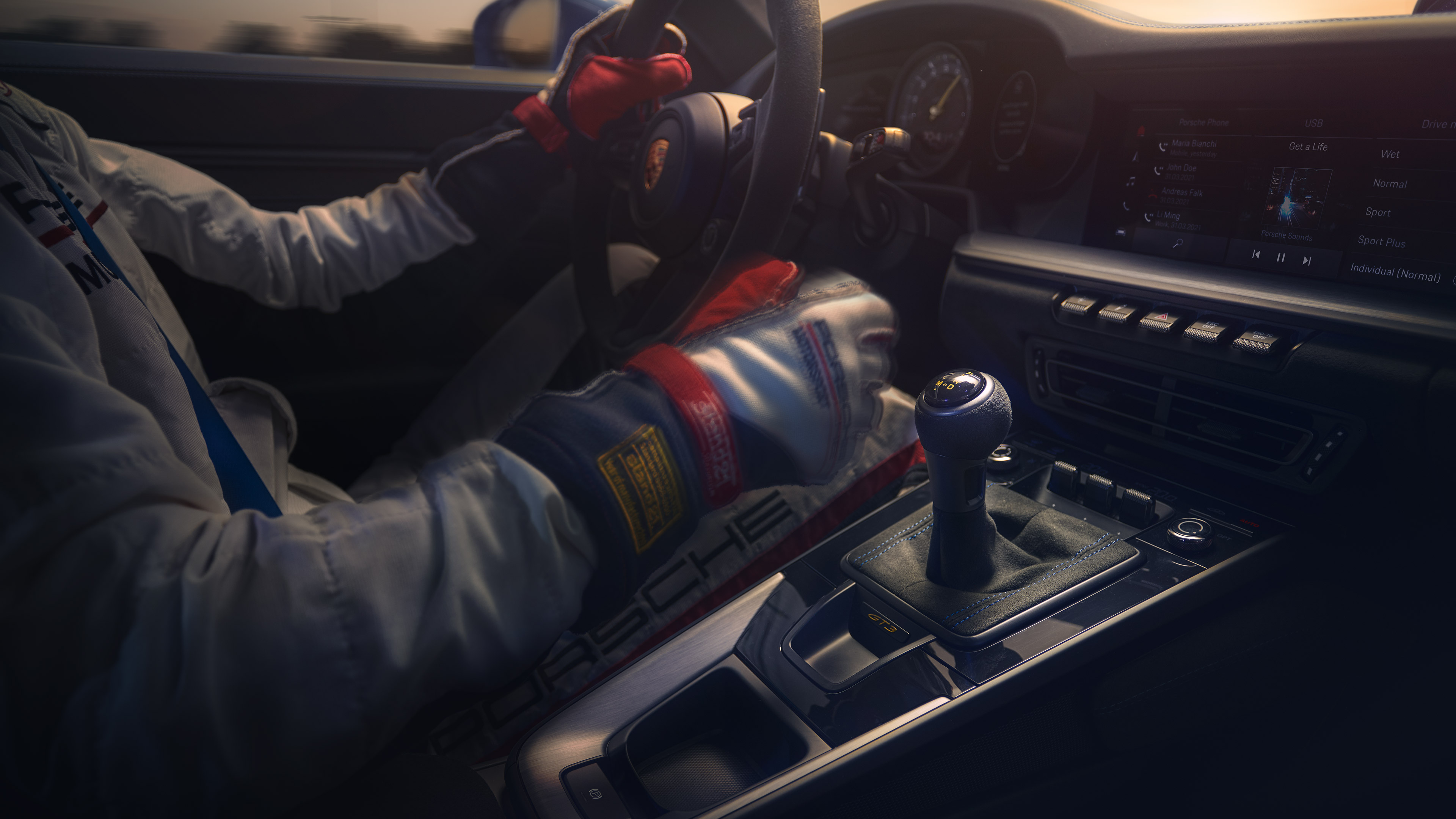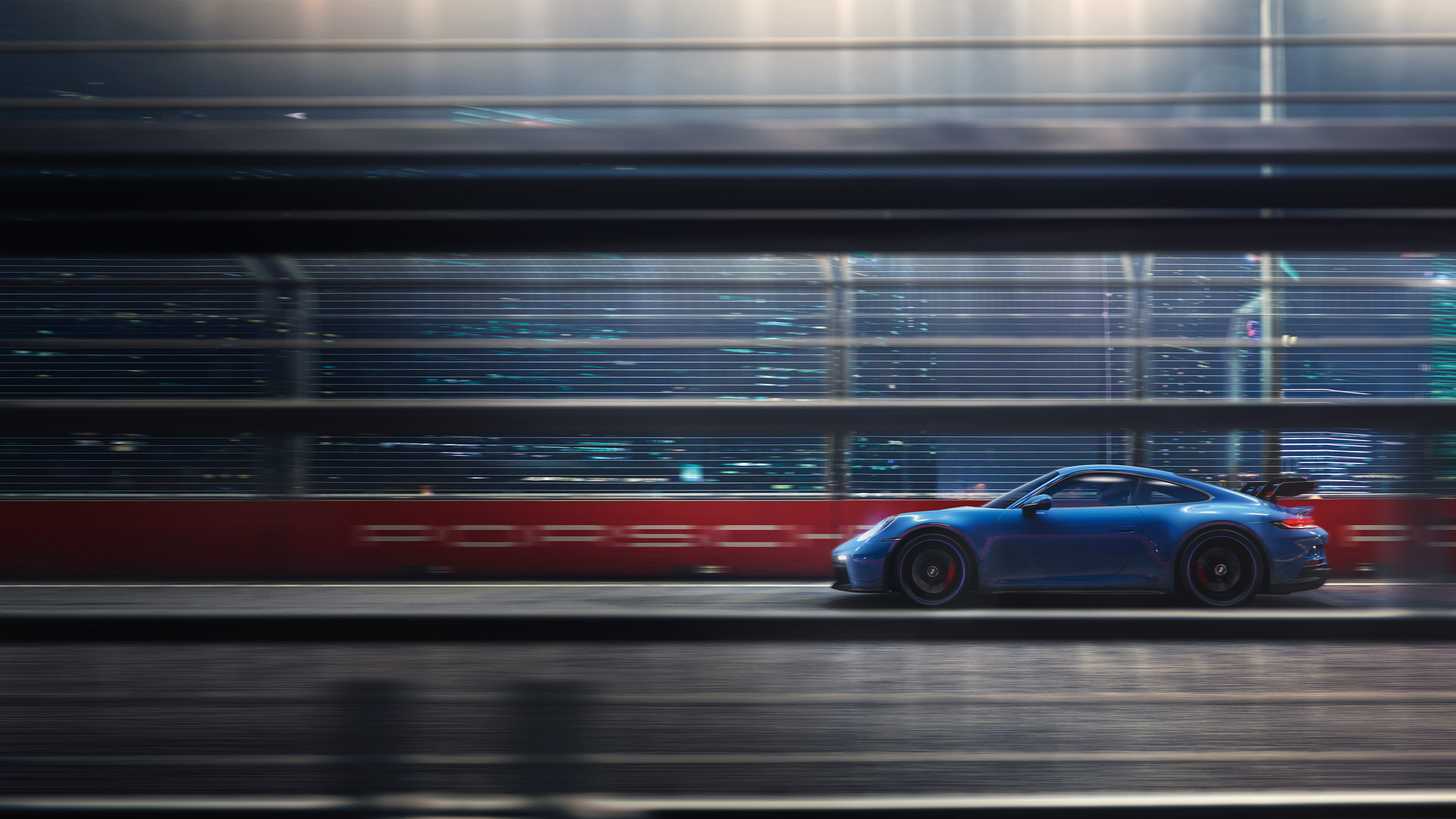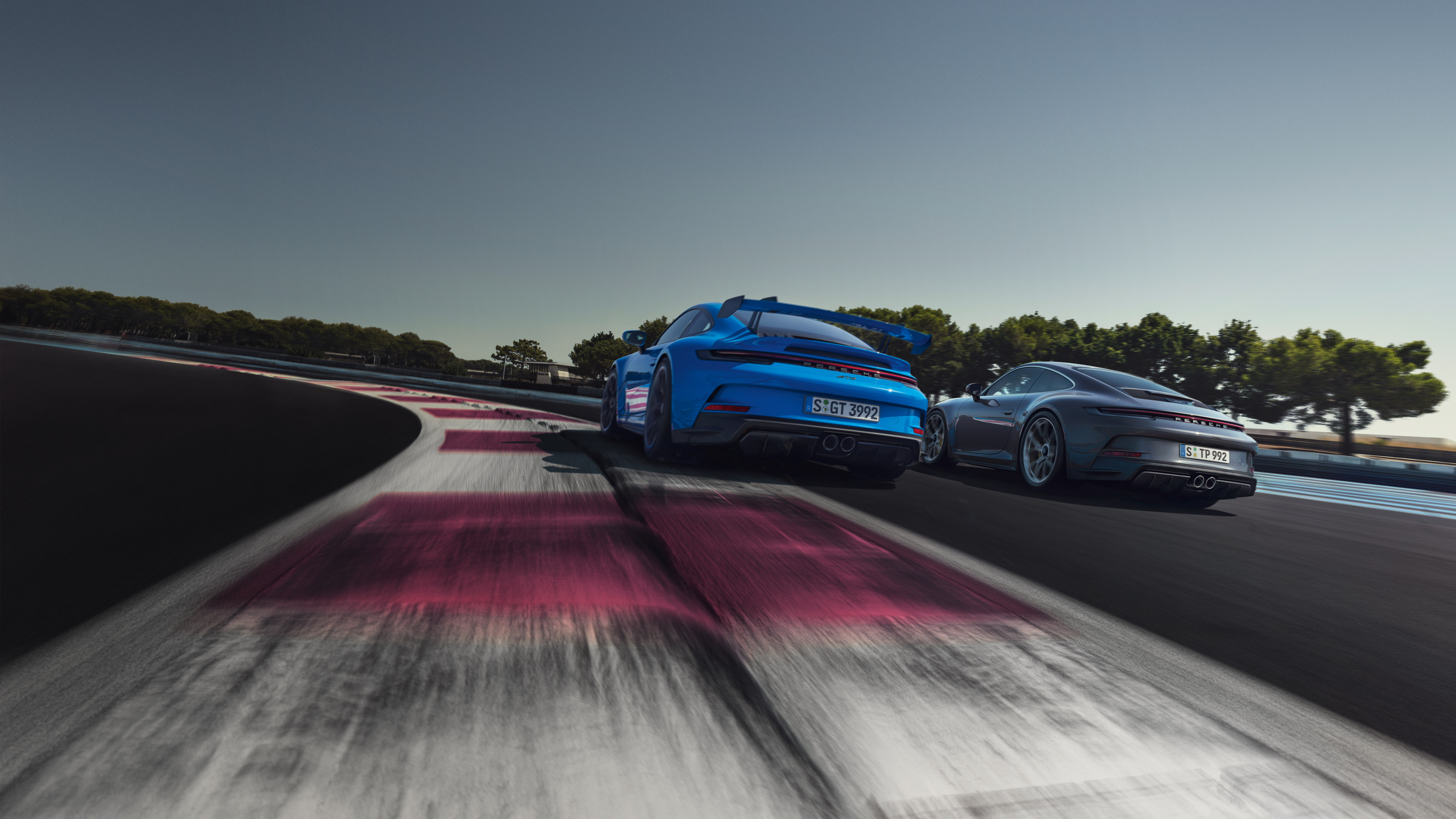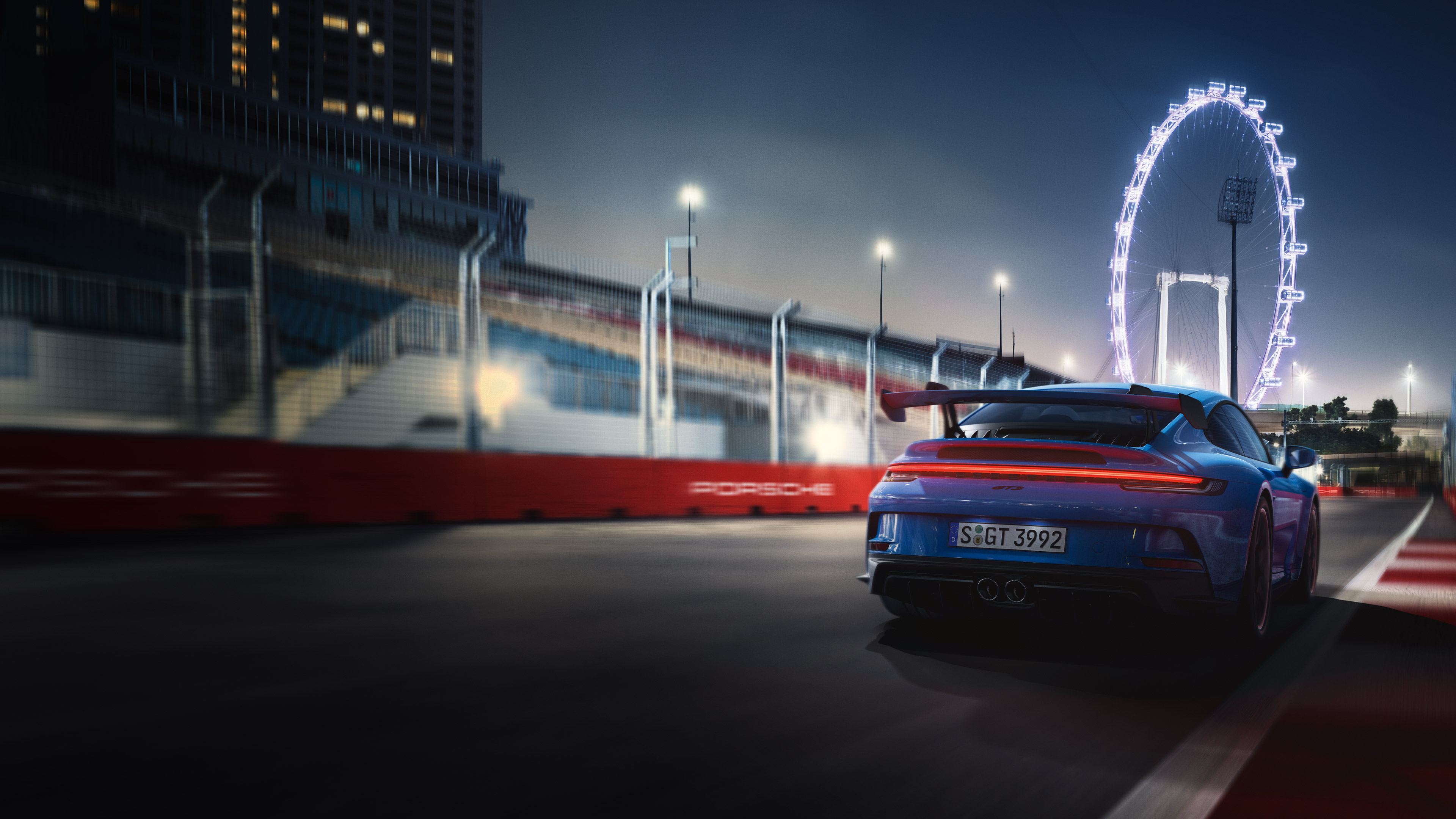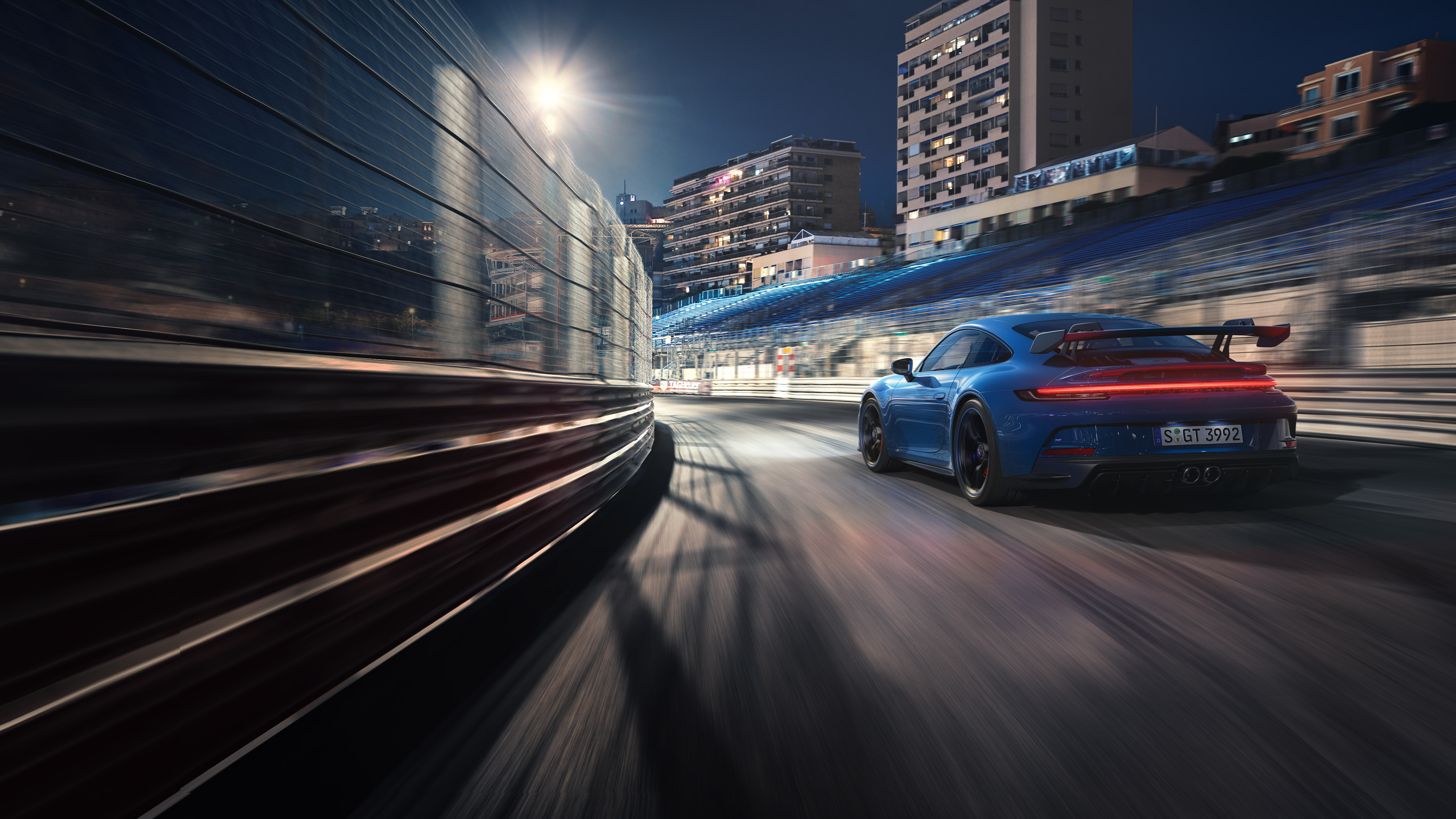 A naturally aspirated engine, what else? With a full four litres of displacement and six cylinders. In a horizontally opposed layout. In the rear. Just as you would expect from a 911. Six individual throttle valves ensure an even more direct engine responsiveness that is easier to control. With a high-revving concept that scratches the 9,000 mark. And with a maximum torque of 346 lb-ft which has been increased by another 7 lb-ft compared with its predecessor. All this with a purebred sound that will blow you away in every direction.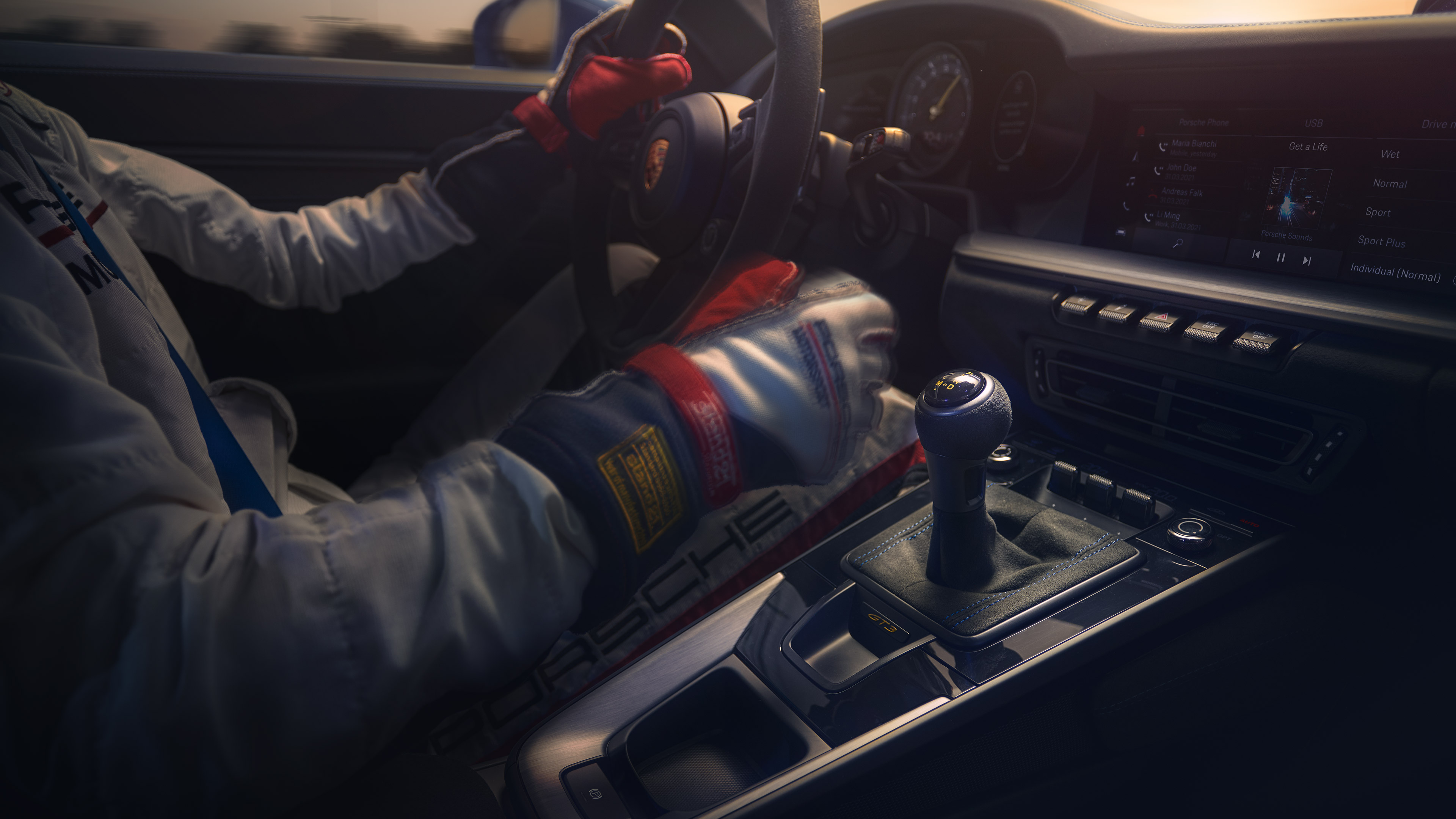 On this technical basis, the engine of the new 911 GT3 draws a maximum power of 510 hp from exactly 3,996cm³. With the standard 7-speed Porsche Doppelkupplung (PDK), it sprints from 0 to 100km/h in a mere 3.4 seconds. The thrust? Rises to an impressive 318km/h.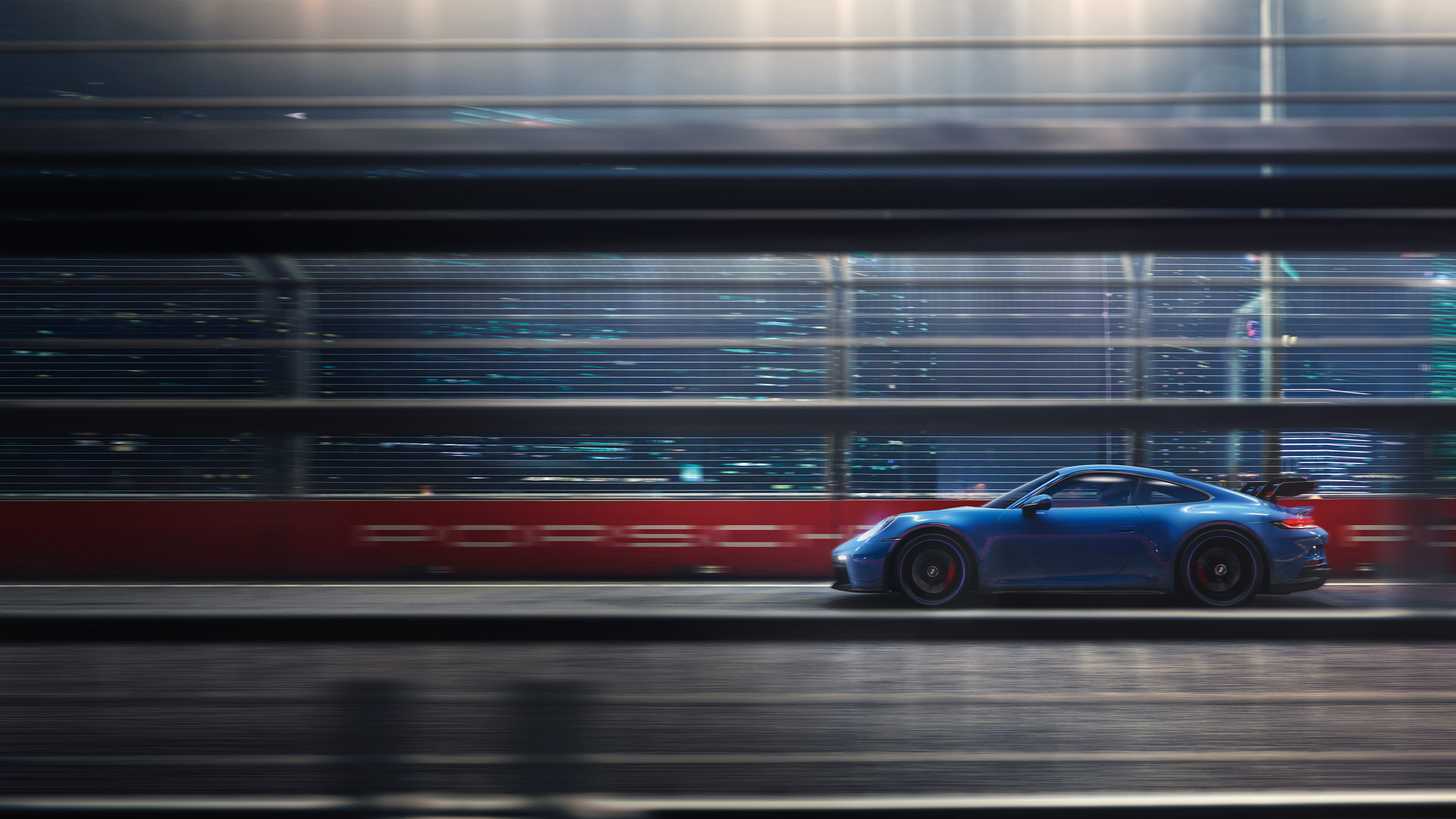 The drive unit was developed in the same place that we build our race cars: Flacht. It is modelled on the basic engine of the 911 GT3 Cup, and is particularly robust and highperforming. The oil supply principle, which uses a separate engine oil tank, and the concept of four valves per cylinder with cam followers and rigid valve control have been derived directly from motorsport.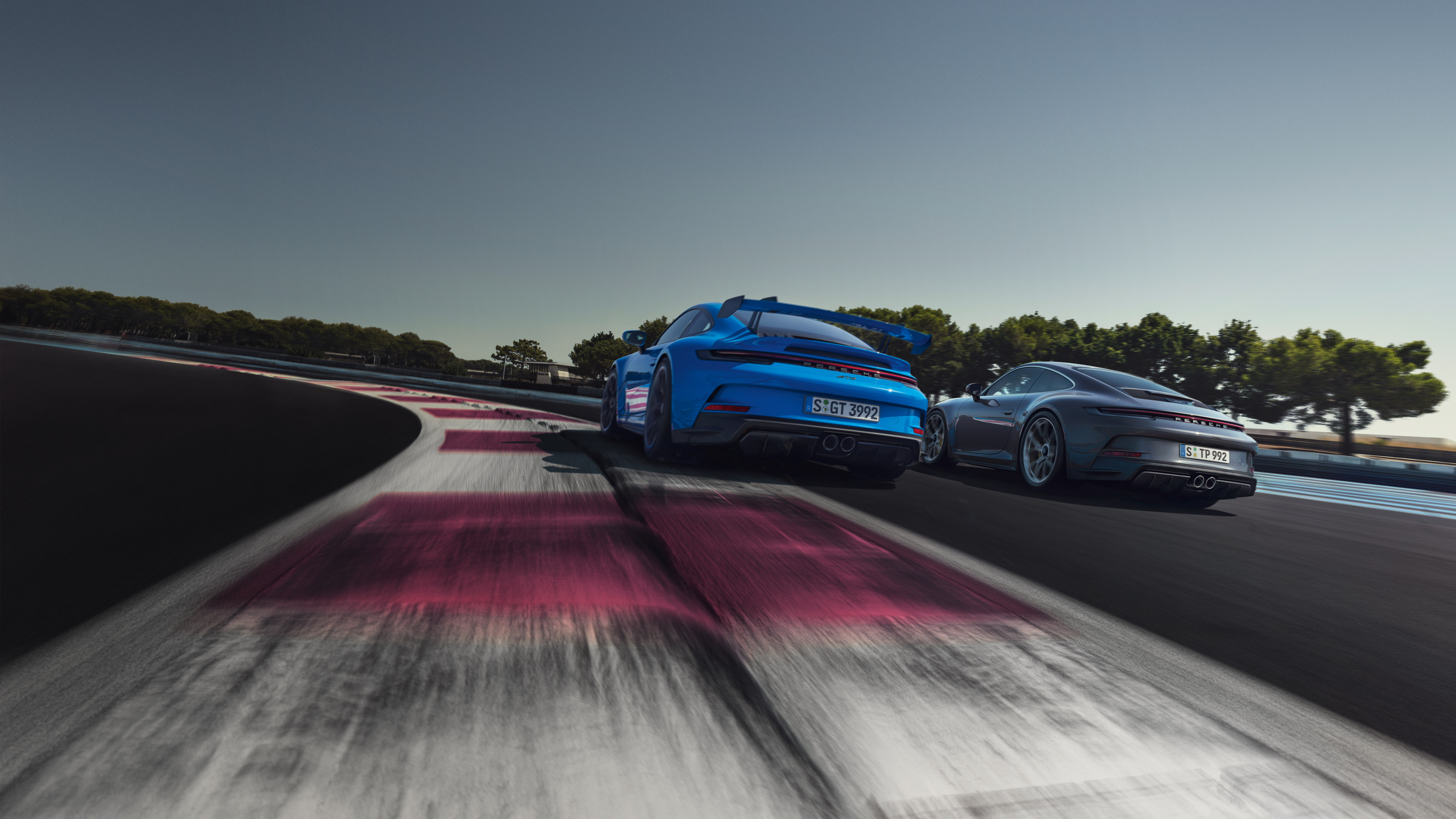 The new 911 GT3 uses six individual valves instead of a central throttle valve. For optimum supply of air to each cylinder. This simultaneously improves the responsiveness, controllability and gas throughput – especially at high speeds. And, as a consequence, improves performance.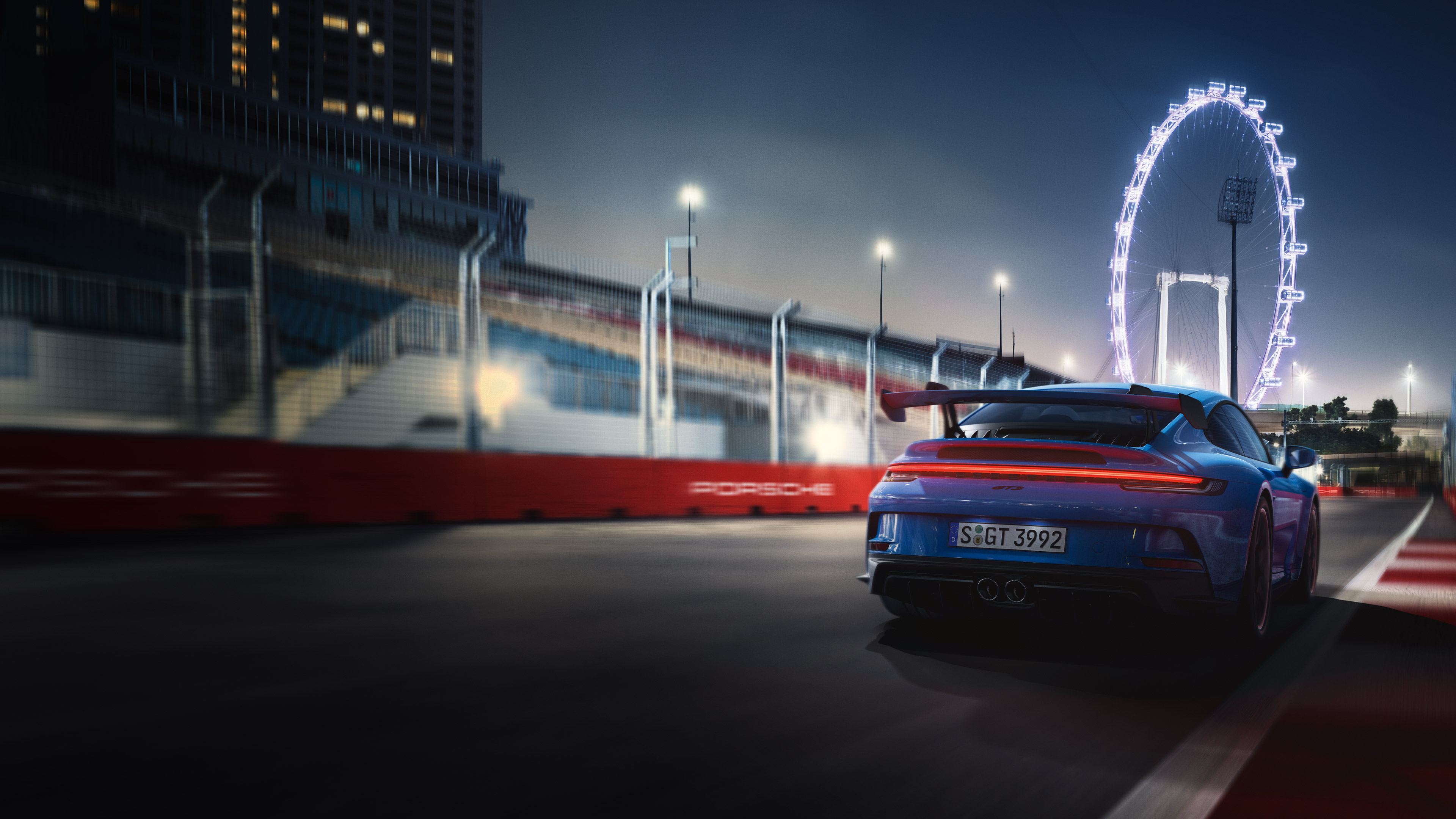 The more central position of the rear engine mounts is new. The resulting more streamlined tuning of the mounts reduces engine vibrations and also stabilises the vehicle – especially during dynamic cornering with bumps.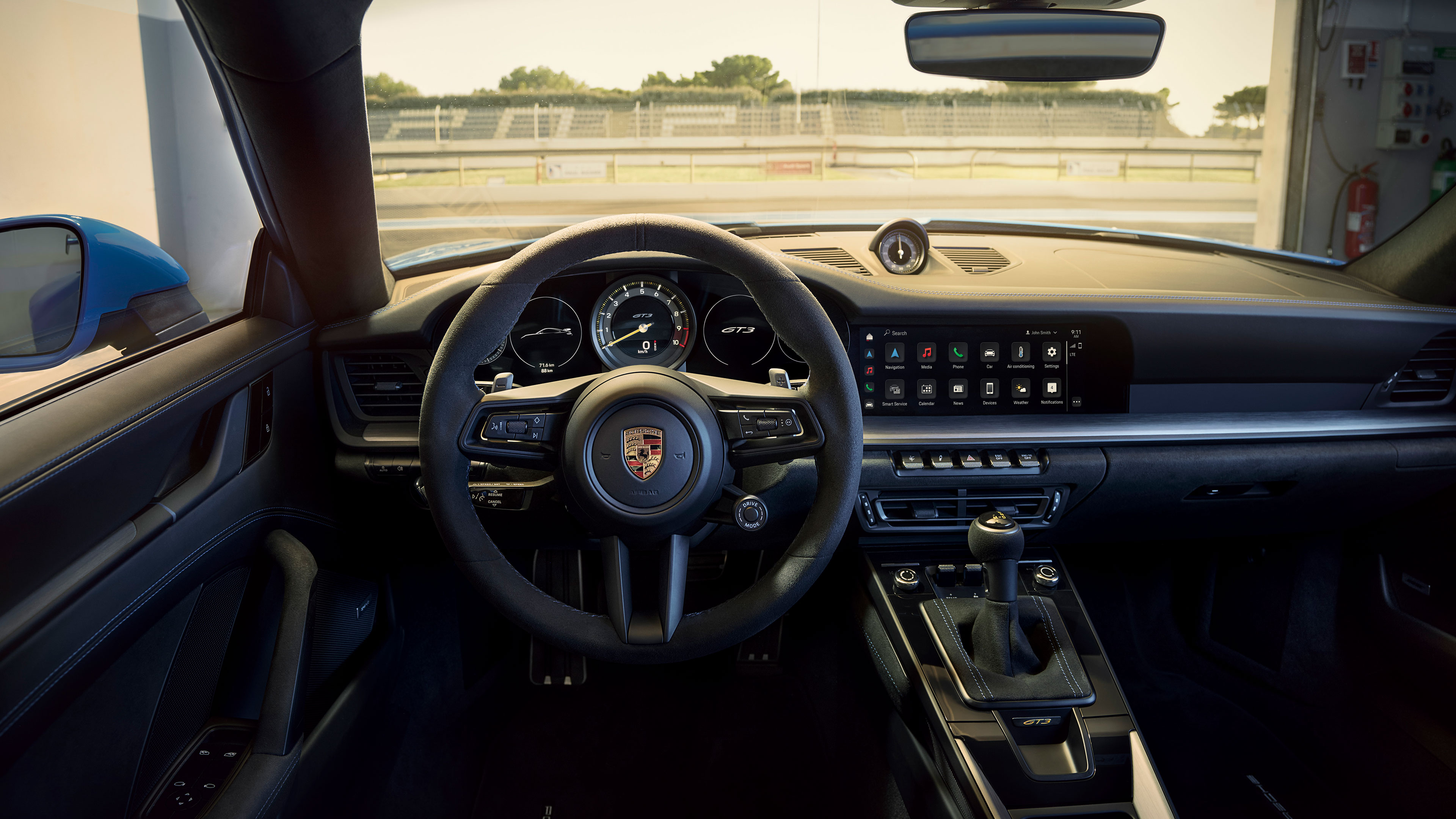 In the new 911 GT3, the 7-speed PDK boasts an even sportier set-up. The shift throws on the gearshift paddles are crisp and short. Alternatively, you can also change gears directly with the PDK gear selector – in the new 911 GT3 it is based on a manual lever. No matter how you shift, with seven performance-oriented gears there's plenty of racing feel.
A new feature is gear selection during dynamic downshifting. If, for example, when braking before a bend, the driver pulls on the gearshift paddle before the correct engine speed is reached, the PDK 'remembers' this gear change and shifts back automatically as soon as the optimum engine speed is reached.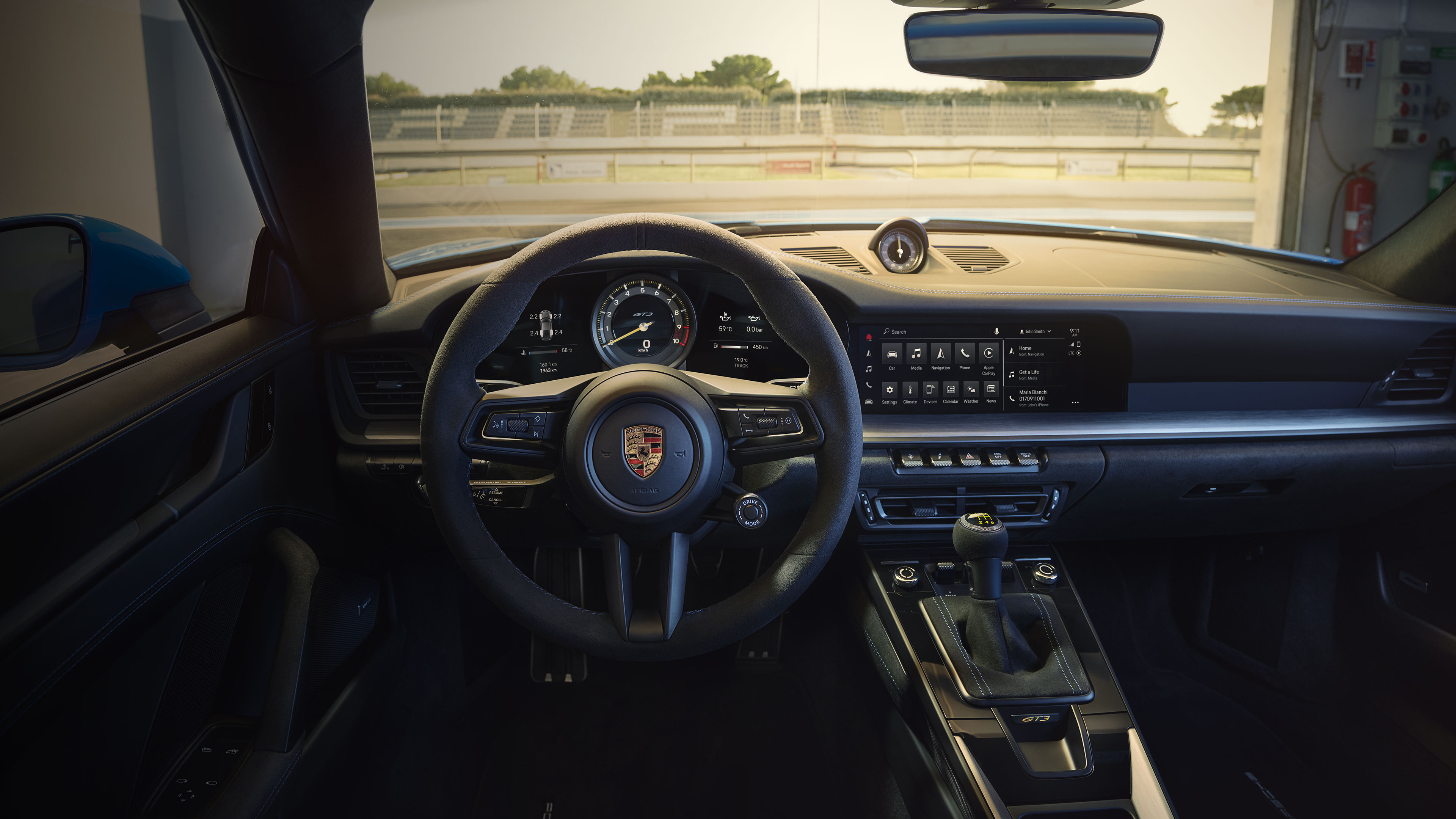 With six performance-oriented gears, extremely short shift throws and exceptionally precise, short gear changes. The focus is not on every tenth of a second, but on unconditional driving pleasure and unfiltered emotions.
By the way, the 911 GT3 with manual transmission including dual-mass flywheel and mechanical rear differential lock saves approximately 17kg in weight.
Lightweight Construction.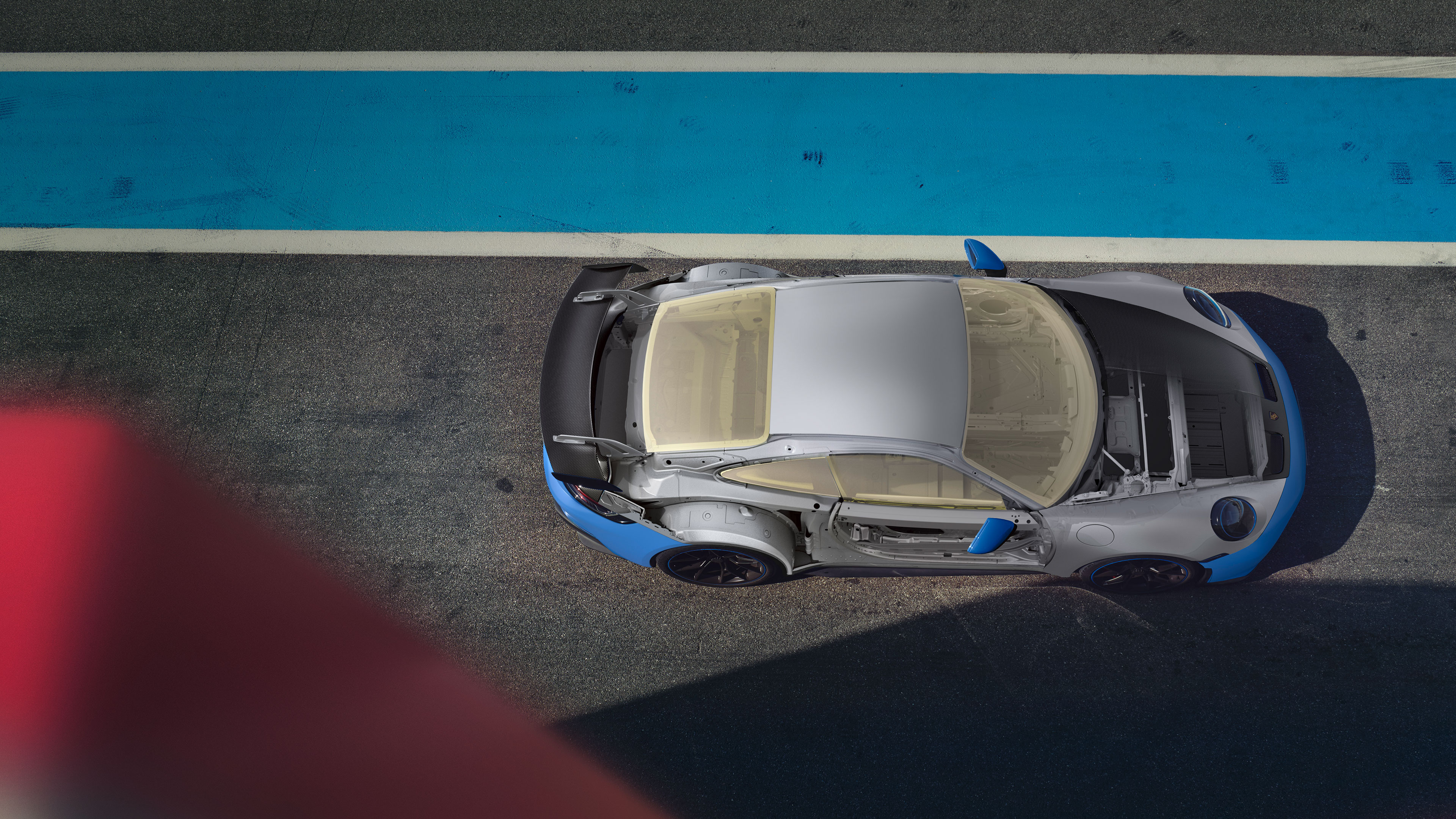 Lightweight construction always goes into detail: every gram is filed down so as to fight for every weight saving. The proportion of lightweight components made of aluminum and carbon-fibre reinforced plastic (CFRP) has been increased once again, while maintaining the same stability. For even greater agility, typical of motorsport.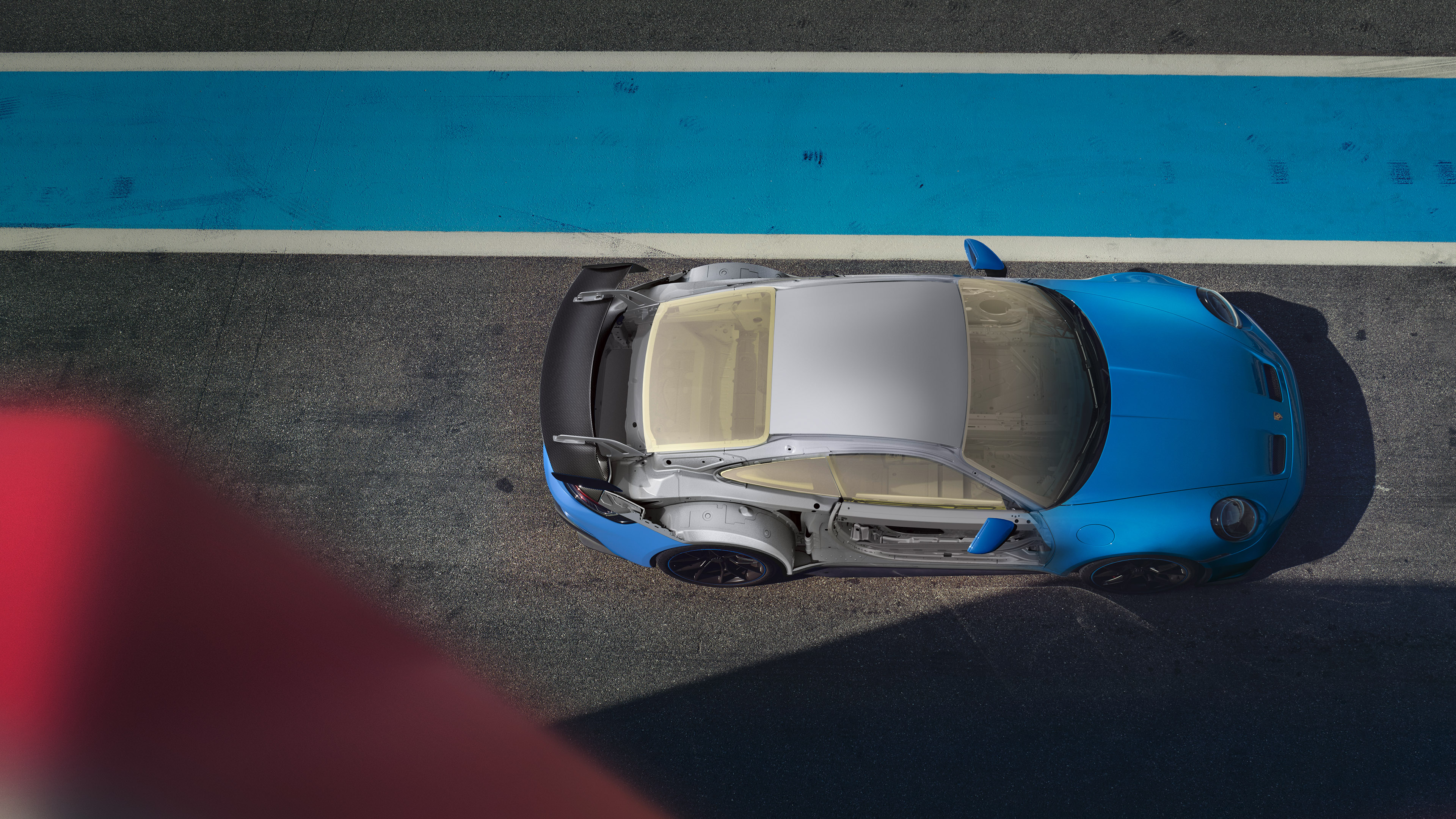 The front lid is made of carbon-fibre reinforced plastic (CFRP), previously a privilege of the 911 RS models. The rear wing is also made of carbon, as is the roof on request.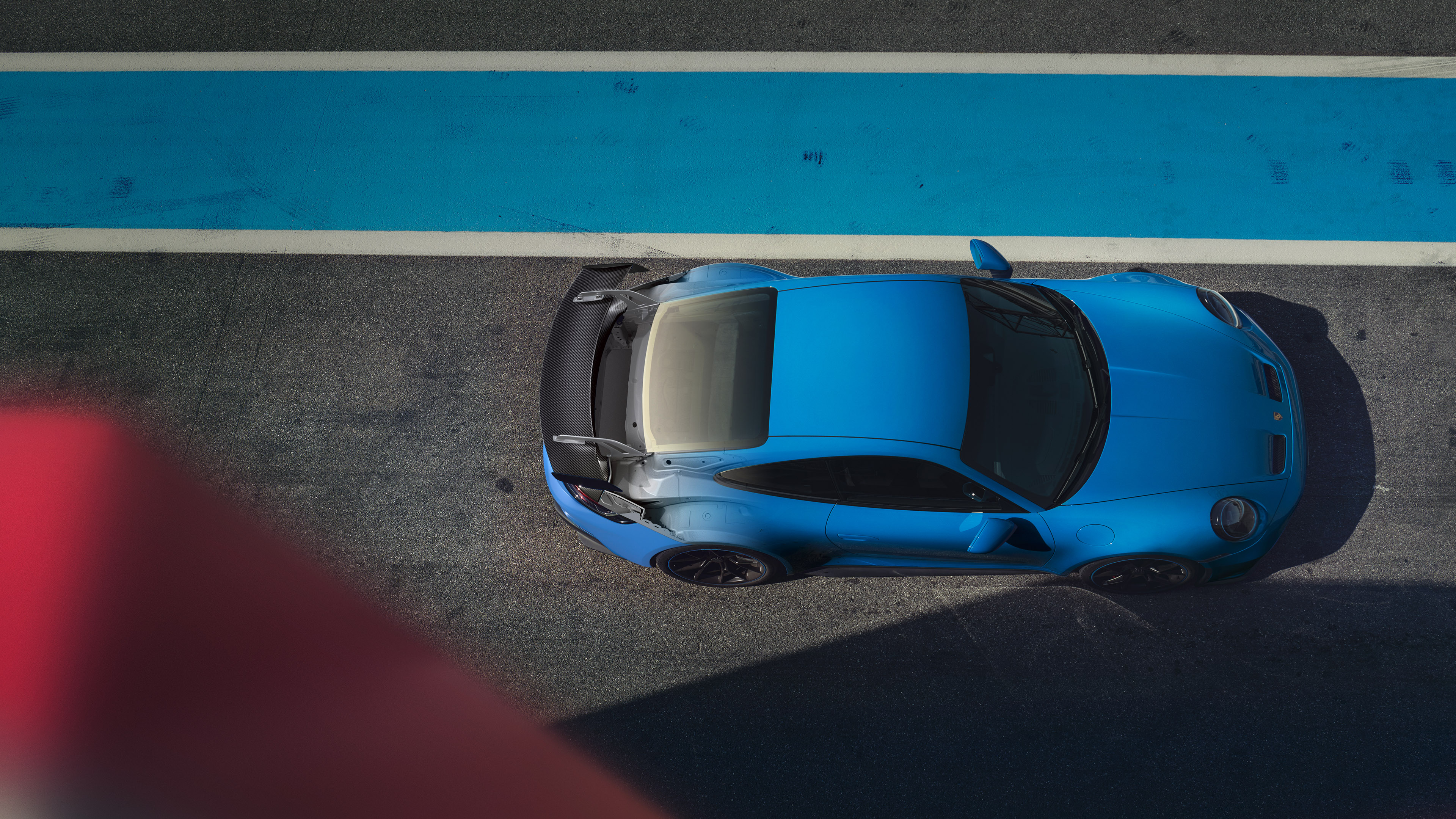 The use of lightweight glass for the side windows and rear screen is new on the 911 GT3. It is highly durable, scratchresistant and particularly lightweight.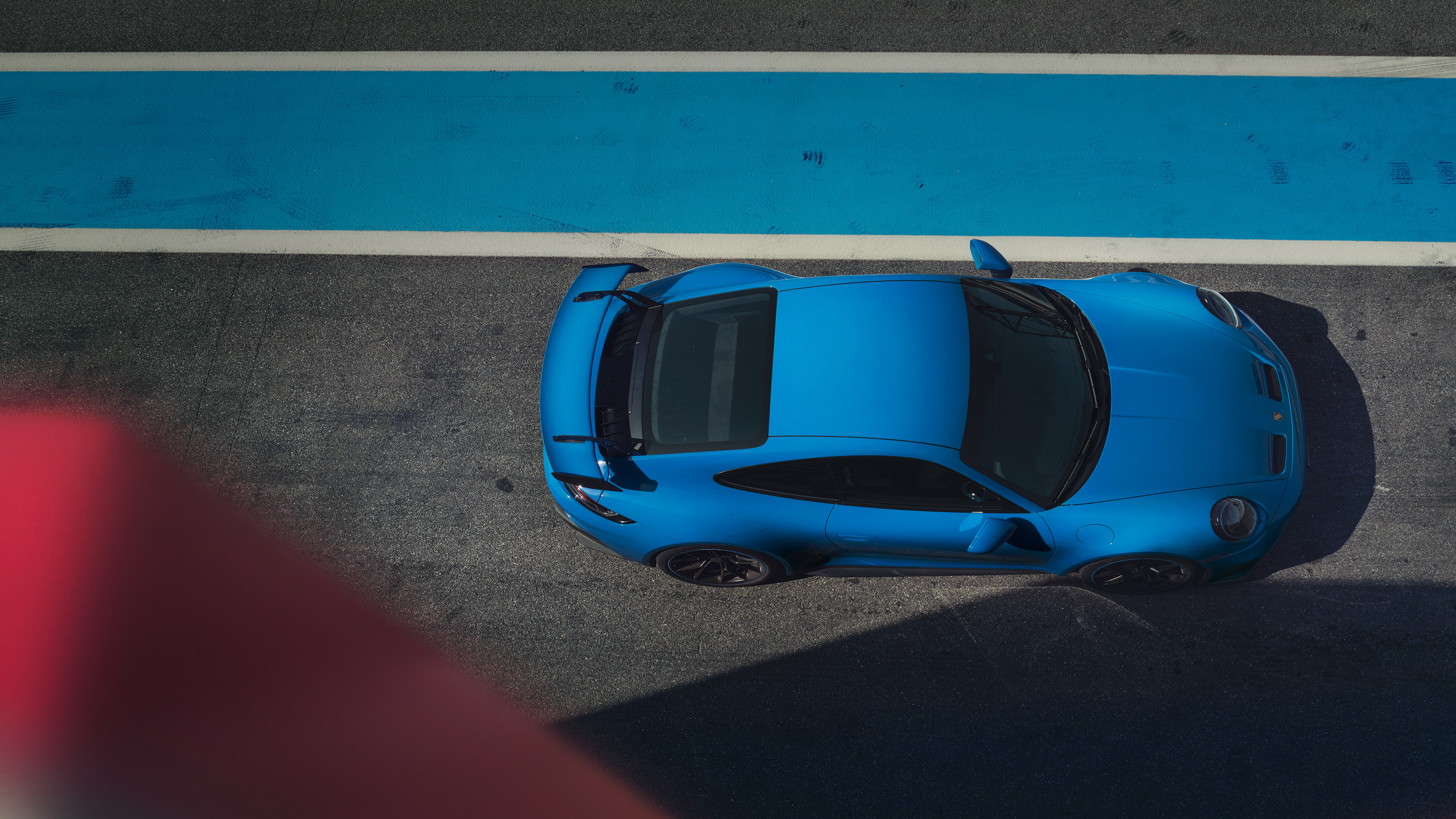 As a result, the new 911 GT3 achieves a power-to-weight ratio of just 2.81kg/PS and a drag coefficient of 0.34. So you can set new records. Effortlessly. And, above all, lightly.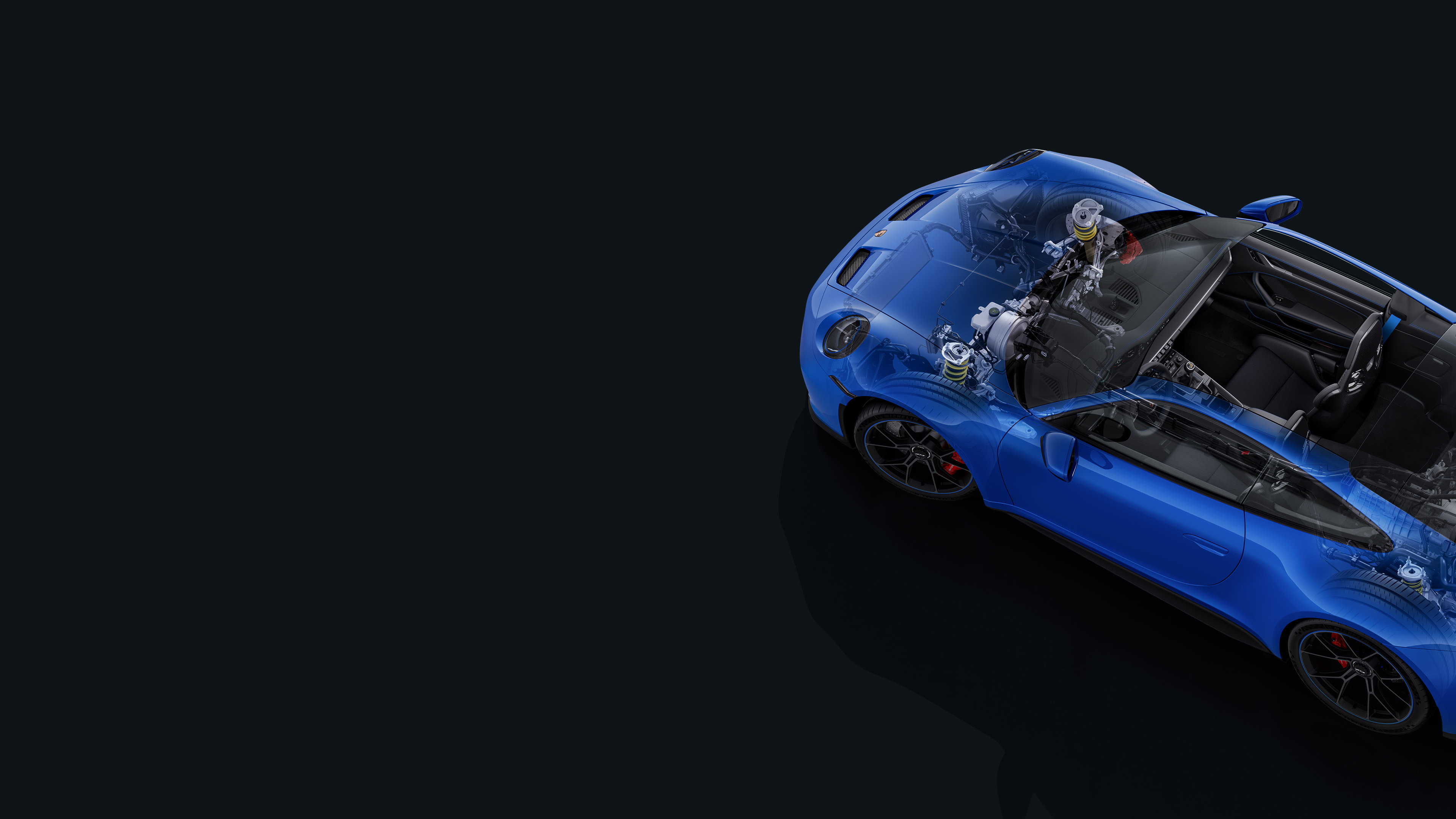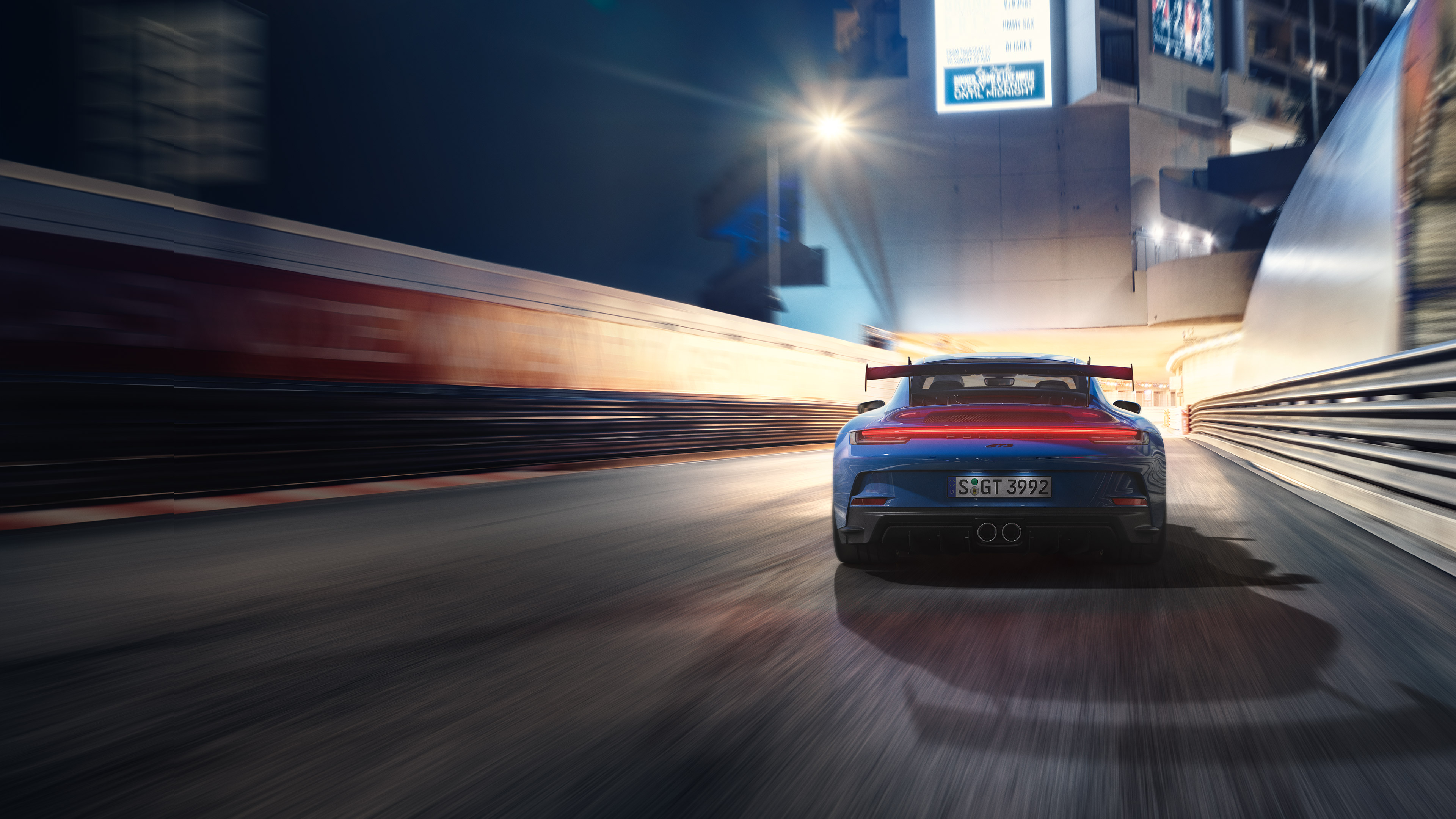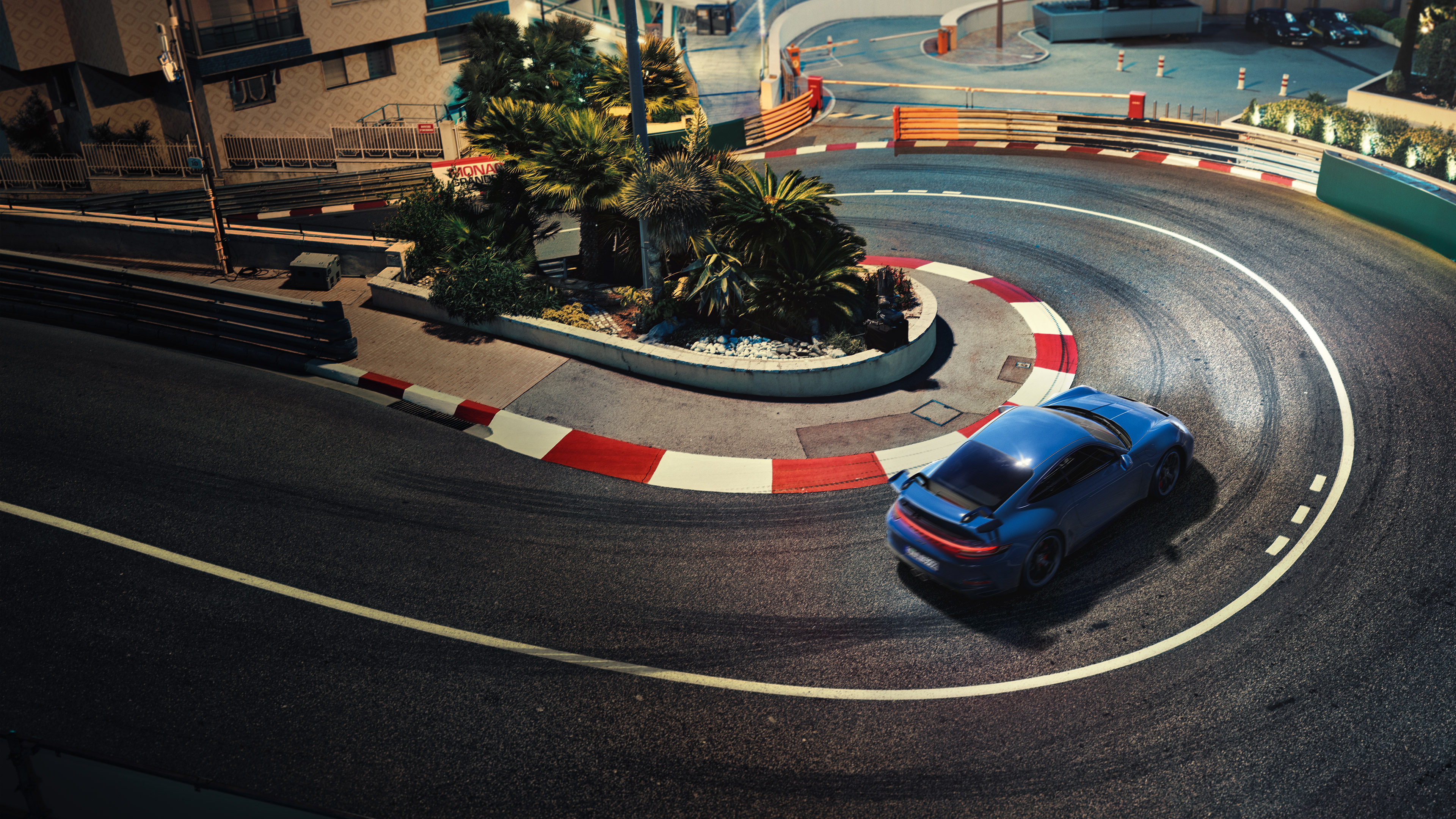 Chassis.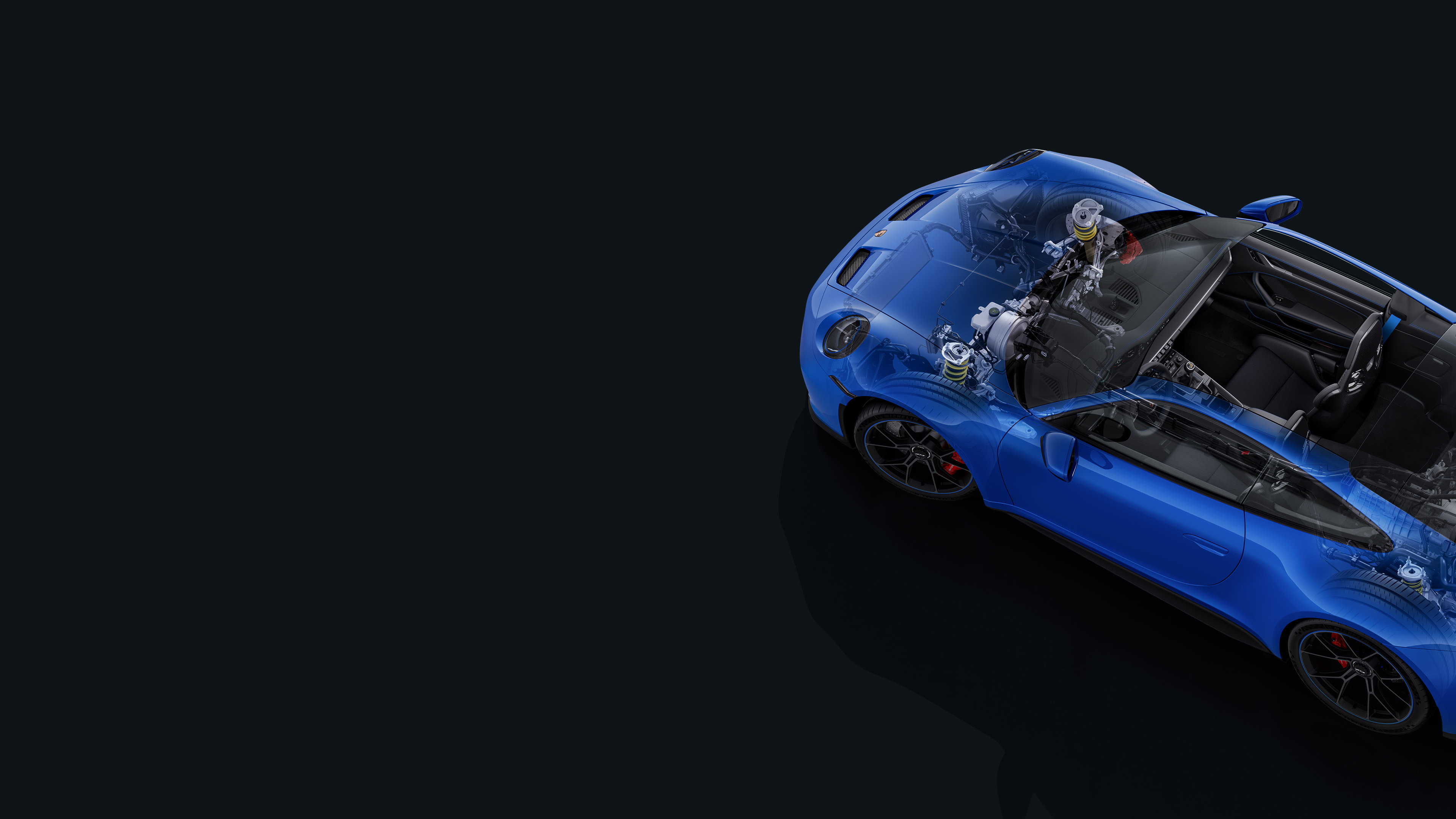 For the first time in a 911 GT3, a double wishbone front suspension has been installed. The system is derived directly from the 911 RSR – and brings you valuable seconds ahead in the 911 GT3.
The responsiveness of the front axle has been significantly improved once again through this axle principle – and the associated lower friction in the shock absorbers. In addition, the new axle geometry allows for a set-up that provides greater cornering stability and even more immediate steering response. For even faster cornering speeds.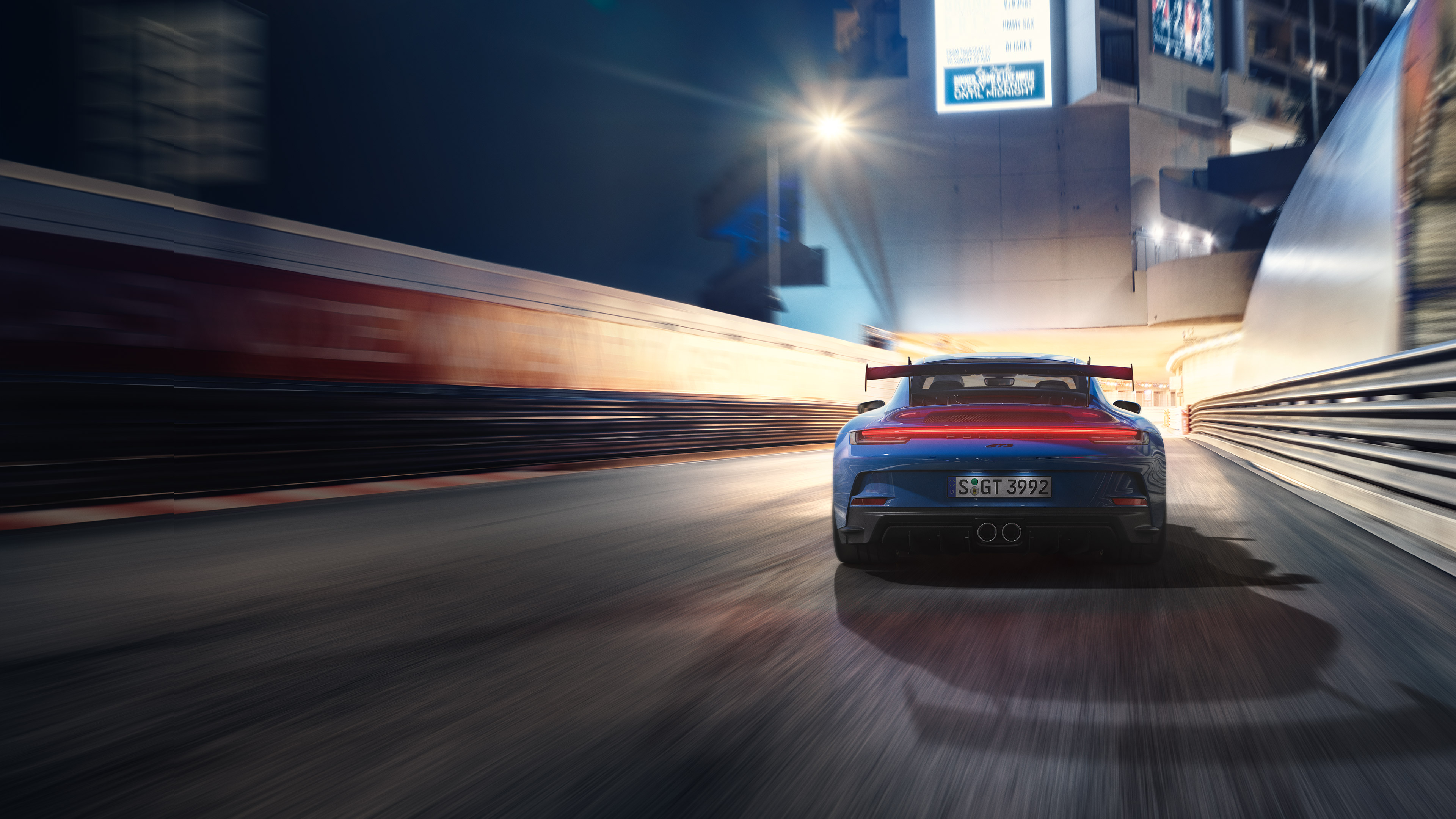 On the rear axle, the proven multi-link axle in the LSA concept (lightweight, stable, agile) is used with an increased number of ball joints for even greater precision.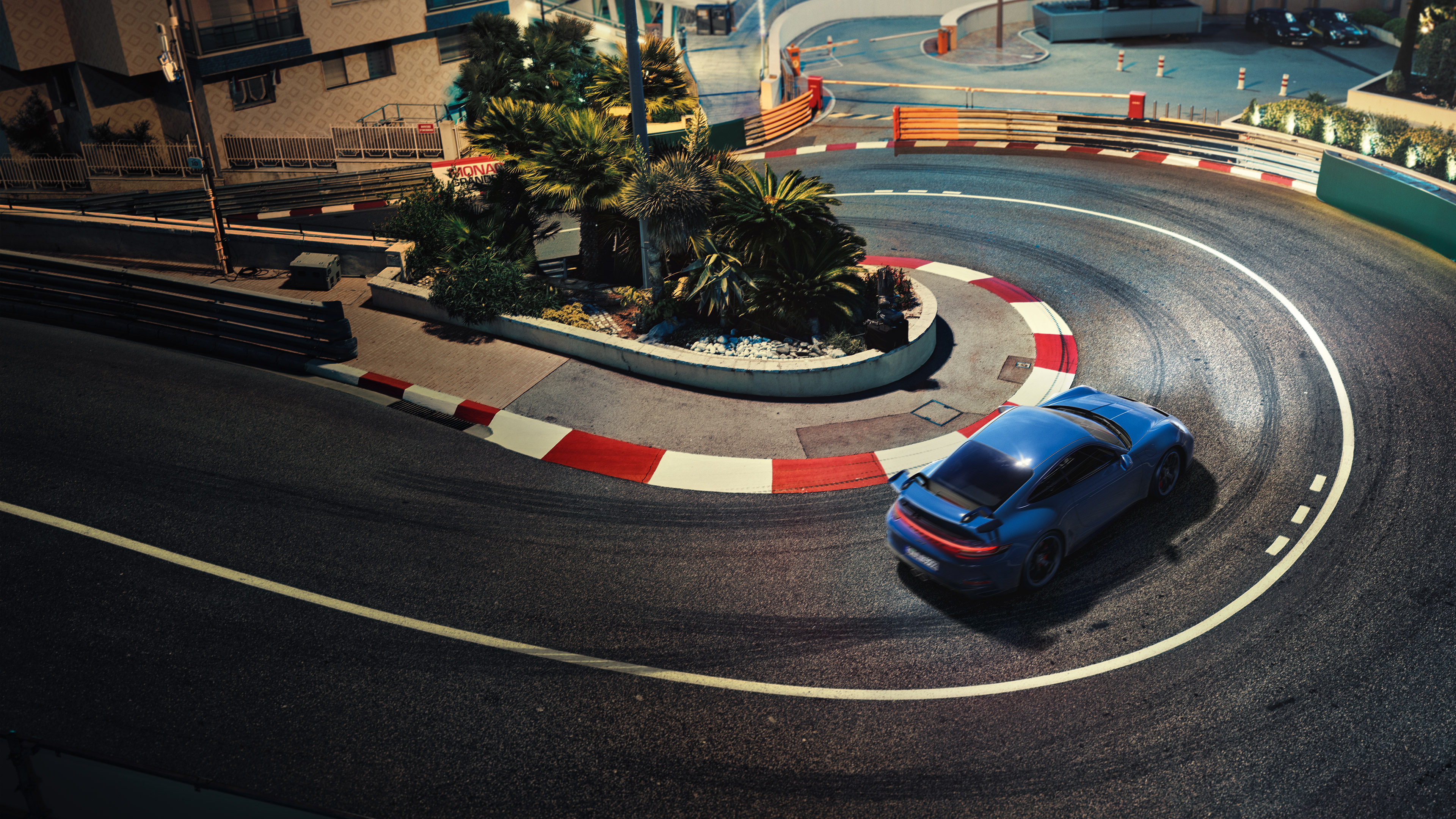 Ride height, camber and the stiffness of the anti-roll bars can be individually adjusted on both axles. Stiffer springs, together with the helper springs typical of motorsport, are used both front and rear. A new shock-absorber technology also allows more powerful driving characteristics, with simultaneously increased driving comfort.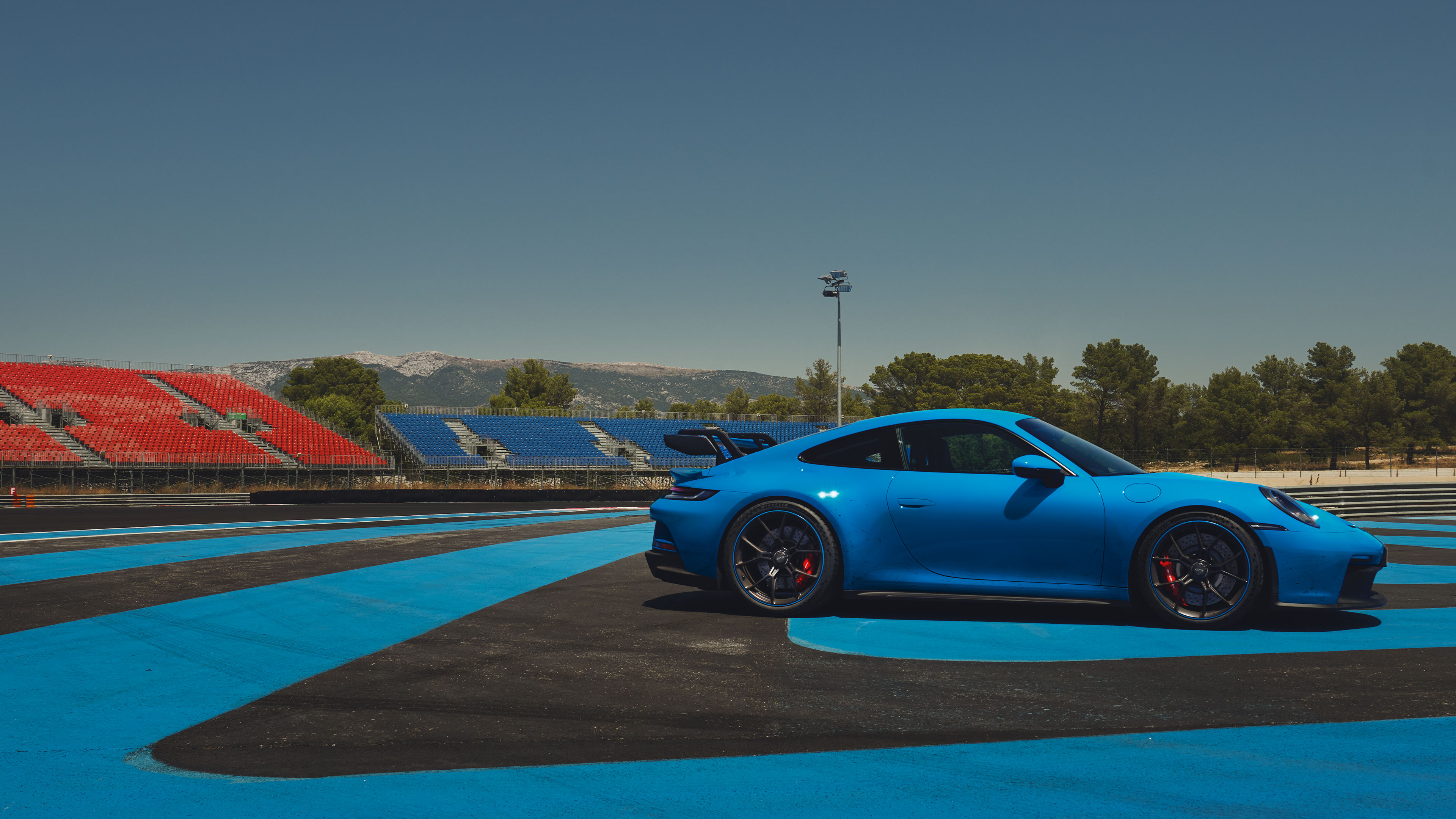 And all of this for a few tenths of a second in performance. Time is simply precious to us.
Control systems.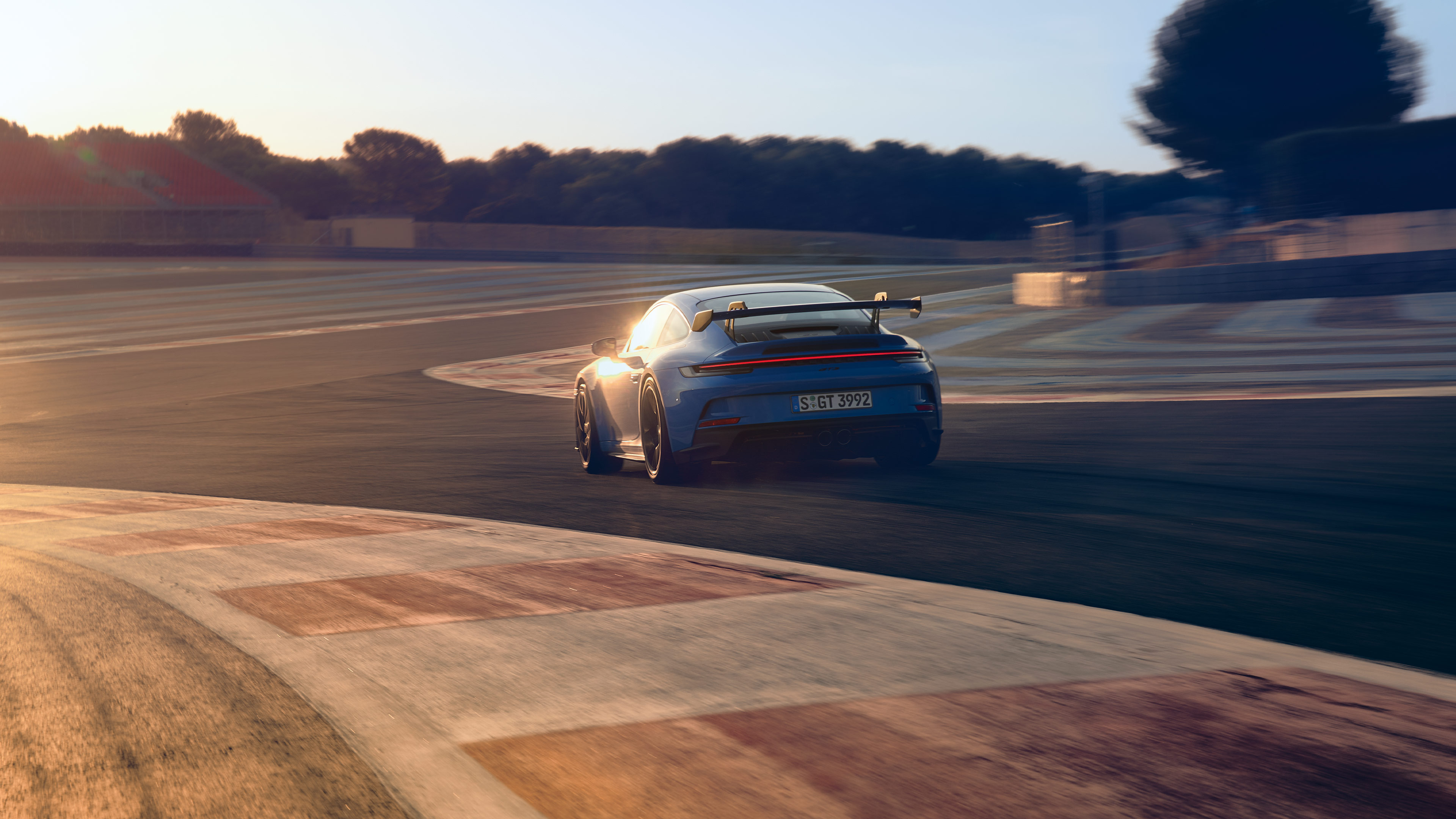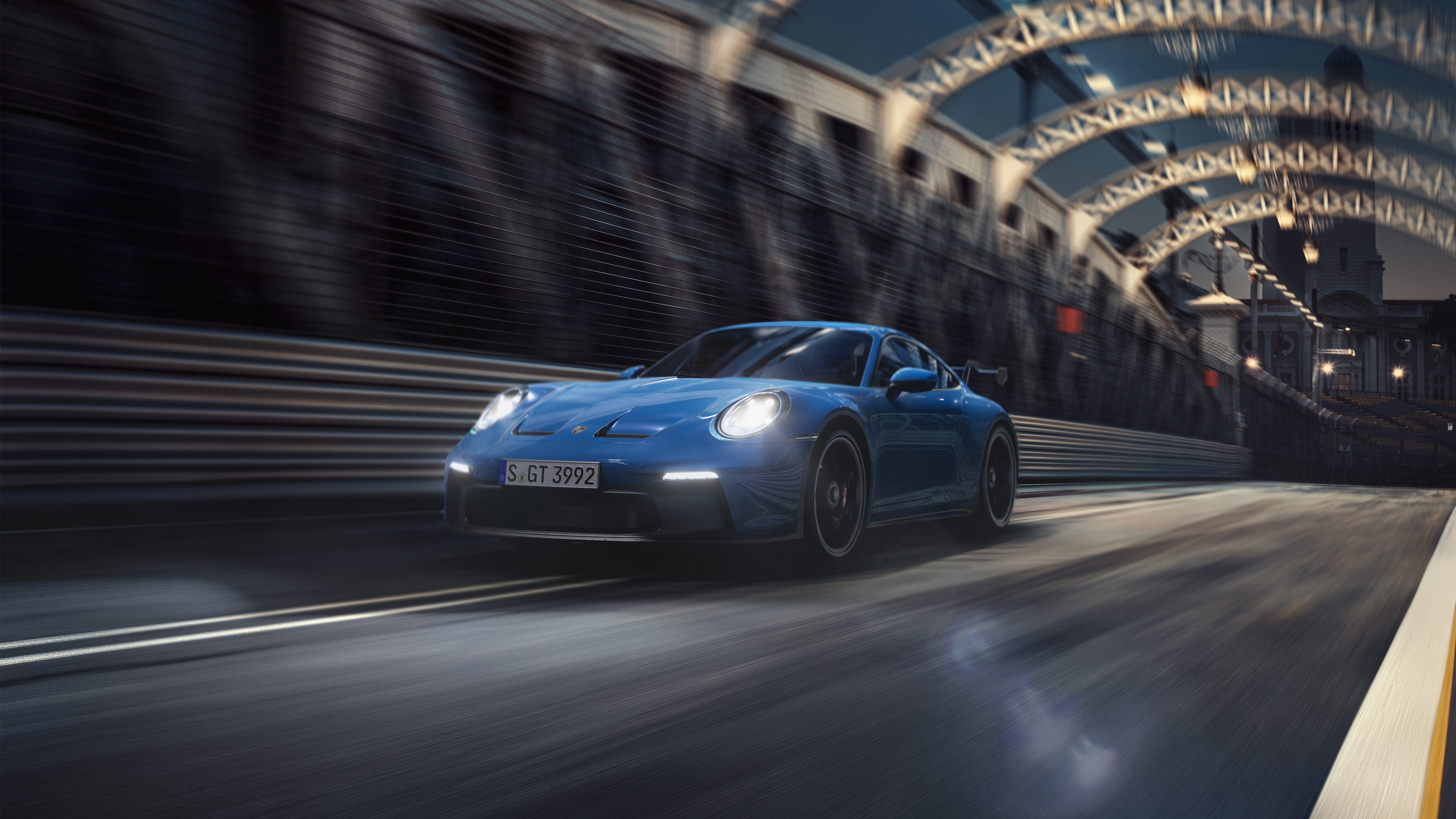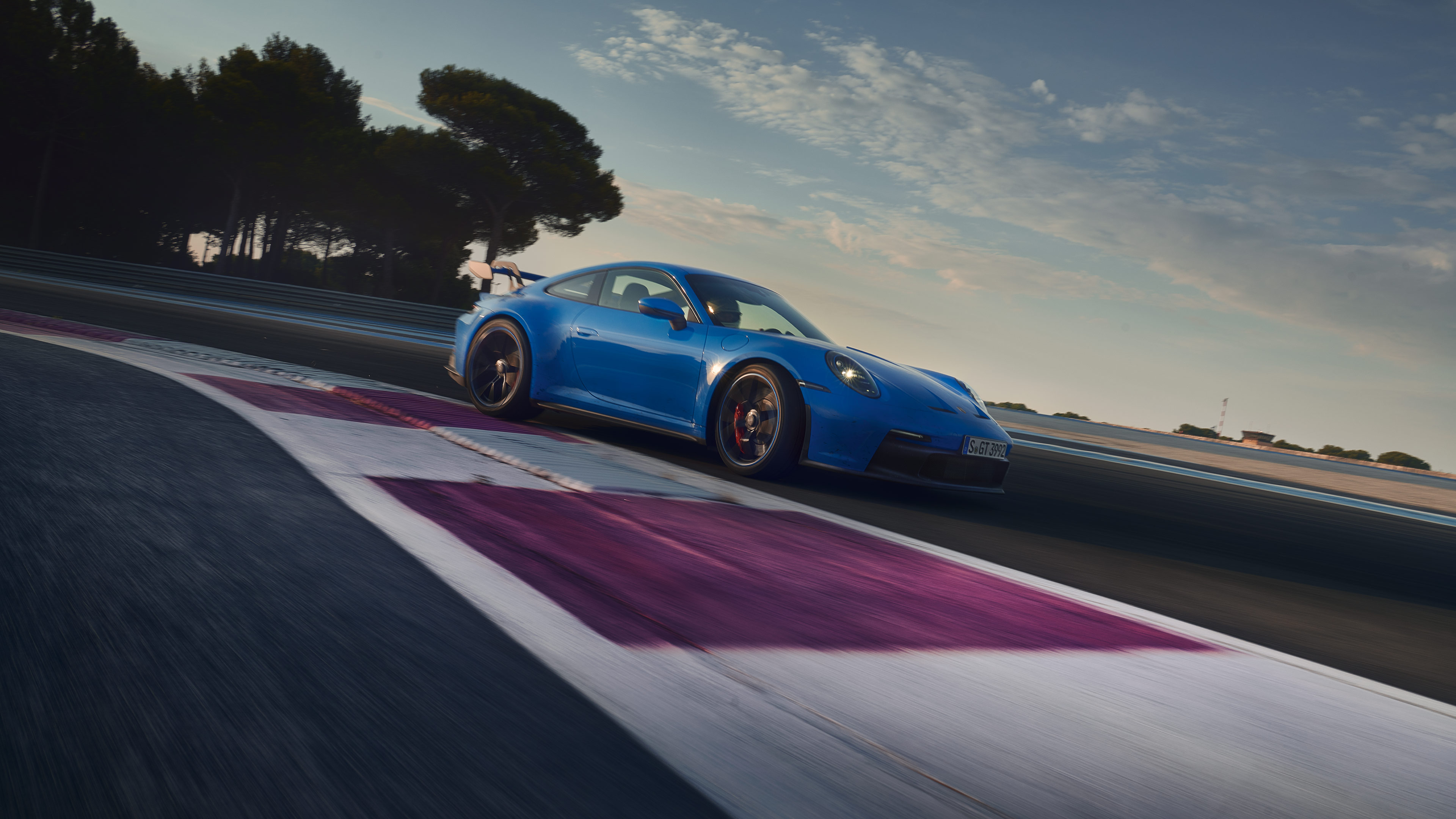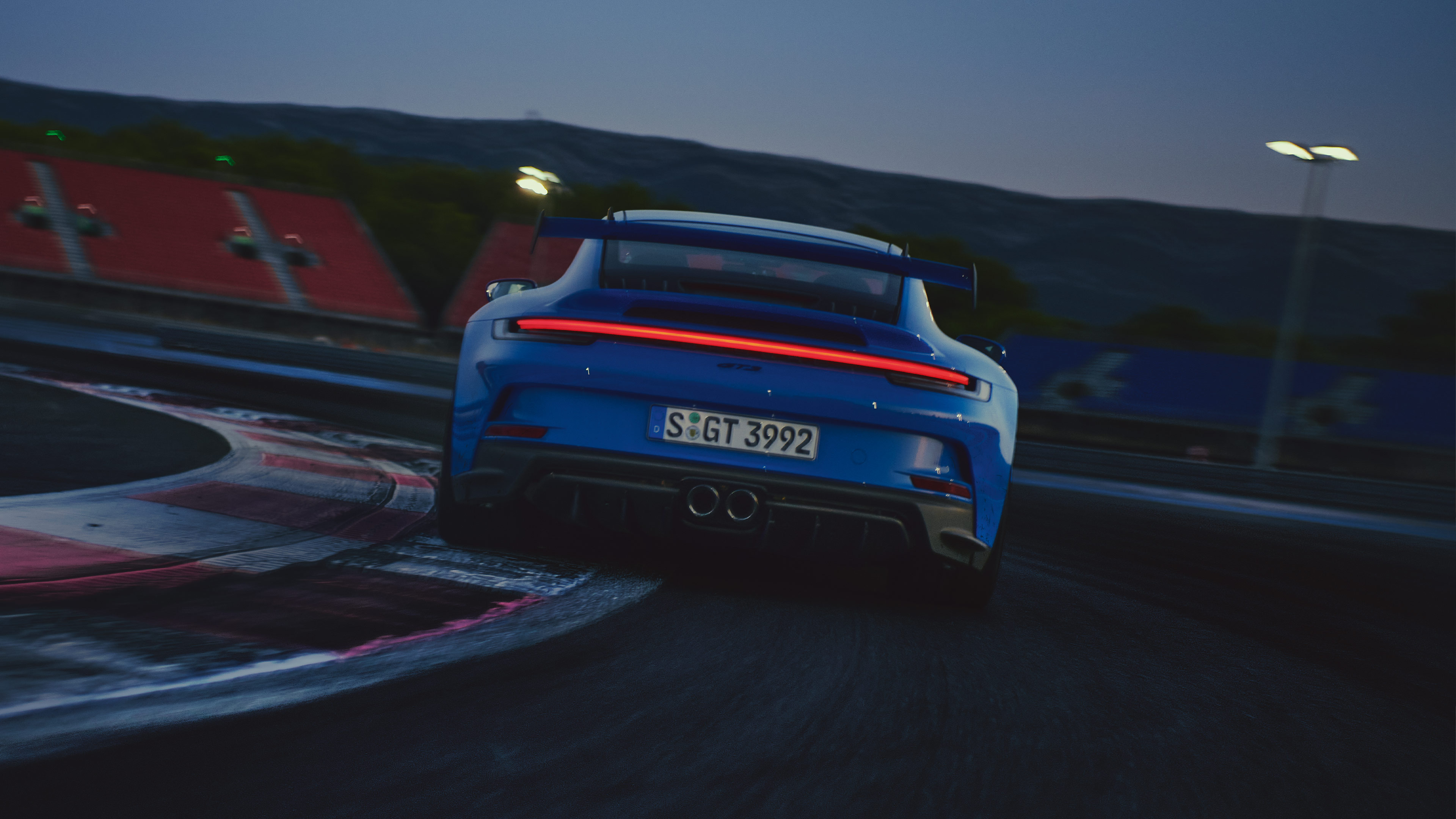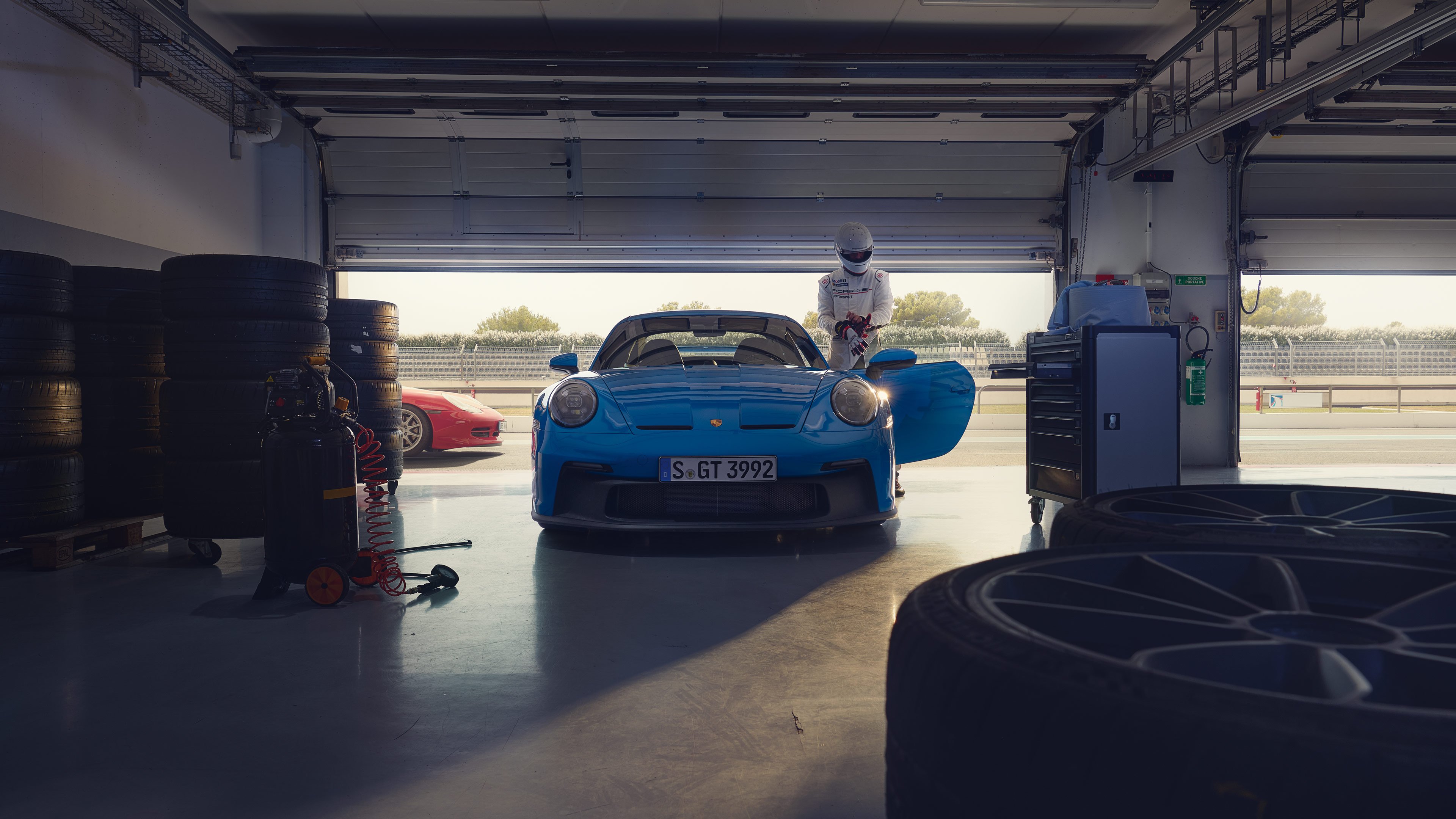 Rear-axle steering with sports set-up.
At low speeds, the system steers the rear wheels in the opposite direction to that of the front wheels. This increases agility, especially when cornering. At high speeds, the system steers the rear wheels in the same direction as that of the front wheels. This increases driving stability, above all at high speeds or when overtaking on the race track.
Porsche Active Suspension Management (PASM, –20mm).
This electronic adjustment of the shock absorber system actively and continuously adjusts the damping force on each wheel, based on current road conditions and driving style. PASM has two settings: 'Normal', which is a blend of performance and comfort, and 'Sport' where the set-up is much firmer.
Porsche Stability Management (PSM).
PSM is an automatic control system for maintaining stability at the limits of dynamic driving performance. The systems can be completely switched off in two stages. For intentionally sporty handling on the race track.
Porsche Torque Vectoring Plus (PTV Plus).
In conjunction with the 7-speed PDK, the system operates with an electronically regulated and fully variable rear differential lock with fully variable torque distribution. For increased traction and improved lateral dynamics, as well as enhanced stability when cornering under load change conditions and when changing lanes.
'Smart' lift system.
Available as an option, the lift system raises the 911 GT3 at the front axle by 40mm. To increase ground clearance at speeds of up to approximately 50km/h. The automatic lift function based on personally stored position data is new.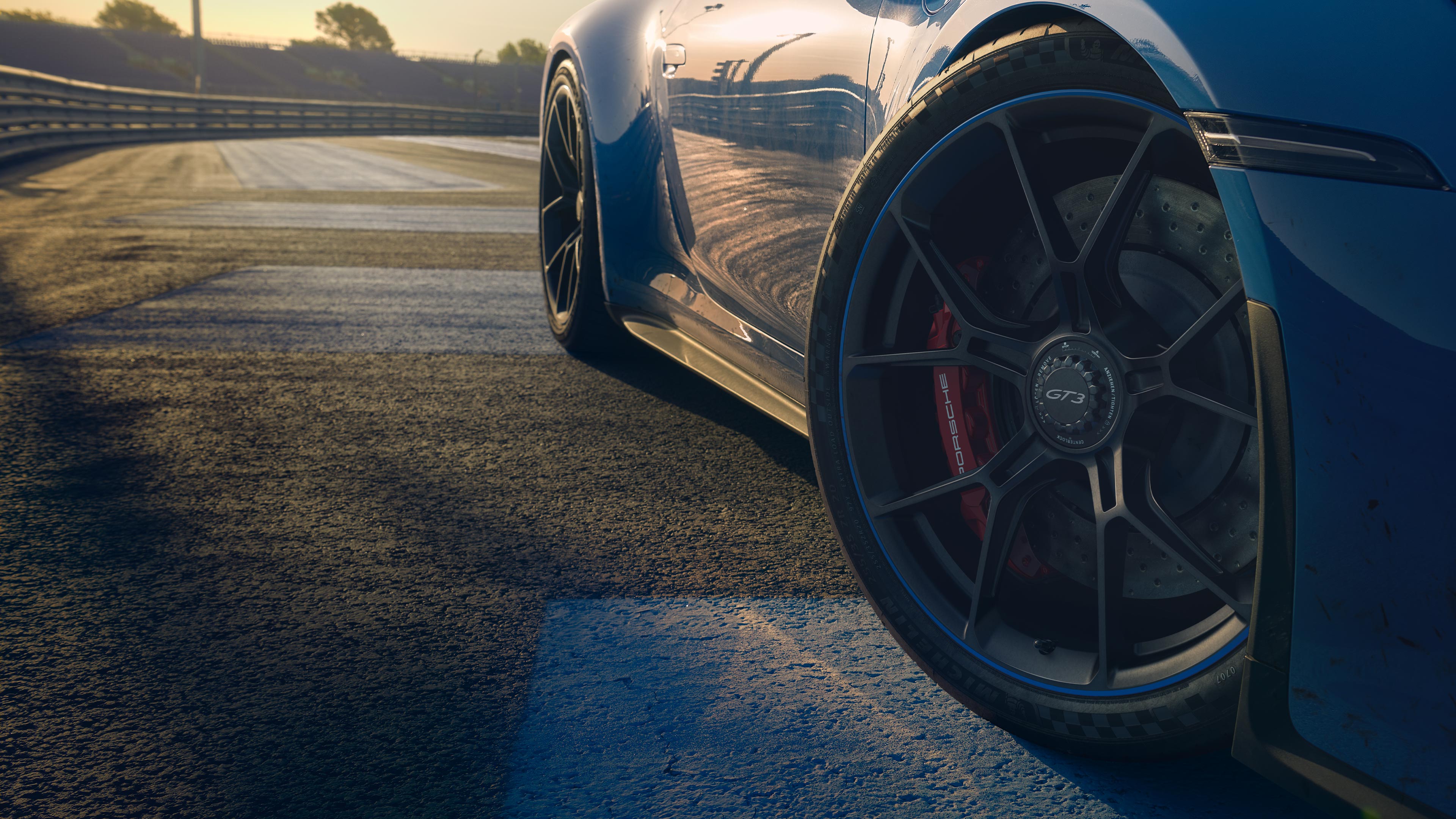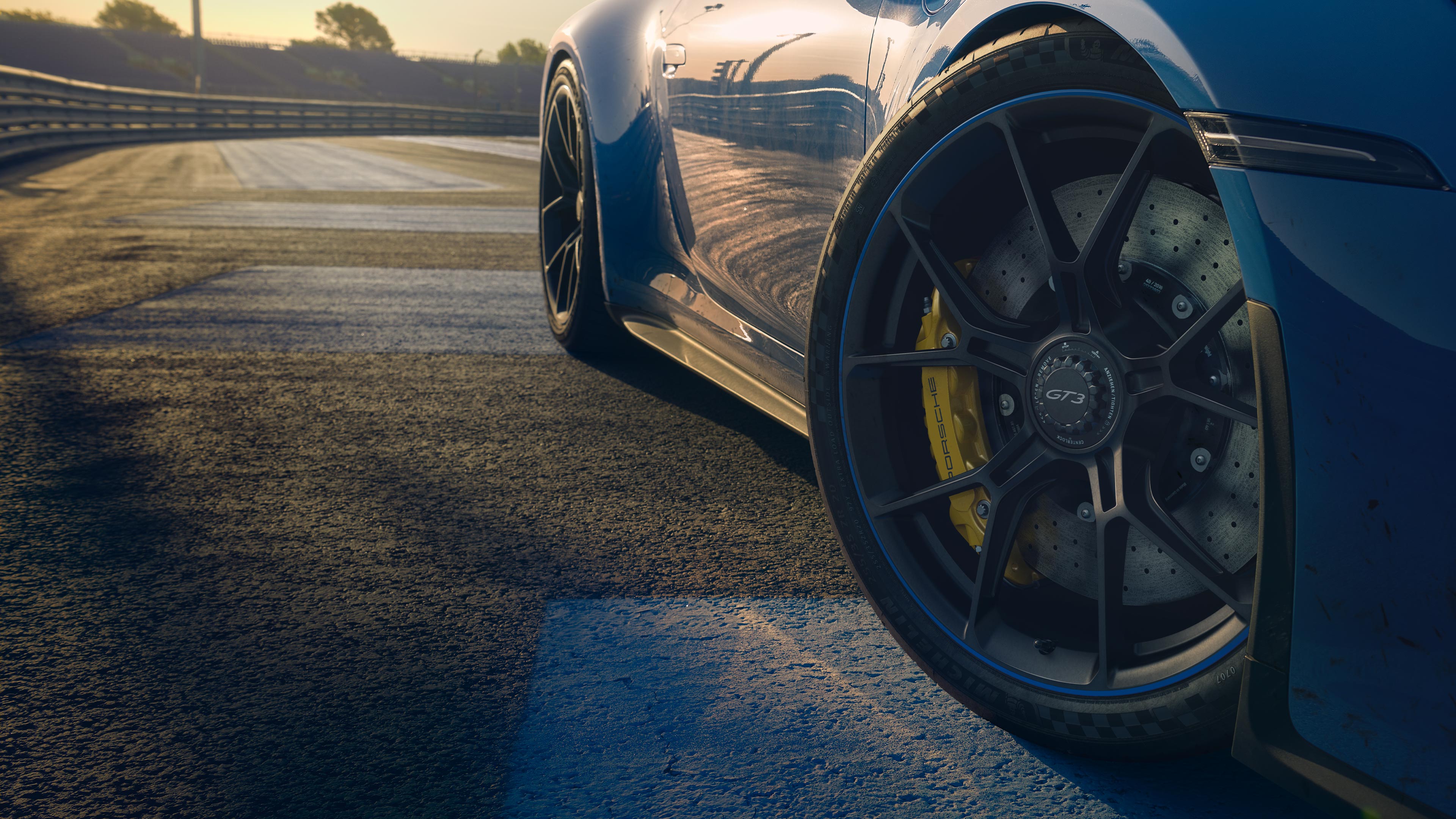 Brakes.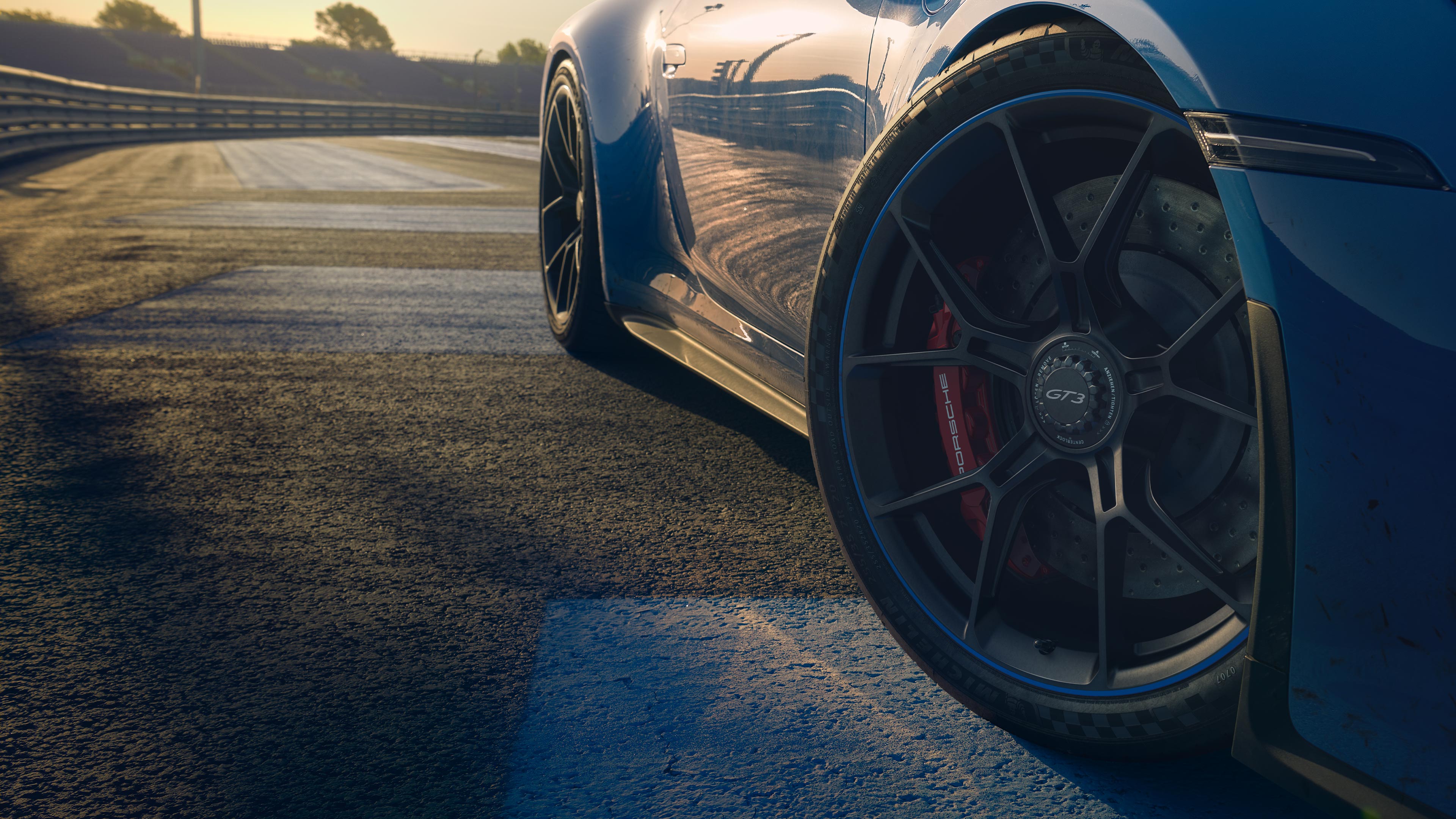 No time to lose – even when decelerating. A newly developed and particularly powerful brake system is the reliable basis for this. The standard cast-iron and aluminum composite brake discs now have a diameter of 408mm on the front axle – 28mm more than the predecessor – and 380mm on the rear axle. Thanks to the vacuum brake booster, which has also been re-engineered, the braking force can now be applied even more precisely and as required.
The red six-piston aluminum brake calipers on the front axle and the four-piston equivalents at the rear are designed as monobloc units. For greater inherent stability and faster response when applying and releasing the brake, even under extreme loads.
Porsche Ceramic Composite Brake (PCCB).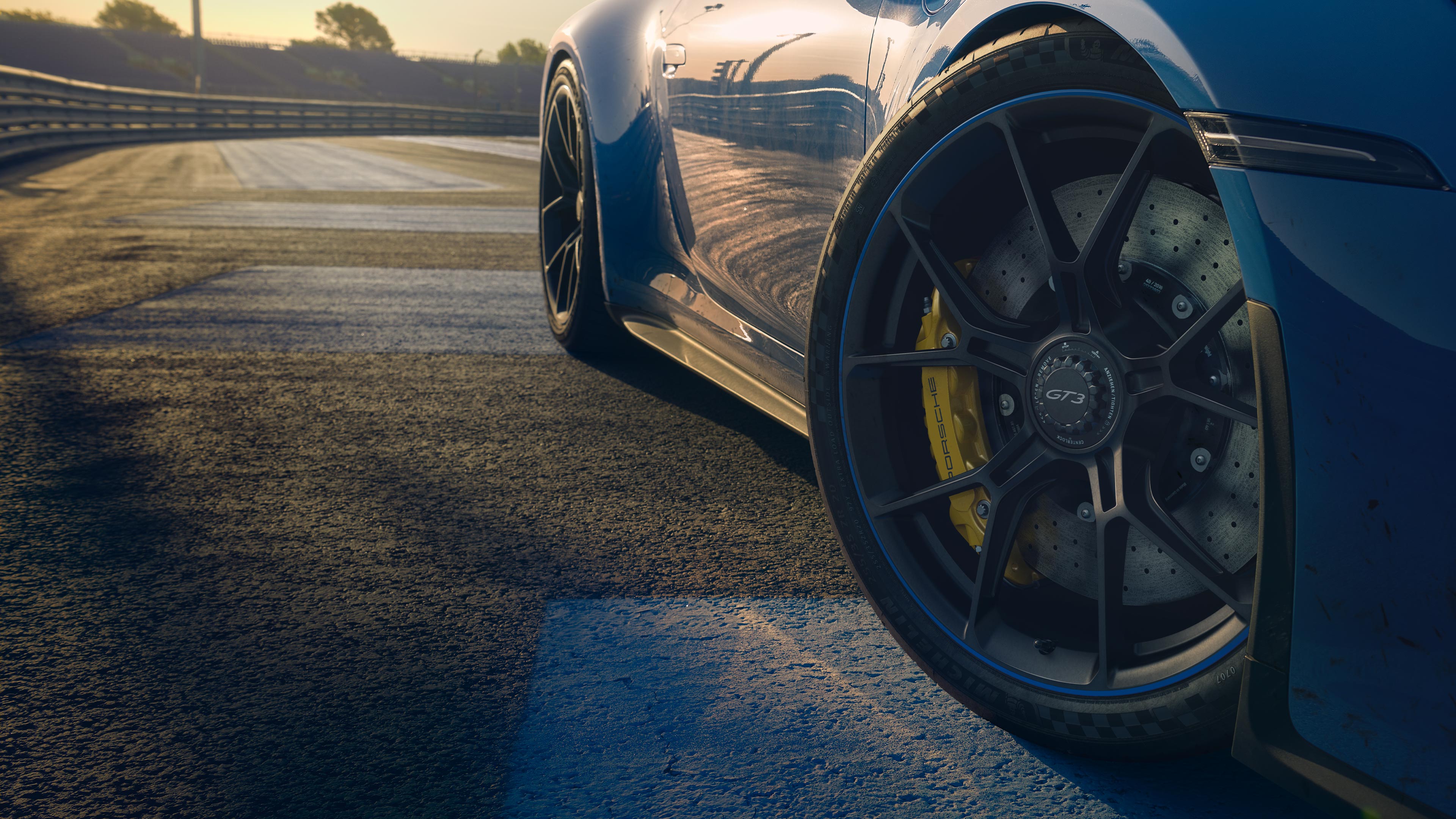 The optional Porsche Ceramic Composite Brake (PCCB), with brake discs that are around 50% lighter than cast-iron discs of a similar design and size, is committed to lightweight construction and motorsport. The cross-drilled ceramic brake discs have a large diameter of 410mm at the front and 390mm at the rear – for even more formidable braking performance. Six-piston aluminum monobloc fixed brake calipers on the front axle and four-piston units at the rear – all painted in yellow – ensure extremely high brake forces which, crucially, are exceptionally consistent when decelerating. In addition, the safety when braking from high speed increases due to the high fade resistance of the PCCB.
Next chapter
Interior and infotainment
Interior and infotainment
Interior and infotainment
Everything you love about Porsche. But faster.
At the sporting limit, it is always about being direct. Especially on the race track but also with ergonomics in the cockpit. In this sense, the interior of the new 911 GT3 is leading the way. It reflects on classic 911 virtues and extends them to new technological possibilities. The principle: analogue fascination meets digital integration.
The GT3 sports steering wheel with PDK gearshift paddles in Dark Silver enables short shift throws like in motorsport. The non-slip steering wheel rim in black Race-Tex sits comfortably in the hand, even during sporty driving. All materials are puristic and yet of high quality – in addition to the black Race-Tex, black leather and trim strips in black with inlays in brushed aluminum in Anthracite.
A new feature is the selectable track screen which displays the relevant driving data for the race track upon request, e.g. tire pressure, g-force, stopwatch, water temperature as well as oil temperature and oil pressure. So you have all information directly in front of you and can fully concentrate on the race track. In conjunction with the 6-speed GT sports manual transmission (also with the PDK gear selector with the manual gate), the track screen also displays a shift assistant.
Cult: the central analogue rev counter with illuminated 'GT3' logo, the heart of the interior both visually and technically. High-tech: the high-resolution 7-inch-WVGA TFT colour displays on the left and right of the rev counter which show configurable vehicle information on virtual instruments.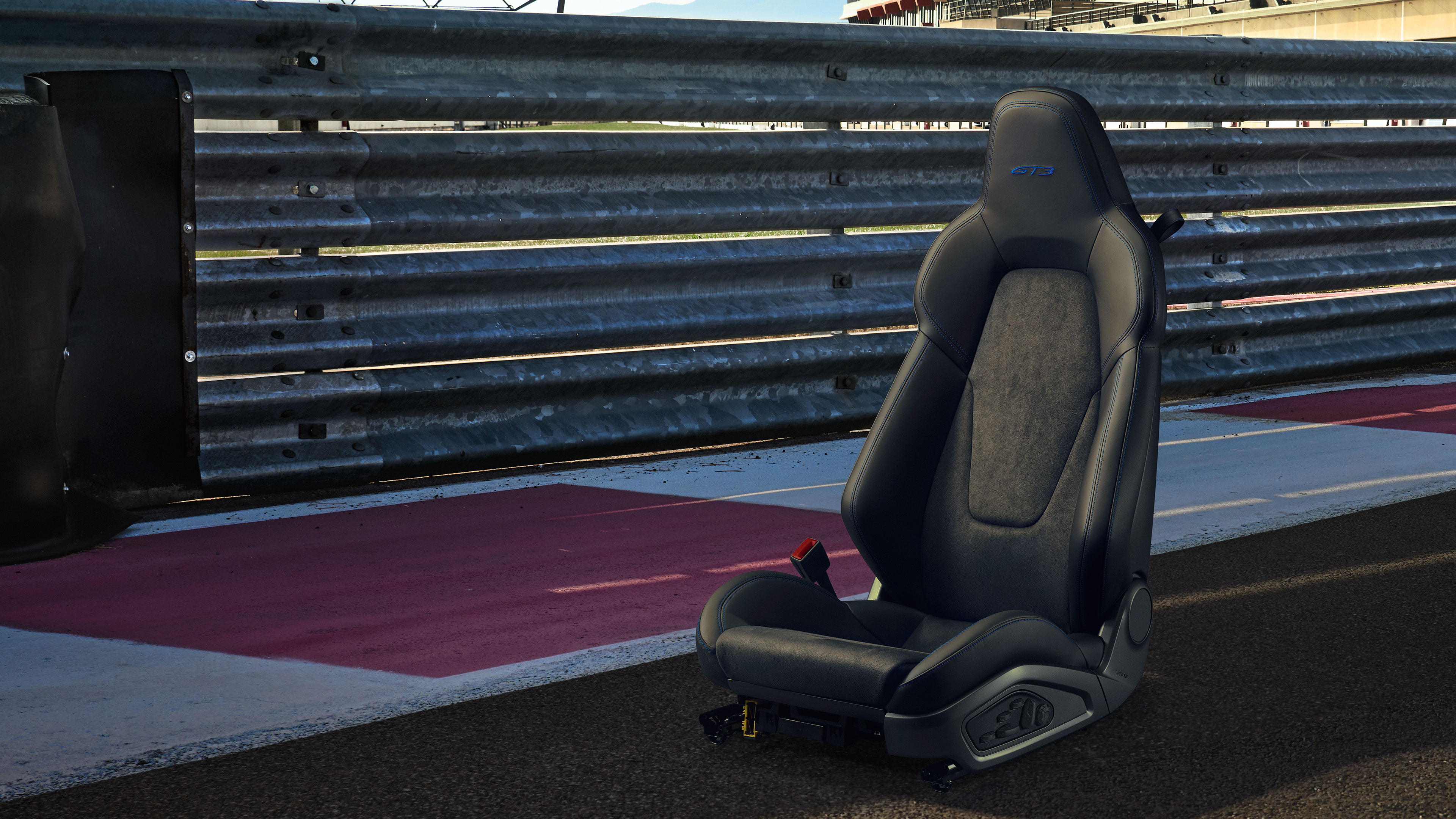 The Sports seats Plus with elevated side bolsters, electric seat height and backrest adjustment as well as the manual fore/aft adjustment are standard. The side bolsters are covered in leather, the seat centres in black Race-Tex, while the 'GT3' logo is embroidered on the headrests in silver colour. The side bolsters on the squab and backrest have a firm, sporty padding and offer excellent lateral support – even in the pelvis area. The backrest shell is finished in Dark Silver.
Adaptive Sports seats Plus with 18-way electric adjustment of seat positions are available on request.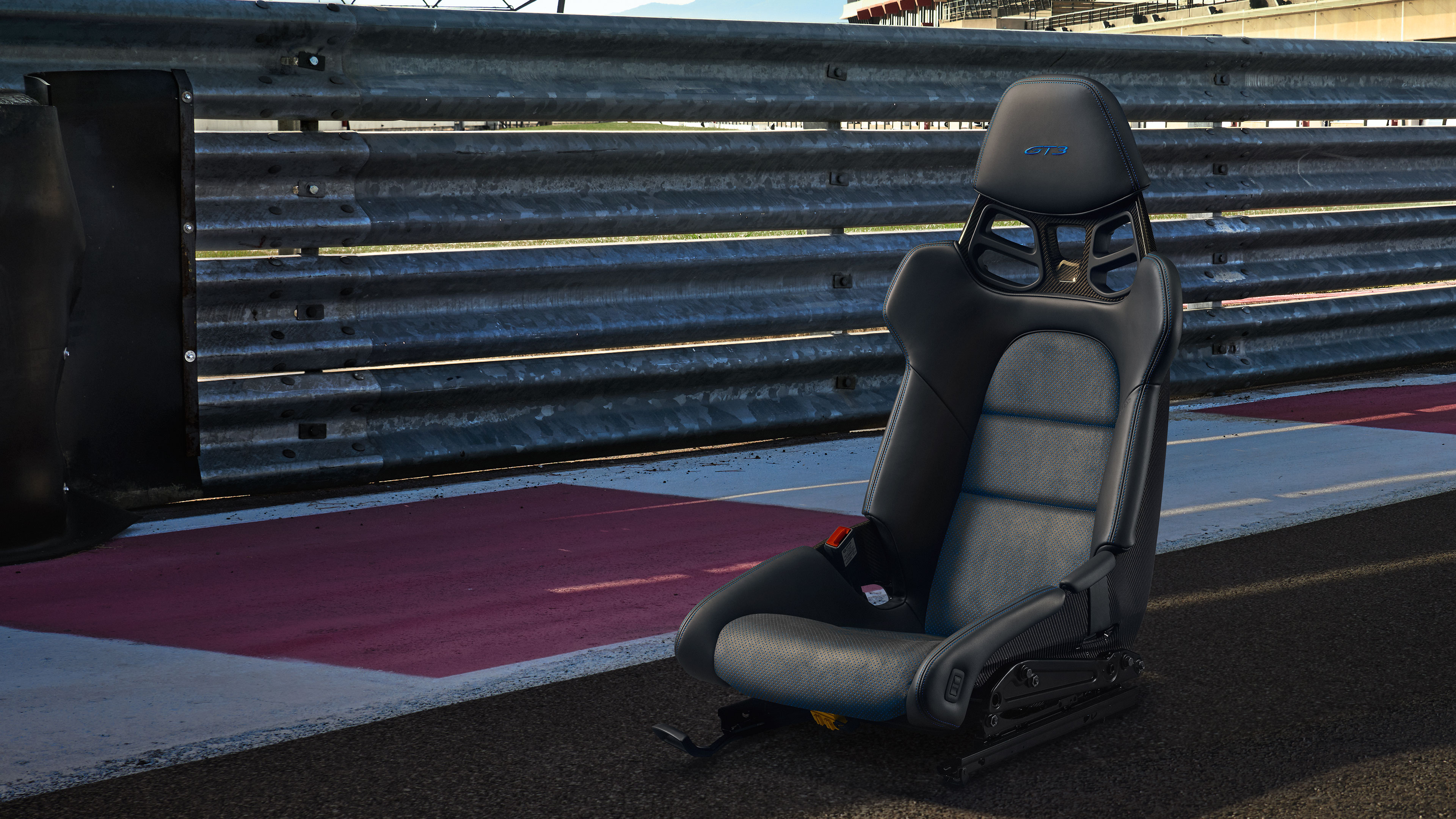 Full bucket seats made entirely of carbon-fibre reinforced plastic (CFRP) with carbon-weave finish and featuring integrated thorax airbag are available as an option. They offer particularly good lateral support at minimal weight. The fore/ aft adjustment is manual, the height adjustment is electric. The cover is made of black leather as standard, with a seat centre in black perforated Race-Tex, lined in a contrasting colour, with the 'GT3' logo embroidered in silver colour on the headrests.
¹Child seats are not compatible with full bucket seats.
Chrono Package.
Time is precious? In all honesty, at this point we take it a little more precisely. Because here we are talking about tenths and hundredths of a second.
In addition to analogue and digital stopwatches on the dashboard, the optional Chrono Package offers the following functions: PCM is upgraded to include a special performance display, enabling you to display, store and evaluate recorded lap times. In this way, the driver can view the current lap time and distance, number of laps completed and other times achieved so far – accurate to a hundredth of a second, of course. It is also possible to view the current fastest lap and range until empty. Any travelled distances can be recorded and benchmark times defined.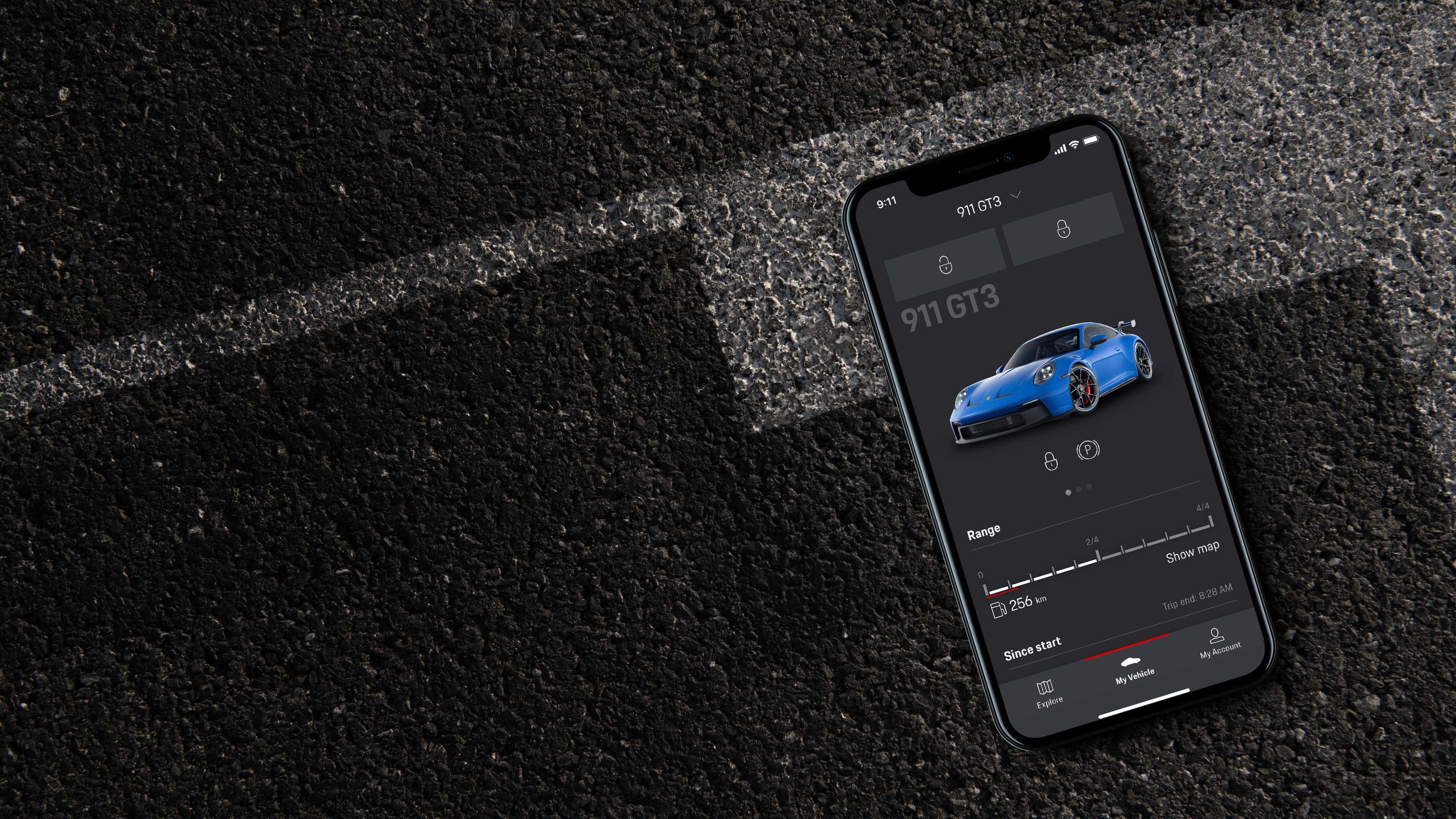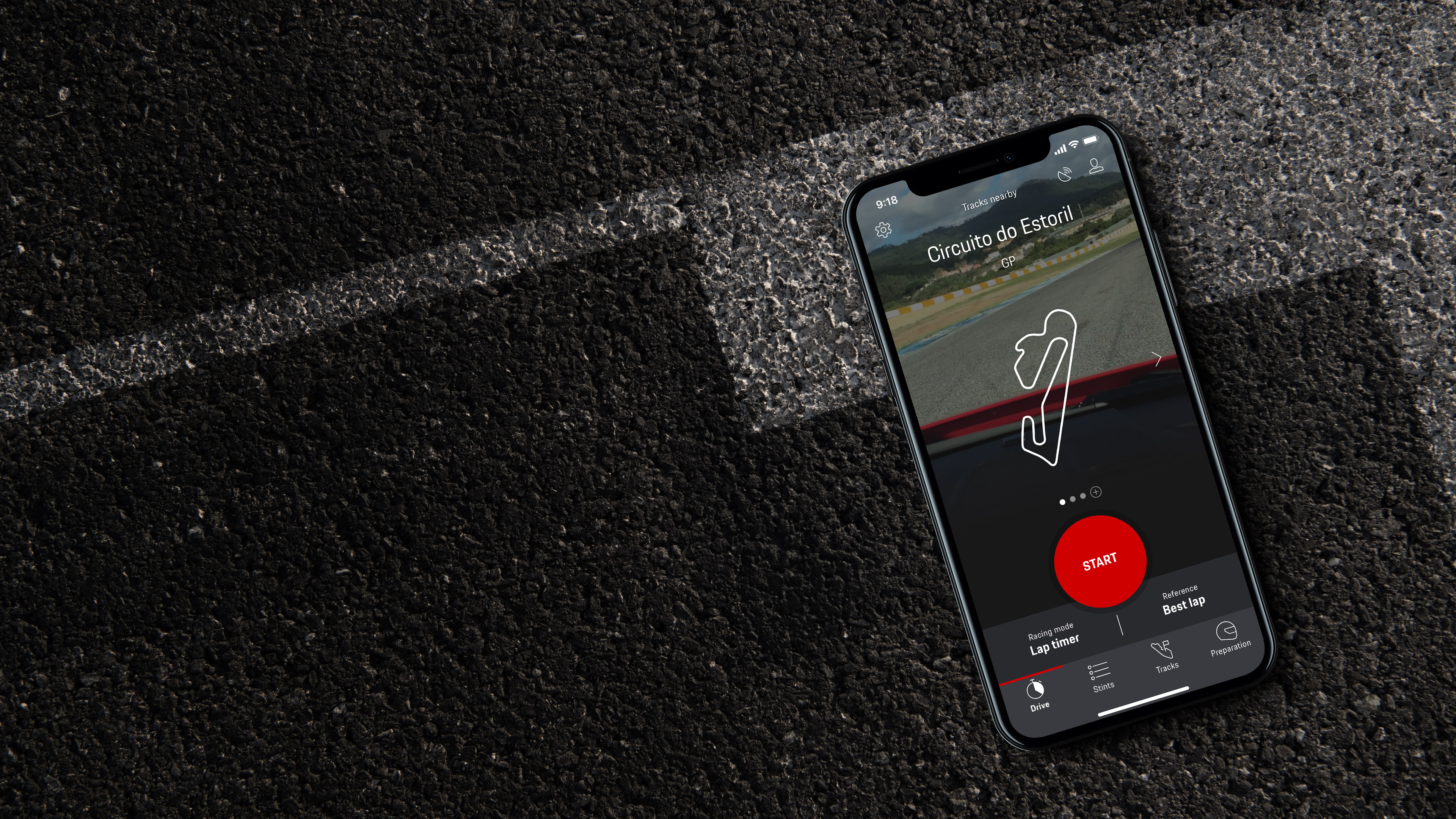 Porsche Connect.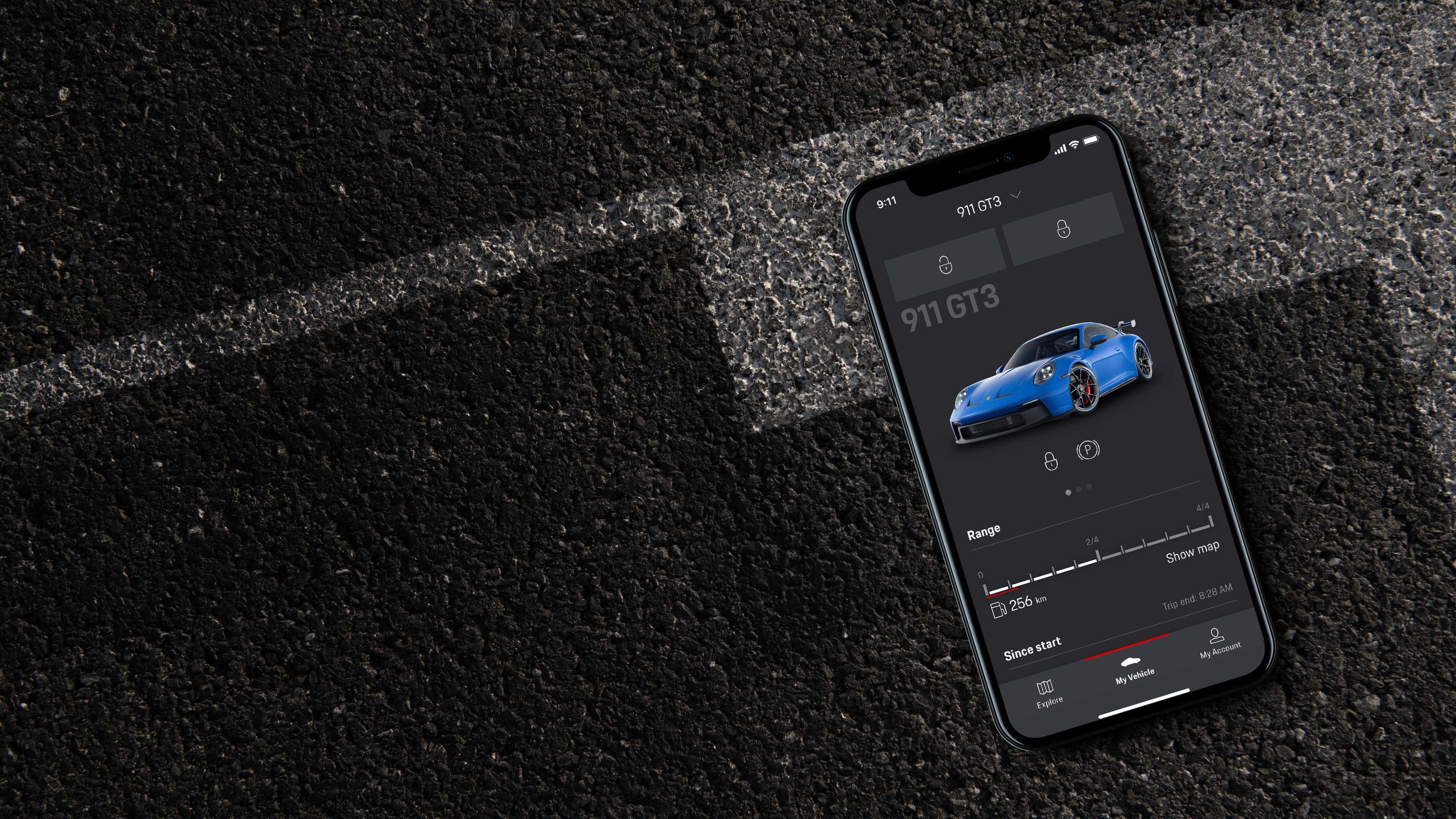 Porsche Connect provides assistance with helpful services. Through the Porsche Connect app, you can synchronise destinations and calendars with your Porsche, plan trips with Real-time Traffic Information from Porsche Communication Management (PCM) and use music services on your smartphone. Be navigated, informed and entertained by your Porsche. The Navigation & Infotainment package helps you to reach your destination faster, thanks to route calculation with up-to-date online maps. Using the voice recognition interface you can easily search for information, such as the weather at your destination, and have current news on the economy, politics and sport read aloud to you. Especially if you are not on the race track – or are just on your way there.
Porsche Track Precision App.¹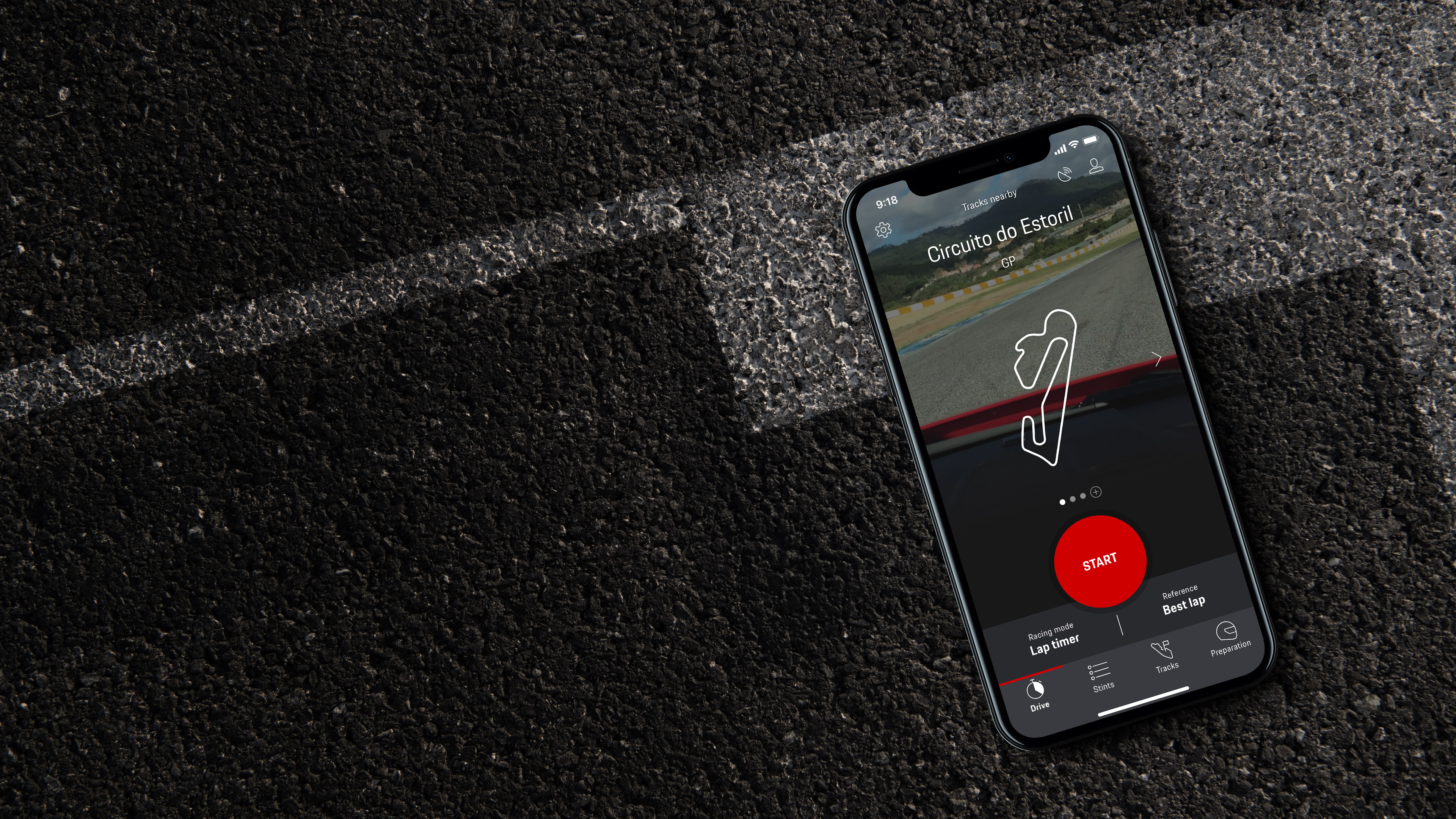 With the Porsche Track Precision app, your performance can be measured and evaluated in even greater detail. The app allows your driving stats to be accurately displayed, logged and analysed on your smartphone. The lap timer can be stopped automatically by means of a precise 10Hz GPS signal from PCM, manually using the control lever of the Chrono Package or, for even greater precision, by the optional lap trigger available from Porsche Tequipment. Recorded times can be compared directly on the smartphone.
¹App usage permitted on private land only. Operation of this product (including the video recording feature in particular) could be prohibited by laws or regulations in specific markets or events. Before any use of this product, please check that this is permitted under local laws and regulations.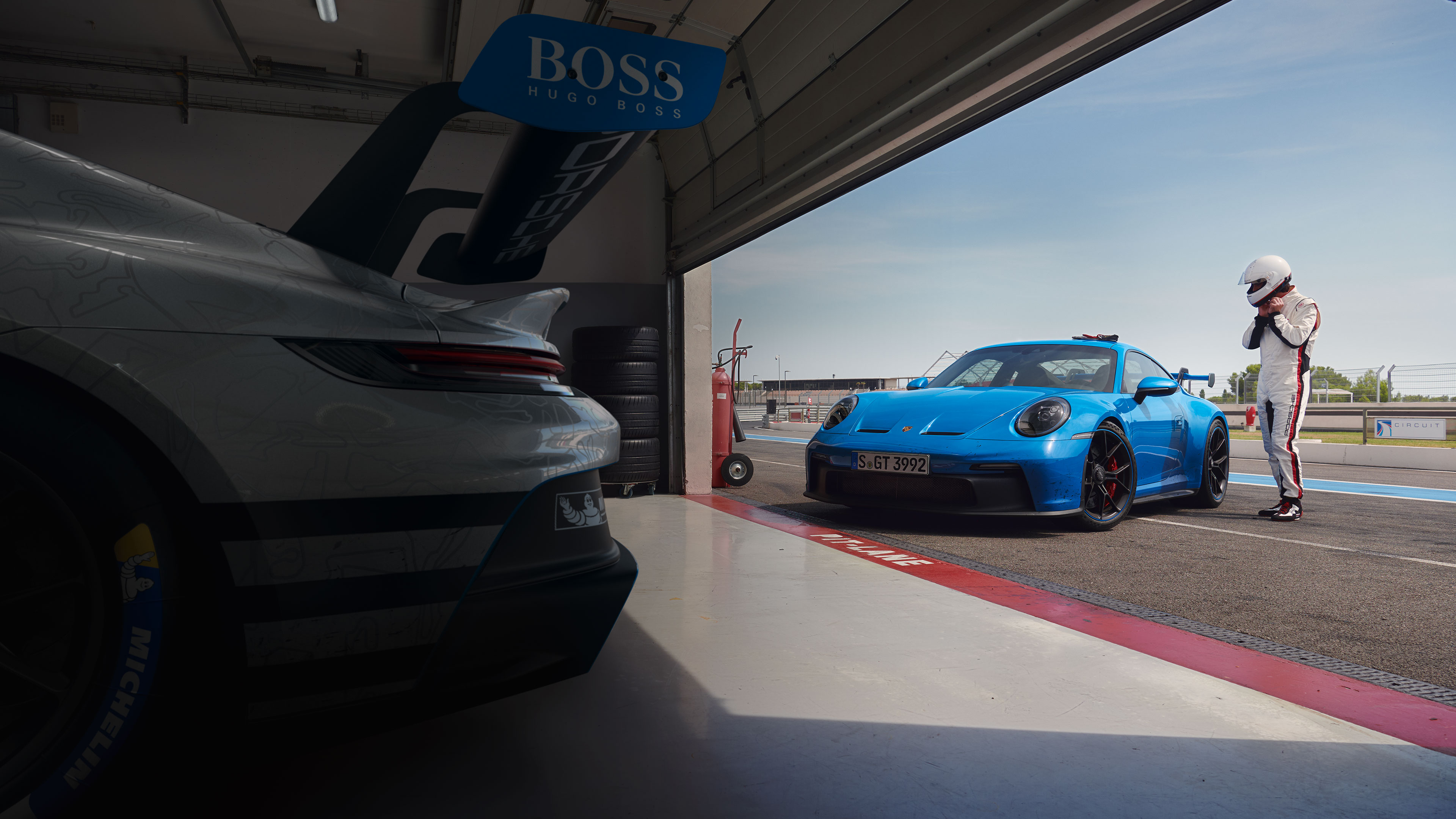 Closer to your dream. Quicker to your destination. The new Porsche 911 GT3 Cup.
In motorsport, every second is precious – especially those spent chasing your dream. The new 911 GT3 is ideal for those who dream of adrenaline on the race track – and don't even have to change the sports car for the journey home. For all who want to go that decisive step further, we have developed the new Porsche 911 GT3 Cup.
It is the continuation of our vision to build the most versatile GT race car in the world. Both aspiring talents and experienced professionals enjoy the thoroughbred performance of the 911 GT3 Cup. Of course, there are some similarities with the road-approved 911 GT3: sitting deep in the rear beats the very same heart, the 4.0-litre six cylinder horizontally opposed and naturally aspirated engine. In addition to the production line in Zuffenhausen, the two extreme athletes also share components such as the double wishbone front suspension, which was developed for the race track.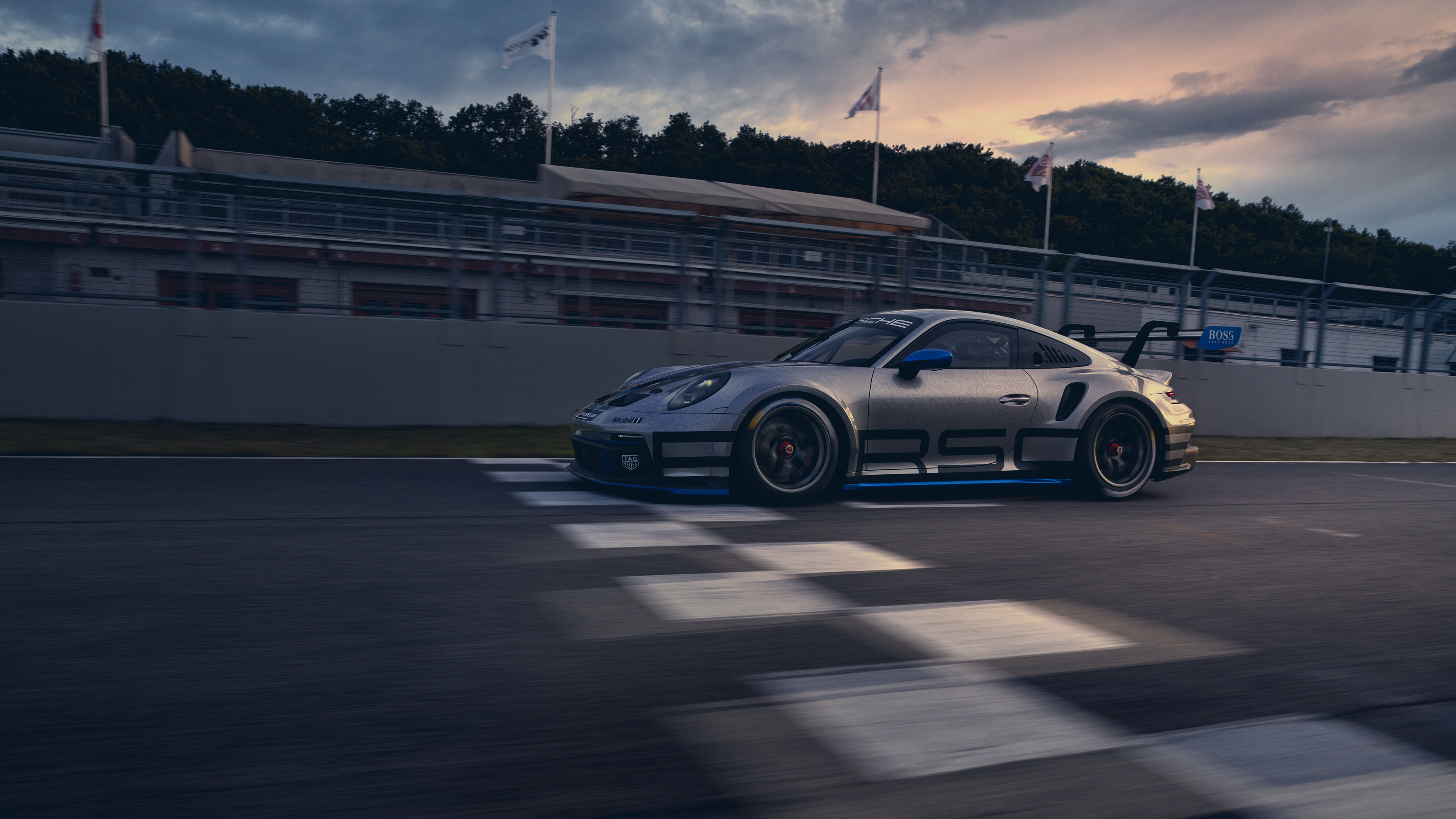 It was designed for the very thing our customer teams around the world dream of: to battle for the best possible times and podium places in the Porsche One-Make-Series and other racing series. This is why the new vehicle design also understands its colours: the 911 GT3 Cup shows the stage of the Porsche One-Make-Series. Where this team spirit can be felt the strongest. And in its 2021 première season, it will compete in several One-Make-Series simultaneously: in the Porsche Carrera Cups in Asia, Benelux, Germany, France and the USA, as well as the Porsche Mobil 1 Supercup, the teams will fight for victory with this new high performance athlete.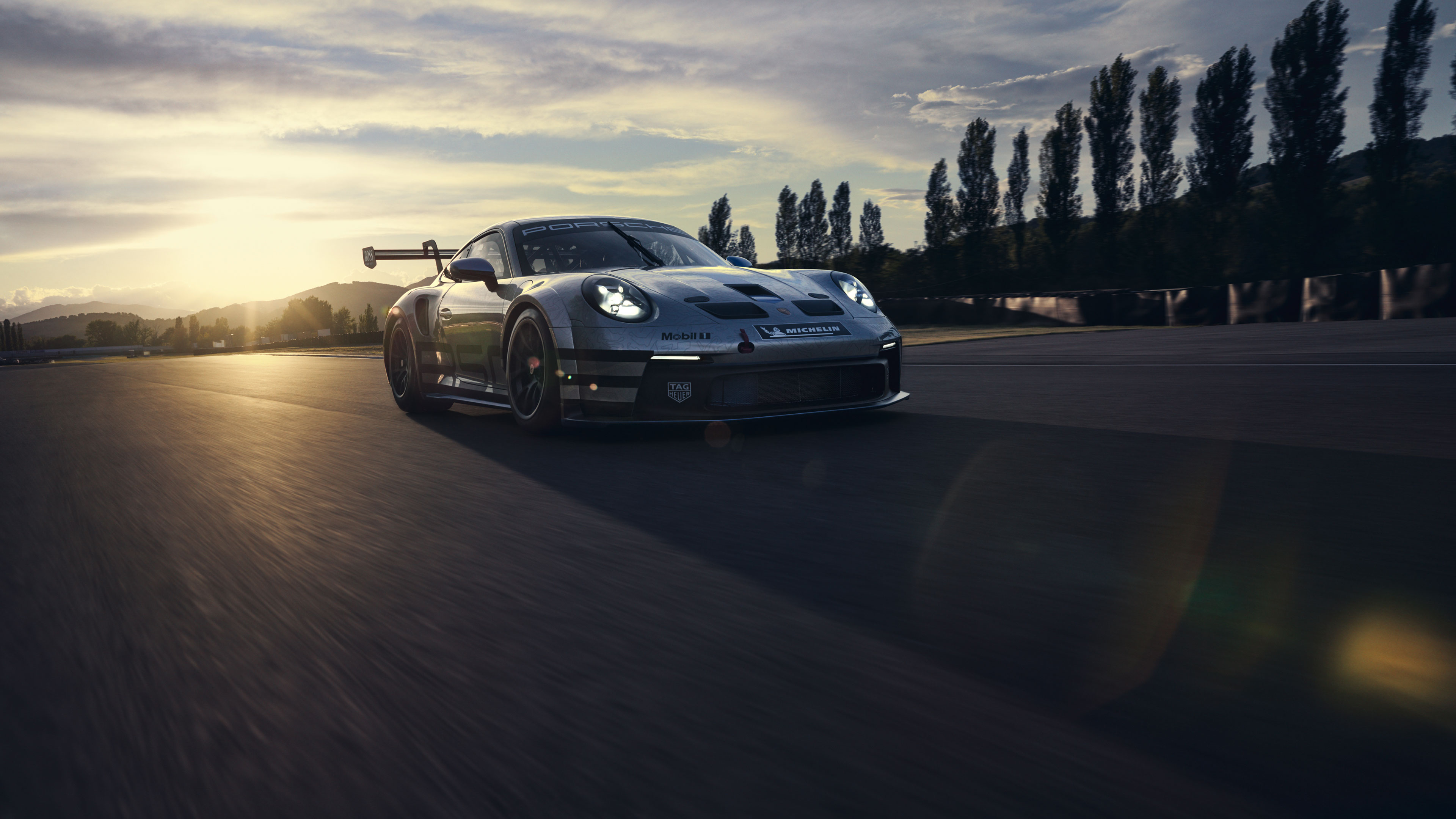 The new Porsche 911 GT3 Cup marks not only the arrival of the latest generation of the world's best-selling race car, but also the newest team member for all those involved in customer motorsport. Because motorsport is a team sport. Because we know that every pilot is only as good as the team behind them. A team that is always working together to face new challenges and make dreams come true. We call it Dream Spirit.
Gallery.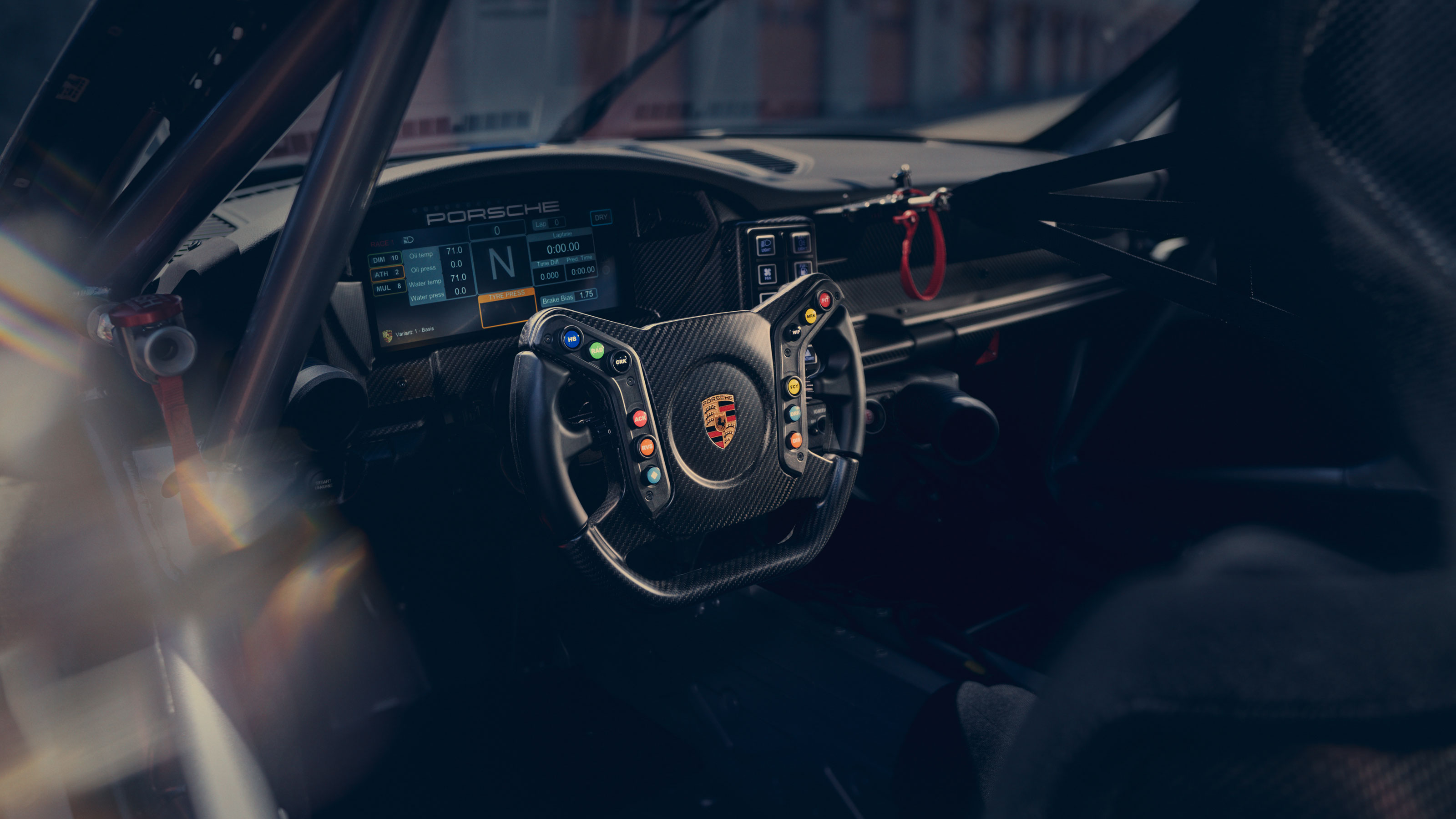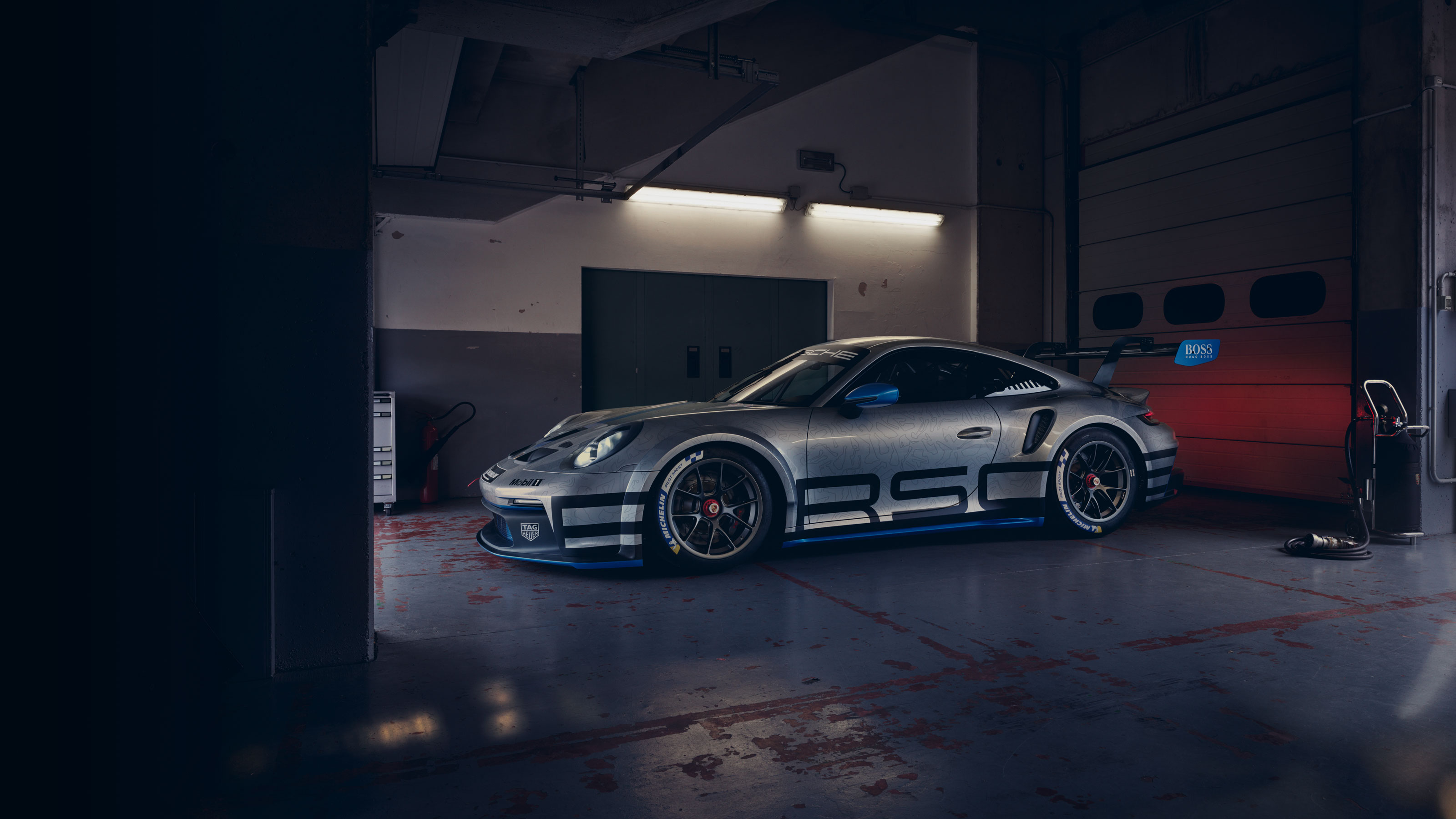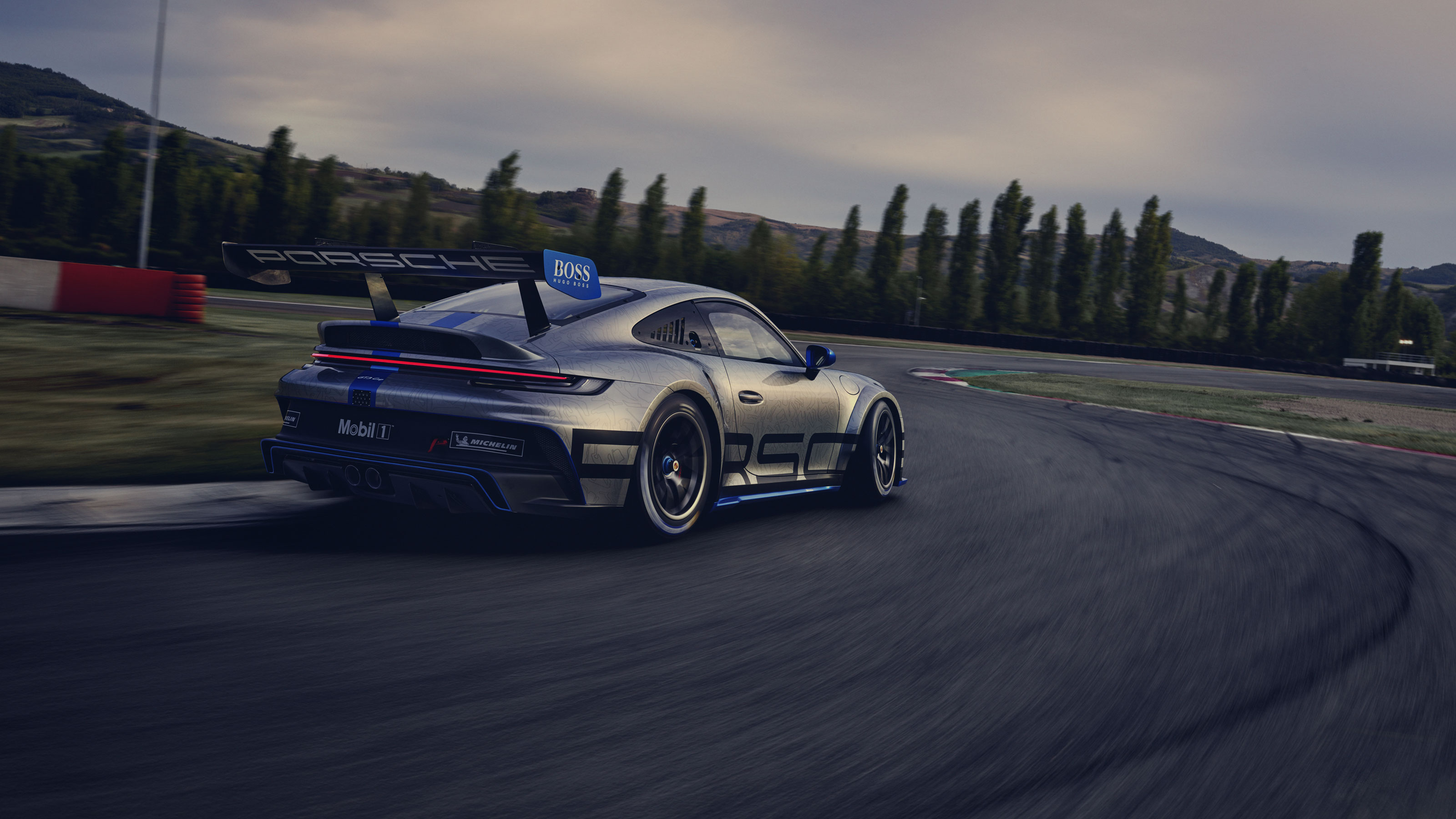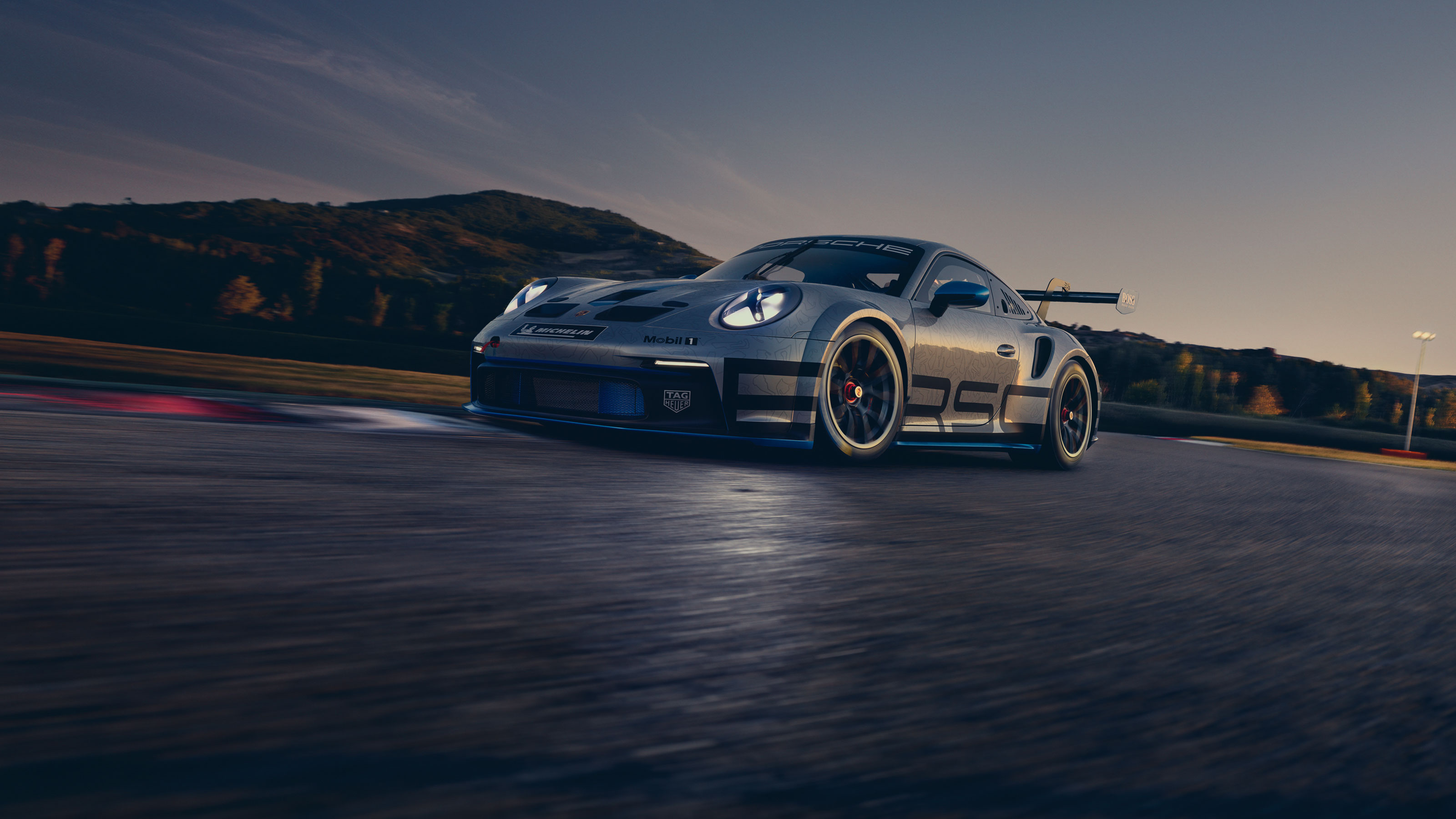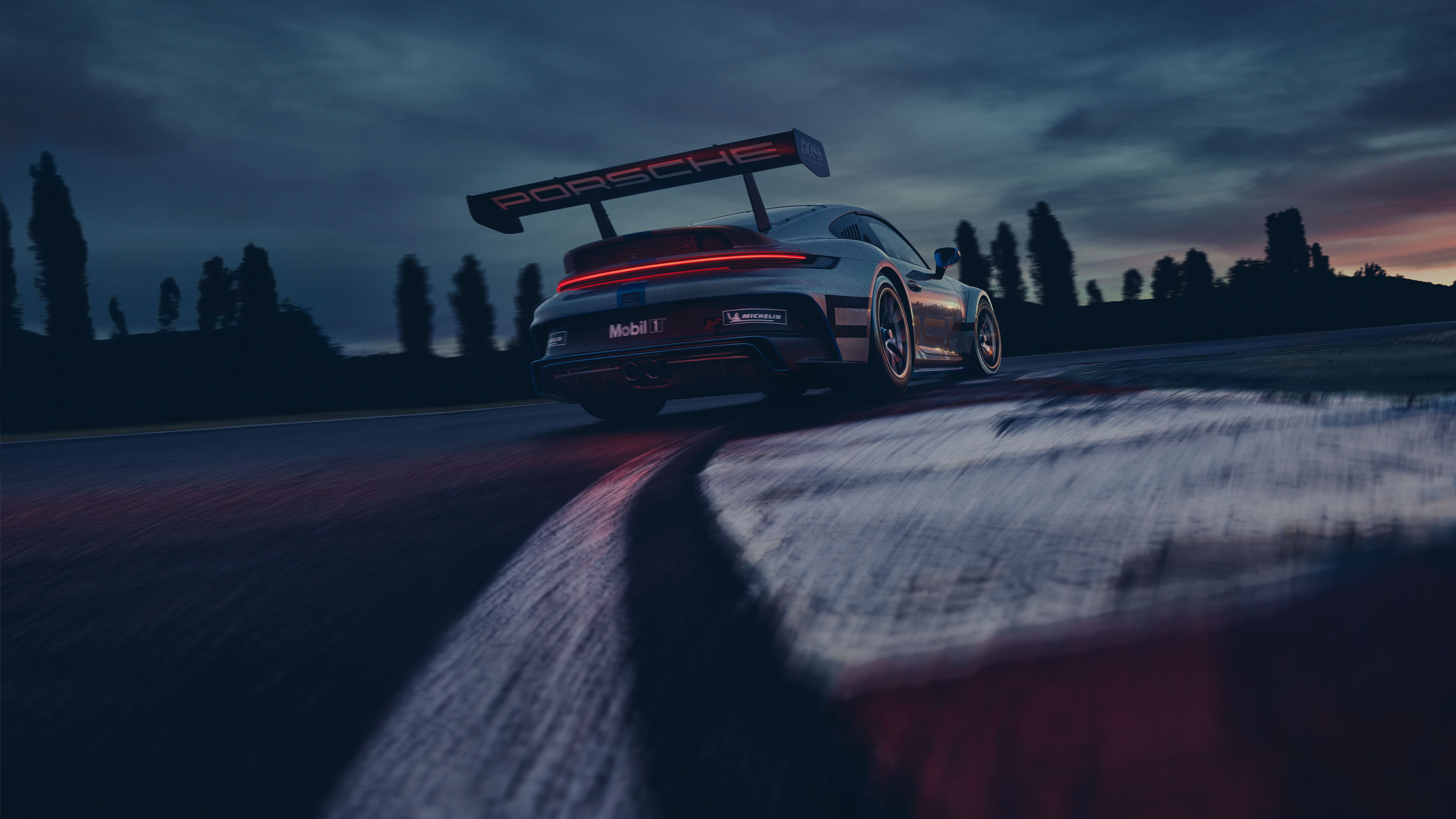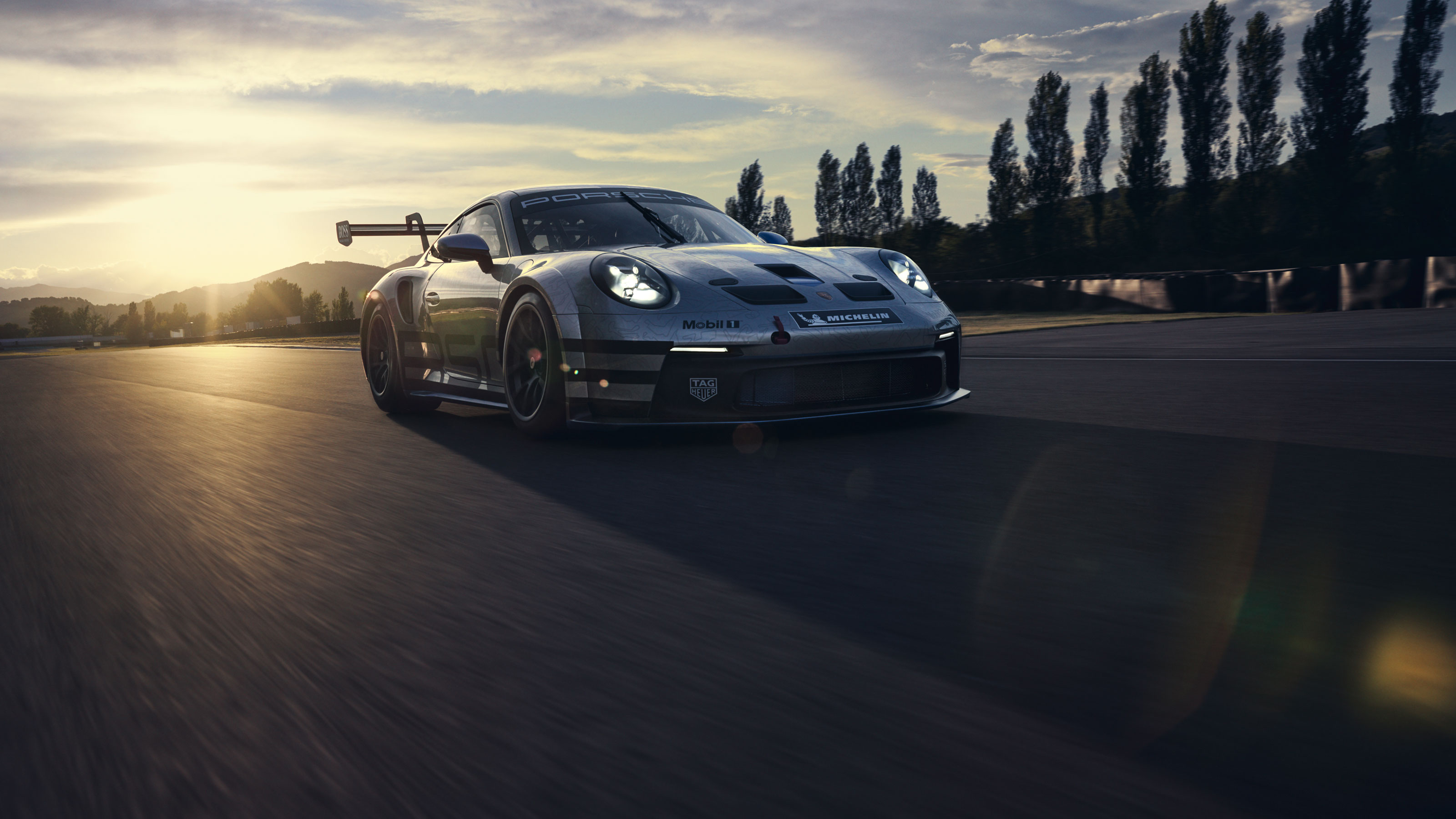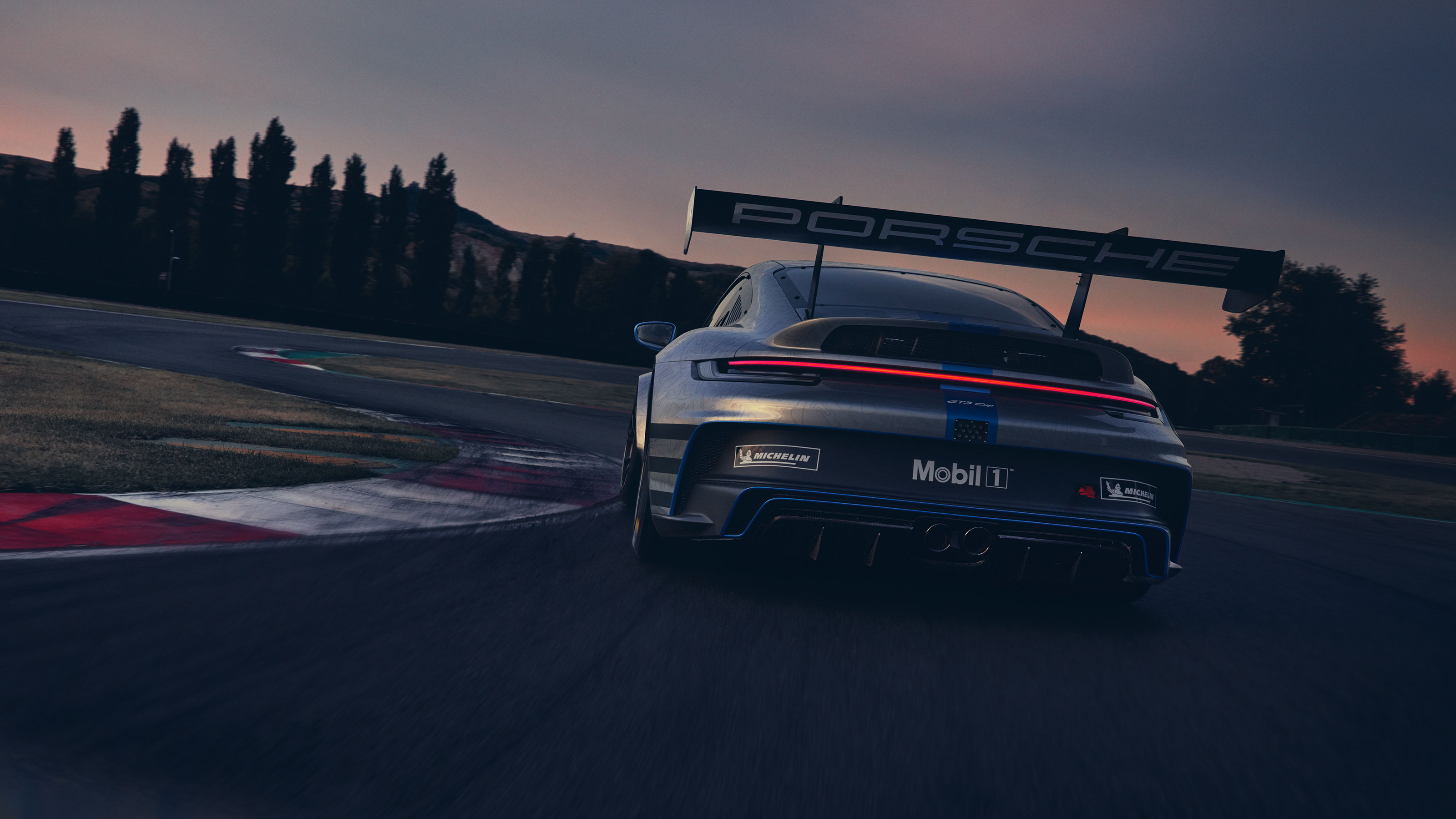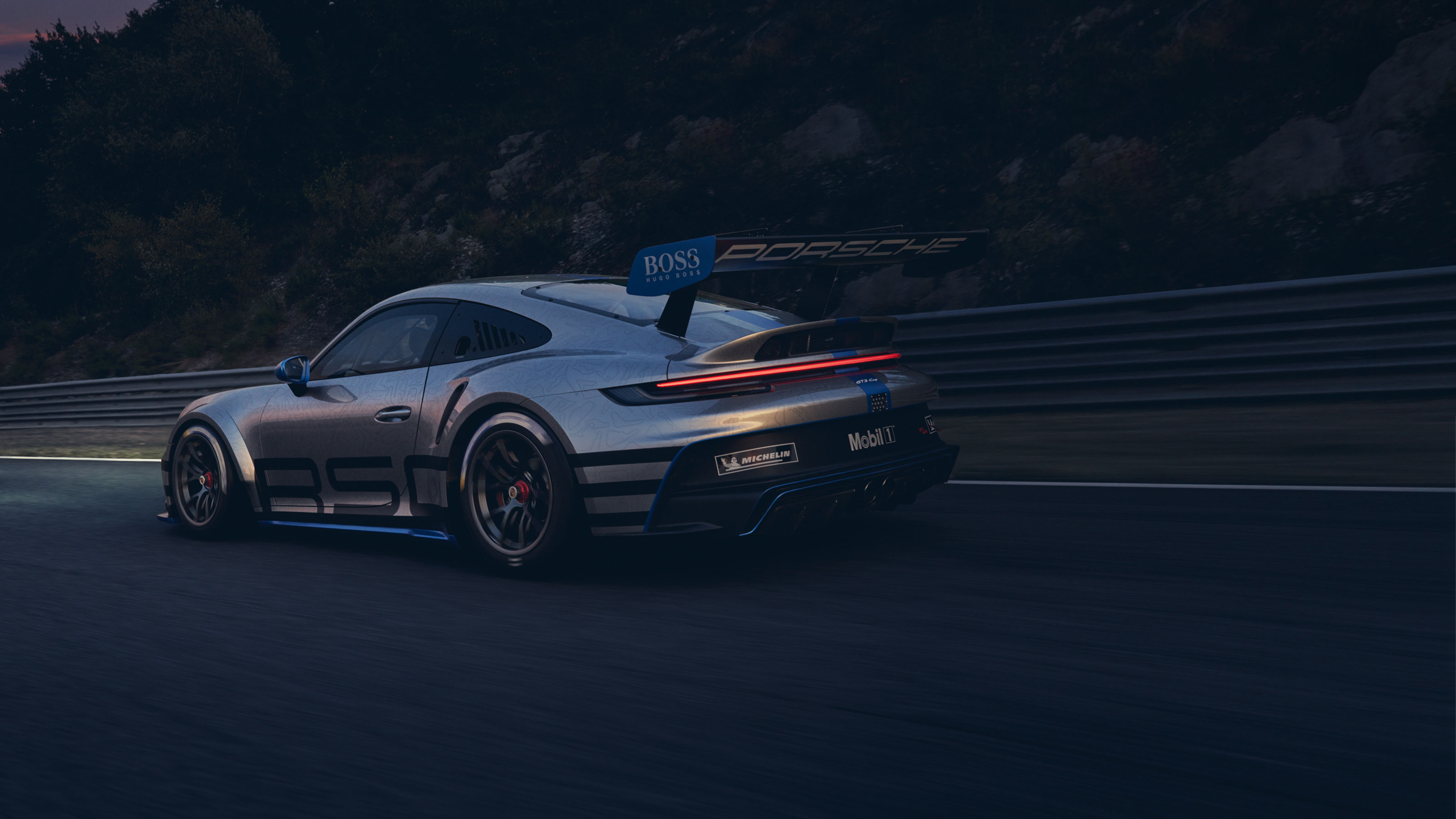 Next chapter
Models & Data
Configure 911 GT3 model.
Selected
911 GT3
New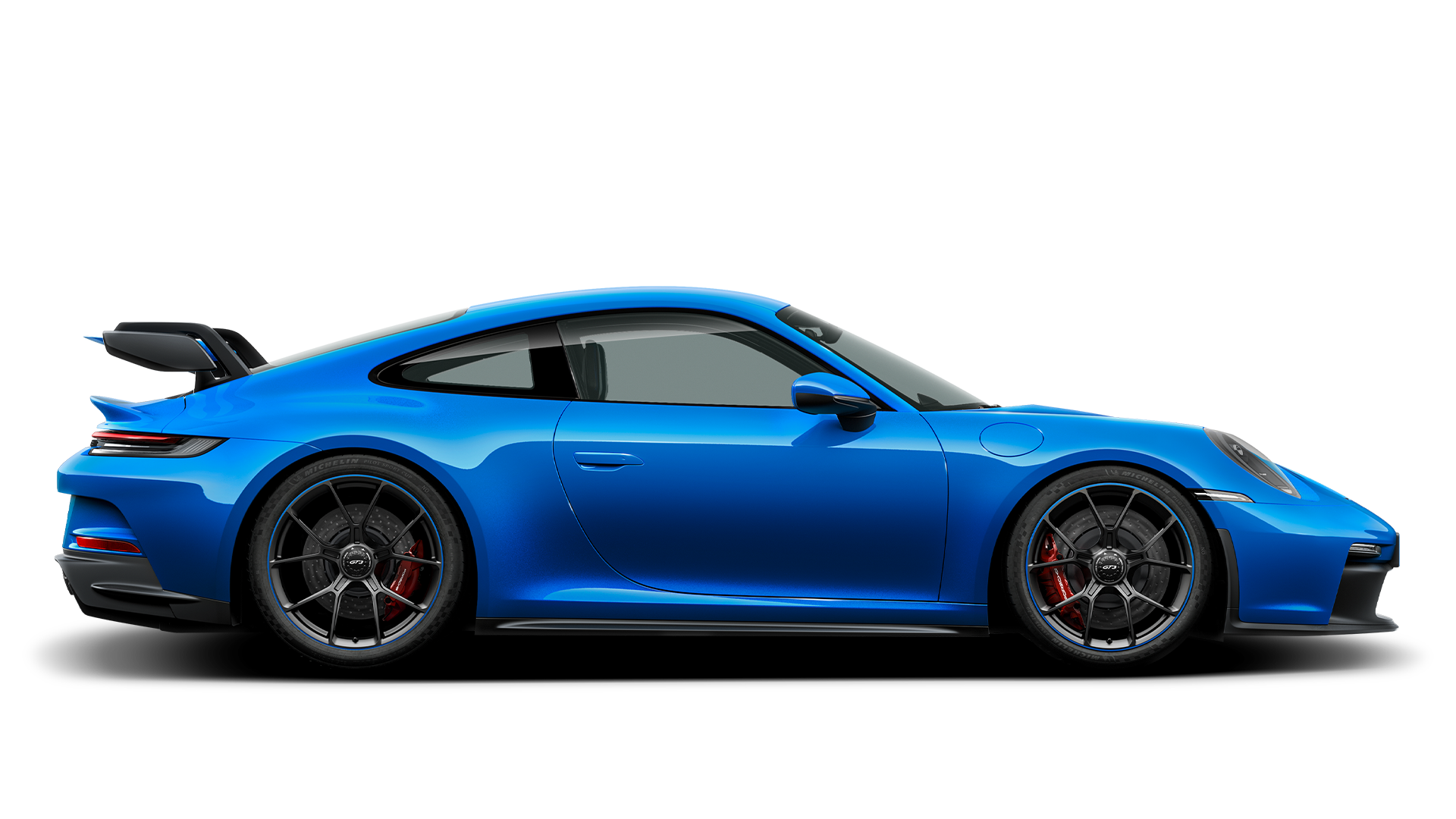 MSRP $ 180,300
3.4 s
Acceleration from 0 - 100 km/h
911 GT3
3.4 s
Acceleration from 0 - 100 km/h
Width (not incl. mirrors)
1,852 mm
Technical Specs
| | |
| --- | --- |
| Layout / number of cylinders | 6 |
| Bore | 102.0 mm |
| Stroke | 81.5 mm |
| Displacement | 4.0 l |
| Power (kW) | 375 kW |
| Max power (hp) | 502 hp |
| at rpm | 8,400 rpm |
| Max. torque | 347 lb-ft |
| at rpm | 6,100 rpm |
| | |
| --- | --- |
| Top speed (Manual) | 320 km/h |
| Top speed (PDK) | 318 km/h |
| Acceleration from 0 - 100 km/h (Manual) | 3.9 s |
| Acceleration from 0 - 100 km/h (PDK) | 3.4 s |
| Acceleration from 0 - 160 km/h (Manual) | 7.9 s |
| Acceleration from 0 - 160 km/h (PDK) | 7.0 s |
| In-gear acceleration (80-120 km/h) (PDK) | 1.9 s |
| | |
| --- | --- |
| Length | 4,573 mm |
| Width (not incl. mirrors) | 1,852 mm |
| Width (without mirrors folded) | 2,027 mm |
| Height | 1,279 mm |
| Wheelbase | 2,457 mm |
| Unladen weight (DIN) (Manual) | 1,418 kg |
| Unladen weight (DIN) (PDK) | 1,435 kg |
| Permissible gross weight (Manual) | 1,765 kg |
| Permissible gross weight (PDK) | 1,782 kg |
| Maximum load | 347 kg |
| | |
| --- | --- |
| Luggage compartment volume, front | 132 l |
| Fuel tank | 64 l |
| | |
| --- | --- |
| Warranty period | 4 years / 80,000 km (whichever comes first) also includes Roadside Assistance |
| Main service interval | 15,000 km / 1 year |
| Paint warranty period | 4 years / 80,000 km (whichever comes first) |
| Rust warranty | 12 years |
Standard features
4.0-liter naturally aspirated boxer 6
502 hp / 347 lb-ft
Aluminum block and cylinder heads
Water-cooled with thermal management
Direct fuel injection (DFI)
VarioCam
Dry-sump lubrication with separate engine oil tank
Oil supply with fully variable oil pressure pump, seven scavenge pumps, oil centrifuge and additional oil supply via crankshaft
Two 3-way catalytic converters
Variable intake manifold in plastic with two switchable resonance valves and six individual throttle valves
Auto start/stop function
Four valves per cylinder with rocker arms
Forged titanium piston rods
Lightweight starter battery LiFePO4 60Ah
7-speed Porsche Doppelkupplung (PDK) with short gear ratios and sport setup
Rear-wheel drive
Porsche Torque Vectoring Plus (PTV+) incl. electronically controlled differential lock with fully variable torque distribution
Note: i.c.w. 6-speed manual transmission Porsche Torque Vectoring (PTV) is standard with a mechanically locking rear differential
Double wishbone front suspension with integrated helper springs, anti-roll bar, all suspension mountings ball-jointed
Multi-link rear axle with integrated helper springs, anti-roll bar, selected suspension mountings ball-jointed
Electromechanical power-assisted steering with variable steering ratio and speed sensitive steering force adjustment
Porsche Stability Management (PSM) including ABS, with two switchable stages (SC OFF and SC+TC OFF)
Suspension adjustable for track use (toe angle, camber, anti-roll bars)
20"/21" 911 GT3 wheels
Forged, lightweight alloy wheels with central locking
Silver paint finish with central locking in Satin Black
Front: 9.5J X 20 ET46 wheels with 255/35 ZR 20 tires
Rear: 12J X 21 ET45 wheels with 315/30 ZR 21 tires
Wheel center caps with "GT3" logo
Ultra high performance (UHP) summer tires
Tire pressure monitoring system (TPMS) with track mode and tire temperature display
Front: 6-piston aluminum monobloc fixed calipers with 408 mm dimpled and internally vented brake discs
Rear: 4-piston aluminum monobloc fixed calipers with 380 mm dimpled and internally vented brake discs
ABS (integrated in PSM)
Pad wear sensor on every brake pad
Brake calipers in Red
Electric parking brake
Porsche Active Suspension Management (PASM) with sport setup and ride height lowered by approx. 20mm (compared with 911 Carrera)
Rear-axle steering with sport setup
Lightweight stainless steel sport exhaust system with two central tailpipes in Black
2-seater coupe configuration with wide 911 body and rear engine
Intelligent lightweight construction in aluminum and steel composite
Lightweight front trunk lid in carbon fiber reinforced plastic (CFRP) in exterior color with two air outlets
Front fascia in exterior color, black lower section with integral cooling air intakes with anthracite-colored grilles and black spoiler lip
Rear fascia with additional air outlets including anthracite-colored grilles, black lower section
Fixed (with adjustable mounting points) rear wing with swan neck connection and wing mounts in aluminum which are integral to the body shell
Rear wing in exterior color; side plates on rear wing and wing uprights in Black
Underbody paneling with finned rear diffuser
Lightweight and noise insulated glass for windshield, door windows, rear side windows and rear windshield
Trim on side skirts in Black
Exterior mirror upper trims painted in exterior color with bases and lower trims in black
Recessed door handles
"GT3" logo on rear in Satin Black
"PORSCHE" logo in Satin Black integrated in taillight strip
Side window trim in Black
Exterior mirrors on door waist rails, electrically adjustable and heatable
LED headlights incl. daytime running lights with 4-point LED spotlights
LED auxiliary light units in the front fascia with position lights, direction indicators and side turn signals
Taillight strip including integral parking lights and rear fog light
Automatic headlight activation incl. "Welcome Home" lighting
Three-dimensional LED taillights and integral third brake light
LED reading lights, orientation and ignition lock. Also includes luggage compartment, footwell, glove compartment and exit courtesy lighting
Illuminated vanity mirrors in both sun visors
Two-zone automatic climate control with separate temperature settings for driver and front passenger, automatic air-recirculation mode including air quality sensor
Particle/pollen filter with active carbon filter
Heated rear windshield
Sport Seats Plus (4-way) with electric backrest angle and seat height adjustment and manual adjustment of fore/aft position
Seat bolsters and headrests in black leather
Seat centers in black Race-Tex
Seat back rest shells finished in Dark Silver
"GT3" logo embroidered on headrests in GT Silver
Rear seat delete with lightweight rear cover covered with black carpet
Heated seats (front)
Full-size airbags (two-stage) for driver and front passenger
Porsche Side Impact Protection (POSIP), comprising side impact protection elements in the doors, Curtain airbag and thorax airbag for driver and front passenger
Engine immobilizer with remote central locking and alarm system with ultrasonic sound-based interior surveillance
Reversing camera
Cruise control
HomeLink® programmable garage door opener
Instrument cluster with central tachometer with "GT3" logo and two 7-inch TFT displays with selectable track screen layout
Gear indicator in tachometer
Multifunction GT3 sport steering wheel, PDK shift paddles in Dark Silver and mode switch. Steering wheel rim (diameter 360 mm) and top center marking in black Race-Tex and airbag module in smooth-finish leather in black; manual fore/aft and height adjustment
GT-specific PDK gear selector with manual gate and grip area including boot in black Race-Tex, gate surround with 'GT3' logo in yellow
Interior trim in black with inlays in Anthracite Brushed Aluminum
Roof lining and A-/B-/C- pillar trim in Race-Tex
Door-sill guards in Anthracite Brushed Aluminum with model designation
One 12-volt socket in passenger footwell
One individual cupholder (passenger side), one individual cupholder in center console
Electric windows with one-touch operation
Windscreen washer system with aero wiper blades, 2-wiper speeds, adjustable intermittent wipe and washer jets
Bottle holder and storage pocket in each door panel
Two USB ports
Floor mats
Porsche Communication Management* (PCM) including online navigation module and Connect Plus
SiriusXM® with 360L (with 3-month trial)
Sound Package Plus, analog sound system, 8 loudspeakers, 150-watt total output with integral amplifier and digital signal processing
Connect Plus* incl. wireless Apple® CarPlay and wired Android Auto (3 years included), LTE communication module with SIM card reader, wireless internet access and numerous Porsche Connect services
*The availability of Porsche Connect services is dependent on the availability of wireless network coverage which may not be available in all areas, and may be subject to eventual technology sunset or deactivation, thus nullifying services. The vehicle equipment necessary to use Porsche Connect is only available factory-installed, and cannot be retrofitted. Likewise, the vehicle equipment may not work with future mobile networks yet to be deployed. Some functions may require separate subscriptions, or data charges may apply.
Voice control
Smartphone Integration with Apple Carplay and Android Auto
Luggage Compartment at front (130l)
Storage compartment in each door
| | |
| --- | --- |
| Manual | MSRP $ 180,300 |
| PDK | MSRP $ 180,300 |
911 GT3
911 GT3
911 GT3
911 GT3
911 GT3
911 GT3
911 GT3
911 GT3
911 GT3
911 GT3
911 GT3
911 GT3
911 GT3
911 GT3
911 GT3
911 GT3
911 GT3
911 GT3
911 GT3
911 GT3
911 GT3
911 GT3
911 GT3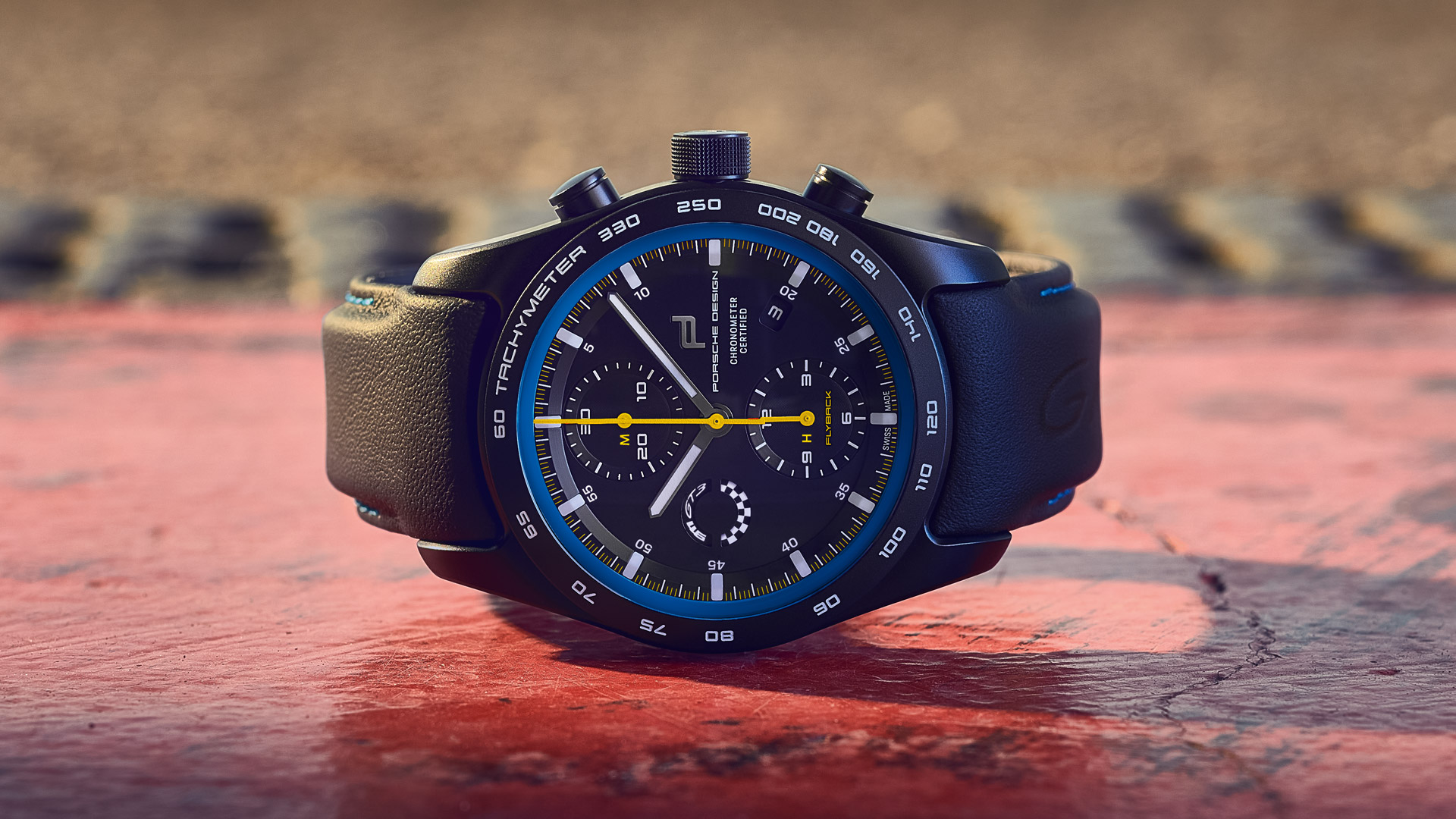 Maximum performance never looked so good.
Just like its motorised counterpart, the Porsche Design Chronograph 911 GT3 captivates not just with its sleek sporting design, but also with its high-powered performance and premium craftsmanship. It comes complete with a variety of design features and materials drawn directly from the legendary sports car. It is exclusively reserved for owners of the vehicle.

Personalization & finishing.
At Porsche Exclusive Manufaktur, we offer you a range of personalization options for the exterior and interior of your car. For your own very personal vehicle.